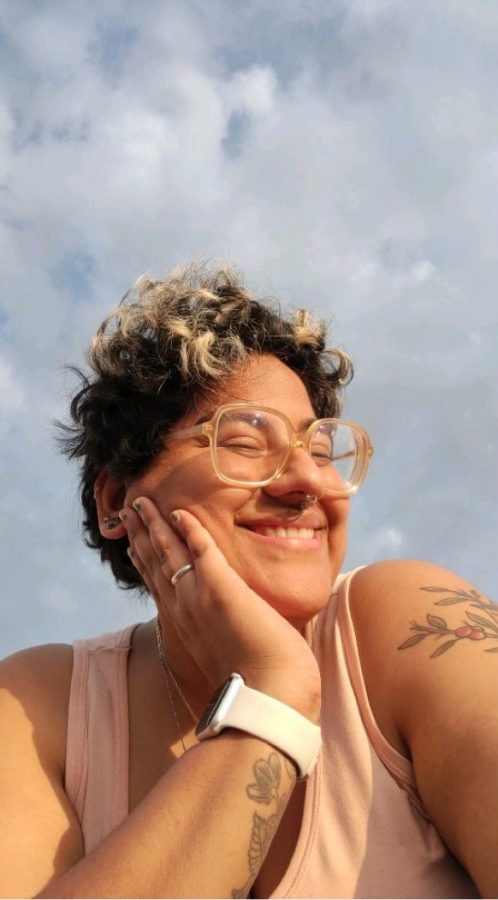 Abigail is a Graphic Design student at NJCU. Her work is described as fluid, conscientious, and budding. Abigail's story is an essential reminder to trust your gut. Read on to learn more about the day-to-day of a Graphic Design student and what motivates Abigail to keep going.
Why did you choose to study Graphic Design?
A.O: I've always had a love of art since I was young. It actually felt like one of the few things I chose to do consistently and for myself. While I was in community college, I changed my major so many times because nothing ever felt right. I was always so concerned about having a stable career that I could live through. After some time and long conversations with both loved ones and myself I realized that wasn't the kind of life I wanted, so I decided to study something creative that I actually could put my all into and picked Graphic Design.
What did you do before this?
A.O: Before starting my Graphic Design study at NJCU I had actually taken a year-long break from school. I had graduated in 2018 with my Associates in English and was feeling pretty lost. During that year I decided to try to get back into my original plan, which was the medical field, specifically Nursing. I had taken a program and was working as a Certified Nursing Assistant for a couple months and during that time was when I realized that the right career for me was in art.
What do you hope to accomplish after college?
A.O: Once I graduate, I'd really like to land a couple internships in different design fields like advertisements, marketing, web design, UX/UI, etc. I feel like doing this first would help me grow as a designer and get real world experience. Afterwards I'd like to really focus on just one of these fields and put my all into it. However, my ultimate goal is to work my way into being a UI/UX Designer for a tech company.
What does a day in the life of a Graphic design student look like? Walk us through your day.
A.O: I started at NJCU the semester that Covid happened. So, for the first half of the semester, I would go to work on some mornings, then get to campus by bus and decompress before class. I'd play some music, sketch for a bit, and make sure I had all of my projects in order. Sometimes if I had enough time I would meet up with some friends and grab coffee before class. Then I'd head to class, where the first 2 hours would consist of a lecture, and the last 3 hours would be working studio time. The art classes at NJCU are long and scattered, so some days I'd get home at 4 pm, other days at 10 pm.
After Covid, I was out of work and stayed home most days and would just log on for class. Most classes were still 5 hours, except for one or two that went completely asynchronous online. As a Graphic Design student, a lot of my work can be done through the computer using Adobe Creative Cloud, but concentrating at home isn't always easy, especially when my bed is a few steps away. Plus, my cat enjoys walking across the keyboard whenever I'm on Zoom, so that makes for a fun time during class.
Is there a specific style or artist that inspires you?
A.O: I'm really inspired by the horror manga artist Junji Ito. I'm always mesmerized by how clean his linework is and the level of detail he goes into his work, both visually and story-wise. Otherwise, I just look on Pinterest for inspiration.
Do you listen or watch anything while you commute or work? if so what is it?
A.O: It usually depends on my mood, but I never like to work without something playing in the background. If I'm home I usually put on a podcast, like the TMG Podcast, or a random YouTube video. If I'm away from home, I usually put on a Spotify playlist that matches the mood of whatever I'm working on.
Favorite stress snack?
A.O: I'm usually not a big snacker, since when I'm hyper-focused I get lost in my work. But if I am ever craving something while I work, I like munching on Sour Patch Kids. The original though, not the watermelon version.