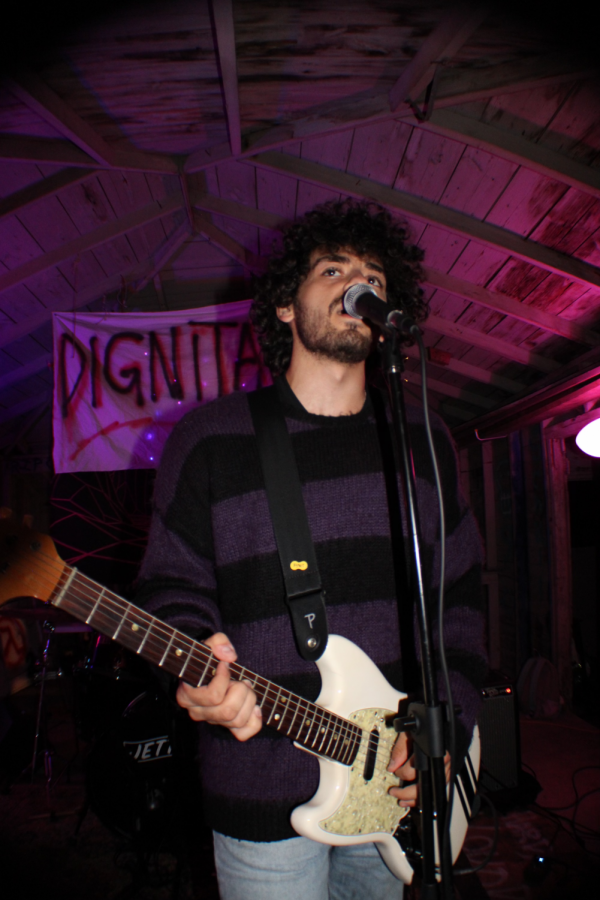 In the Punk Rock scene there's always an identity crisis: one either tries too hard or just isn't punk enough, there's never any winning. This happens with any band that is just starting out.
Anthony Vinci is a Media Arts major in his third year at the university. In his spare time, he'll do photography, build, and paint custom guitars or produce music. His latest project was producing the EP Total War for a local band called Year of The Rat.
Outside of school, however, he is in a band known as Dignitary. The name came from Anthony's desire to express this sentiment of feeling like a fraud. By choosing such a grand name as Dignitary he plays into this idea: Dignitary being a loose synonym for king. This year with everything opening back up they've been able to play shows over the summer.
The band has been together since the beginning of 2020. Their current lineup consists of Anthony Vinci (Vocalist/rhythm guitar), Sid Diamond (lead guitar), Jack Solis (bass), and Isaac Cortez (drums). They've performed at venues in New Jersey such as The Meat Locker in Montclair and most recently at Stage Dive in Glassboro. Their sound is very reminiscent of the likes of Sonic Youth and Nirvana.
The dissonant feedback on their amps, the abrasive distortion, it's all there when you hear them play live. You can also see the influence through the choice of instruments. Anthony's main guitar is a Fender Mustang which was popularized by Kurt Cobain. In addition, you're also treated to unique instrument choices. Their most recent gig at The Colonial Bar in Ridgefield had lead guitarist Sid pick up a saxophone for a couple of songs.
As for his role in the band, Anthony is the front man, rhythm guitarist, and main songwriter. When composing a song, Anthony's main goal is to make sure every note counts. For him, a simple melody can mean so much more than a flashy solo which to him is a trope he finds played out, viewing it as a means to get a saturated result out of the melody.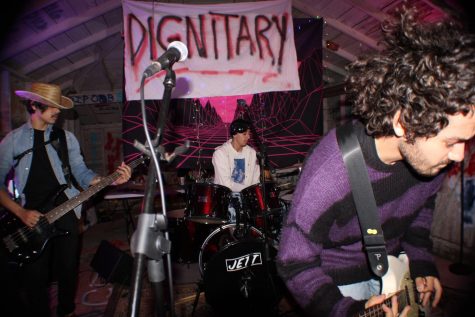 His interest in music has always been with him since he was young, but he has considered himself a "late bloomer" as he feels like he didn't understand music at first. Influences such as Daft Punk, Gorillaz, and especially MGMT inspired him early on in his life.
Having listened to them since he was around seven years old, MGMT has been one band that has stood the test of time for him. The complexity of their songs and lyrics inspires him to better himself not only as a musician but a writer. Anthony elaborated by saying, "Listen to 'Siberian Breaks' by MGMT… I wish I could write like him lyrically. I wish I had that lyrical skill to communicate."
Currently, the band is in the works of releasing an album. You can find out more of the band on Instagram @dignitary.nj to keep up with future gigs and upcoming music. To check out his work with Year of The Rat you can find the EP Total War on streaming services such as Spotify and iTunes.