CAPSTONE: Abstract City: Keeping Jersey Dirty
By Alberto Arias —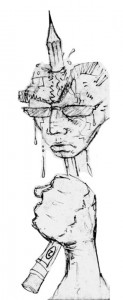 "Art washes away from the soul the dust of everyday life" — Pablo Picasso
A jolt propels the Bergen light rail train smoothly out the mouth of the Bergenline Avenue station and into the heart of the metropolis, Jersey City. The sun protrudes through the smoggy polluted air and intensely shines amongst thousands of blue collar workers and student passengers. Your senses, your wishes, your imagination starts to flash as you stare out the window into the material world. These modern trains slowly rock and bounce you from side to side. Each moving screenshot invites another to create an imaginary synopsis for a picture in motion. The windows panoramic view gives shape to an inner-city filled with one of the five elements of hip hop. Through the trail, artists have made their mark and plastered their tagger names on someone's property. The city does not wear art on its trains like the NY city 80's graffiti era; now the trains are the front seat to the murals in Jersey City.
Memory is the film and your recollection of that painting surrounded by trees, vacant lots, and abandoned city sites, plays in your mind. Graffiti is a misunderstood art form that is captivated in an urban setting and portrayed in a translucent beauty to many artists. On the contrary, property owners seem to differ and struggle to erase these inner-city montages.

Graffiti has been painted and written since humankind first put markings on caves and stone hedges. The modern graffiti originated on the East Coast, particularly New York City and Philadelphia, during the early 1970s.The Mecca of the hip hop culture, New York created five elements to its movement, which included graffiti, DJing, break dancing (B-Boy B-girl), MCing, and knowledge.
In 1971, the street art form made its debut in Washington Heights, New York and the first writers of significance were TAKI, JULIO 204, FRANK 207, and JOE 136. Soon the term for putting up art was "bombing" and many artists began to bomb all over New York City. In the late 1980's new graffiti forms began to evolve and new styles were being introduced. Artists developed intricate lettering formats with different scripts, calligraphic styles, leaning letters, cartoons, and throw up letters. In the Jekyll and Hyde era of the subway system, the ancient stainless steel trains were the moving murals that artists bombed from top to bottom. These trains were the veins of the big apple and the city that never slept was engulfed with a plethora of colors.
Graffiti started to make its splash on to the mainstream. The most influential movie for the graffiti movement was the first hip hop motion picture, Wild Style and the Tony Silver documentary, Style Wars, showcased the behind scenes of the bombing world. Books like The Graffiti Hit Parade gave a microscopic view into this misunderstood art form. Graffiti grew on a global level and the impact gave birth to thousands of up-and-coming artists.
Across the Hudson River, New Jersey taggers wanted in on the action. Graffiti began to spread like wild fire and expanded its culture to the urban streets of Jersey City. One of these artists was, Ed Morris, who was inspired while growing up in the 1980's era and soon began to dip into the arts purest form. After 16 years of tagging and posting up his tagger name, T.Dee was gaining infamy.
"Before I knew what a graffiti king was, I was aware of them. Names like ARC-SUG, LOVE 67, & P3 were everywhere in Jersey City in the early 80's as far as I could tell. Every time my horizons expanded a couple more blocks the names were already there. It wasn't until years later that I first made my mark on the back of a factory wall" says T.Dee.
T.Dee currently uses his talents for a good cause and no longer goes on bombing raids with his painting utensils. He now has become a certified graffiti artist/painter, who gets contracted projects from the Hudson County office and Jersey City business owners. He has several paintings in the business district of Central Avenue.
Another Graffiti artist, Senik, who resides in Paterson, has bombed in parts of Jersey City. He sees graffiti as an escape and a personal discharge that fills a void that is missing in many graffiti artists. Senik became a product of his environment and chose to bomb instead of selling drugs or being involved in gang activity.
"Graffiti used to be everything to me. It's the trees, the water, and the air I breathe. All the shit the hood and society had building up in me lashed out in the only way I knew how to let it out. This way was through real graffiti… Something in my mind wanted me to lash out on them walls and hit my name up as a sign of anger and frustration. When I was hardcore bombing in Paterson and Jersey City, it was a way of rebelling. I was always an artistic youth with no direction surrounded by drugs and gangs and shit, says Senik.
Artists see this as an intricate combination of styles, color coordination's, and scenic value. They add layers with vivid characterizations, graphics, 3-d illusions, and block bubbled letters to manifest a message. Each piece has a message that it delivers whether it's an expressive piece that the artist deems as an important part of his everyday life, a way to escape society's restraints or a way of gaining recognition in the bombing world. Another tag could be an attempt to increase the peace in the concrete jungle and another artist could be gang affiliated with intentions of marking their territories to warn rival gangs and outer-towners.
Illustrated into an industrial boundary in the back drop, some graffiti pieces are knitted on private properties, concrete overpasses, factories, abandoned buildings, and non-established canvases. Equipped with aerosol spray paint, paint markers, and show polish daubers these utensils produce Jersey City's colorful melody of its urban make-up.
Is it Art or Vandalism?
"Here in Jersey City the Graffiti is horrible. It destroys the community's allure and it is vandalism that marks our society. They need to crack down and lock up these criminals," says a Jersey City resident.
Artists say that this is an artistic movement within hip hop culture and anti-graffiti supporters deem this as an element of destructive criminal vandalism.
Jersey City's graffiti artists are rebels without a viable cause going against property owners and Jersey City's anti-graffiti task force. Many American cities have started anti-graffiti programs to combat this dilemma. Locally, the Jersey City police have organized their own anti-graffiti task force in an attempt to remove, enforce the law, and educate Jersey City patrons against this type of vandalism. They urge teachers, residents, and business owners to help control and prevent this vandalism. The (JC-AGTF) Jersey City Anti-Graffiti Task Force locates graffiti on a daily basis. There are two methods staffers use for graffiti paint removal depending on the severity of the incident and the composition of the surface. They either use chemically induced power washing techniques or paint the entire surface.
"Graffiti in Jersey City has diminished due to our organizations proactive and determined efforts. We have to educate and involve the community to make a calculated difference. Our Anti-Graffiti Task Force goal is to eradicate all graffiti and bring back the civil living in our Jersey City neighborhoods," says JC-AGTF CEO Oren K. Dabney, Sr.
Graffiti Tracker, the newly established anti-graffiti agency, is on the frontline on the war against graffiti bombers. This California-based company called is using GPS satellite technology to keep records of vandalized locations. This web-based system identifies tracks, prosecutes, and gets restitution from the graffiti vandals.
The way Graffiti Tracker works is that a vandalized client contacts them and the company makes them a contract or sells them analysis software. The client is provided with a global positioning system enabled digital camera to photograph the scene of the case. Specialized analysts sharpen their pencils and methodically scrutinize the photographs through new computer software. After registering the vandals' tagger name on their database, the assigned analyst provides anti-graffiti task force agencies with the suspect's information. Depending if he or she is on record, they will identify the primary suspect and notify the local police to make an arrest on the perpetrator. The suspect is than prosecuted and restitution is given to the vandalized property owner. Up-to-date, this web-based company has arrested over 2,780 graffiti vandals and has accumulated about 5 million dollars in restitution money.
The war on graffiti rages on with newly futuristic technology that makes taggers think twice. In many cases, if you paint the crime you do the time.
Artists continue to make adjustments to the today's zero tolerance on graffiti. However, this has enabled some artists like T. Dee have had to turn their tagging skills into a lucrative art career. Artists have switched from graffiti artist to tattoo artist; this has become a high demand occupation as the new trendy graffiti tattoos have become more popular. Others have set up their own shrewd marketing moves like creating a website where they can display their art work and have current running blogs. These websites also work more than just a tool for gaining notoriety and in some instances grant artist contracts from local businesses who would like to liven up their establishment with a colorful vivacious mural. Many Jersey City businesses like bodegas, restaurants, and shops see that this artwork screams out to the public who is confined in a black and white world.
Graffiti's strongest positive impact is when it sends a message to the Jersey City youth on a block where violence runs rampant. The impact of this expressive art is more valuable than dollars and cents to most of these dedicated artists.

T.Dee has recently finished a mural on Danforth & Carteret in Jersey City called, An Act of Kindness. This corner has taken five lives and residents hope that this work of art can transfuse love, peace, and prosperity to the hooligan mentalities of the youth in Abstract City.
"This painting is more than just an ill painting it's a way of bringing people together after all the violence on this corner this will bring life to the block," says a long time Jersey City heights resident.
Currently there are artist who have been working overtime to make this troublesome art from going extinct. Instead of being stamped with summons and jail sentences, these artists are being globally recognized with accolades and awards from various foundations and institutions. They are not only paintings on the wall, graffiti museums and art exhibitions have recognized this art. The 21st century artists are still and vow on… Keeping Jersey Dirty!!!