Student talent shines in 'Les Misérables'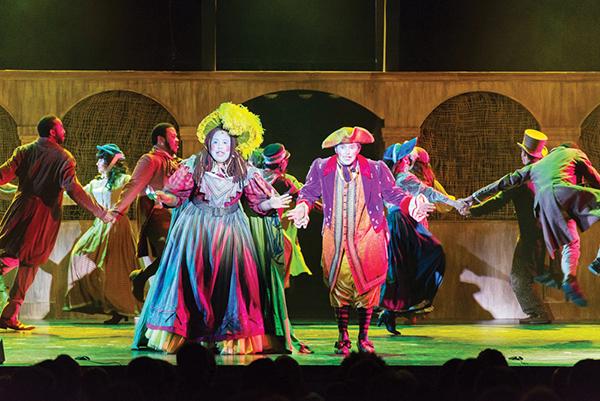 By Tom Johanesson–
New Jersey City University's production of Les Misérables smashed the expectation that this would be some low-budget, poorly acted, and badly lit "school play." This was especially solidified by a strong cast of players.
Before I go on about the people we see on the stage, it is important to give credit to the students that we don't see: the ones that make the whole production possible. I'm talking about the techs, stagehands, stage managers, and costume designers. The jobs done by these people were fantastic. In fact, the makeup artists did such a fantastic job that I had a hard time recognizing Bonale Fambrini, an English Special Education major.
Fambrini, who plays Thernardier, the underhanded innkeeper of Les Mis, moved to New Jersey for Theater five years ago. Surprisingly, comedy always played a part in his life. Stand up comedy and comedic acting roles can be some of the hardest things to do. Fortunately, this seemed effortless for Fambrini. Before moving here, he toured with a road show version of Tony & Tina's Wedding for two years in the western United States. What he most enjoys about a school production is how it is not about carrying your own weight as much as it is about bringing up the collectiveness of the performers to the best it can be. This sentiment was echoed by every player including Marcelo Leal.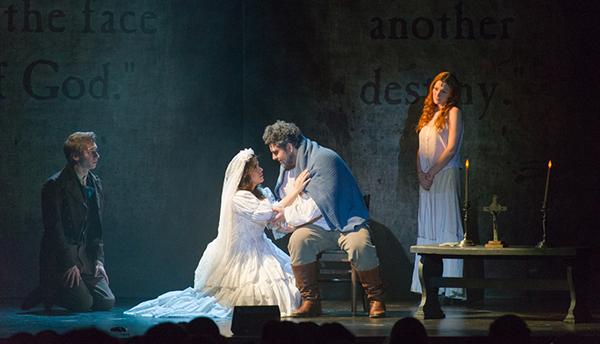 Leal, a former opera major turned Musical Theater major, plays Jean Valjean, the lead of Les Mis, and has a reputable vibrato. For those that do not know, vibrato is when someone sings and pulses with their voice so it audibly vibrates. Leal talks about how great it is to be a part of something like this. "We build relationships with each other," Leal says.
It's not just Musical Theater majors that enjoy the excitement of a student production. Dr. Tim White, a history professor at NJCU, also enjoyed the support and connections of Les Mis. He was tapped to act because there weren't enough male actors. Thankfully, Dr. White plays Enjolras, one of the students that sparks the revolution at the climax of the musical. White has been in community theater and University theater prior to Les Mis. He's also studied theater and is presently researching the backstage of Broadway.
Broadway is one of the things that many of these young people are striving for. One student would ike to write his own musical in the next seven years, which speaks volumes about the ambition some of the students have at this early stage in their careers.
This also shows why some students were willing to take The Chorus role. The Chorus is a large collective which represents the general attitude of the public within a given play. In Les Mis, these chorus people are prostitutes. This wasn't an issue for Karina Argudo though. She enjoyed playing "the principal whore" because she was able to be "creative about her backstory." This creativity showed when it was stage time. As I watched, she initially appeared to be a shoe shine girl, but as time passed, it seemed that she was really being prostituted to the person whose shoes she was shining. The Chorus functions as less of stage filler and more as an additional immersive element for the audience to grab onto. It covertly draws us in more than anything.
One thing that isn't a secret in drawing people in is the music. One song that is most powerful in doing this is "I Dreamed a Dream," sung by Fantine, a down-on-her-luck mother turned prostitute. Fantine, played by Katherine LeFevre, is a senior Musical Theater major living in New York City. She, like many members of the cast, is "looking forward to waking up at 4 a.m. to stand in audition lines until 7 p.m."
LeFevre wants to be a triple threat or someone that sings, dances, and acts. She's having some difficulty achieving that because she keeps being cast in the role of "a belter whore that dies."
While this may be true, the thing that will not die is my memory of this production.