Struggle with Sexuality Displayed Through Art at NJCU Gallery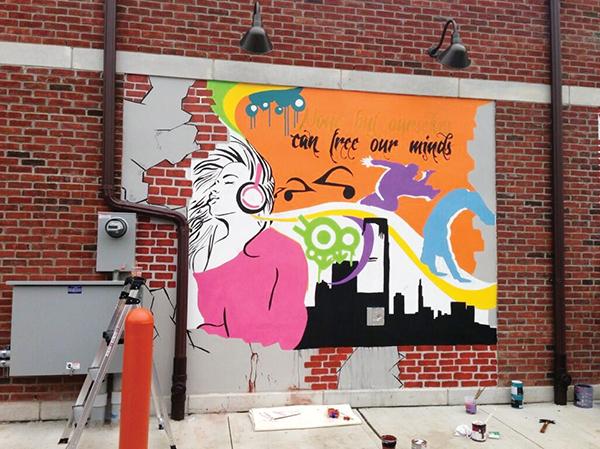 Jessica Natal's show opens on Monday, May 5, at the Visual Arts Gallery at NJCU. Opening reception to begin at 5 p.m.
Archiving the hand-written letters of her first relationship, Jessica Natal examines the interconnection between episodic memory and the subconscious compulsion to unite the two worlds that inform who we are today.
Natal uses everyday building materials like sheetrock and 2"x3" beams to denote the longstanding effects of memory as well as the fragility of each item when used as standalone objects. While encountering each monumental piece, the viewer is able to go on a journey of self-discovery as seen through the eyes of a teenage girl who is coming to terms with her feelings for her best friend and what that means for her family life.
This work is deeply personal to Natal as it represents her self exploration throughout her high school experience in the late 1990s, when it was still taboo to be, "out of the closet." It also documents real letters written to and from her first relationship which had to be kept secret from everyone closest to her. Once their relationship was discovered, the over arching effects of what happened to these two girls is still felt to this day. These are issues that still plague the LGBT community and in sharing this colossal part of her past, she hopes to shed some light on the difficulties faced by young LGBT youth.
Natal is the owner of Jessica Natal Designs, a full service graphic design firm focused on helping small businesses distinguish themselves.
She has worked directly with the Jersey City Redevelopment Agency to design and paint a mural located on the back of the new Dunkin' Donuts building on Martin Luther King Jr. Blvd. She has also painted a mural (through the JCRA and Fusion Creative) for Jersey City's Jackson Green Homes.
Natal was a finalist for Mayor Fulop's rebranding of Jersey City logo contest and is currently awaiting the results. She is a proud graduate of Rising Tide Capital, a non-profit organization located in the Greenville section of Jersey City and was a recipient of the "Esther Barish" scholarship for academic achievement at New Jersey City University. Through Rising Tide Capital, she was able to win free office space for six months at Indigrove, Jersey City's first co-working space and is the Vice President of Creative Development of ALPS, Inc., a startup tech company.
She lives and works in Historic Downtown Jersey City, and is expected to graduate from NJCU in May of 2014 with a BFA in Art with a concentration in Graphic Design.
– press release –