Striving for Success: One Student's Love of STEM Brings Her to NJCU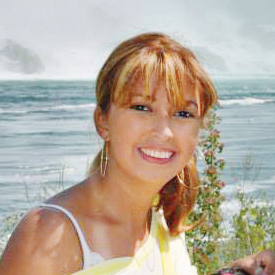 By Tom Johanesson –
Science is a field in need of good students as we are in the midst of a time where the fields of Science, Technology, Engineering and Math (STEM) are under-enrolled. Fortunately at NJCU, we have students working tirelessly to become successful in STEM, in their own way.
Among those students is 29-year-old Ivis Renderos. Renderos. A resident of Guttenberg for 10 years, Renderos is aiming on becoming a teacher who hopes to inspire a greater interest in the STEM fields within her students, specifically through teaching Biology.
This especially applies to young women because, according to Ivis, "We need more women in the STEM fields. Boys aren't the only ones that like Science and these girls should be encouraged to put themselves out there."
A recent transfer student, the spring 2014 semester was her first at NJCU. She completed her Associate's in Applied Science at Hudson County College. Her academic major is Biology, but she is also taking a traditional route to becoming a teacher, meaning that she is not only majoring in Biology, but also co-majoring in Education to receive her K-12 certification.
She recently completed a case study for her LTED 330 class of which the focus was English Literacy; this was a challenge for her since she's a Science student rather than an English student. However, she's growing in understanding the connection between Science and Literacy.
According to Krystle Santaniello, née Aste, a Reading Specialist for Emerson Middle School of Union City and Adjunct Professor of the Education Department, "She wasn't initially seeing the connection between Literacy and Science. She has grown as an educator and parent. She's utilizing the resources she's learned in class."
Renderos is also a mom of three girls, ages 12, 9, and 7 years old. It was actually her youngest daughter who inspired her interest in Biology. "She was born with a heart condition," she says. "I wanted to be able to understand her condition and talk to the doctors about it in an informed way." Regardless, Renderos runs her girls to and from school, as well as extracurricular activities on the weekends, with the help of her husband.
"Weekends are crazy, given their various extracurricular activities, such as art, softball, [the] drama club, and chorus." Because of this, Renderos typically has to wait until her daughters have gone to bed before she can get any studying or schoolwork done. Then, in the morning, it starts all over again! This is a process many of NJCU's adult students encounter; the difficulty is not only finding a balance for everything, but maintaining it.
While she cannot see herself involved in any other aspect of Biology other than teaching it to school aged students, Renderos' future is still undecided. However, she does love seeing the "a-ha!" moment happen when she's teaching a student.
"Suddenly they get all that you have been trying for them to understand!" said Renderos. Most teachers and tutors would agree that this is always a powerful moment that they experience while teaching.
Renderos does not yet know what her GPA is, but she is on track to a 3.4 which is incredibly impressive for someone who is a full-time student and mother. Students like Renderos must be commended for shouldering the additional challenge of bettering themselves as well as bettering the lives of their children. We can only hope to see more students successfully finding a working balance between school and home life like Renderos has.