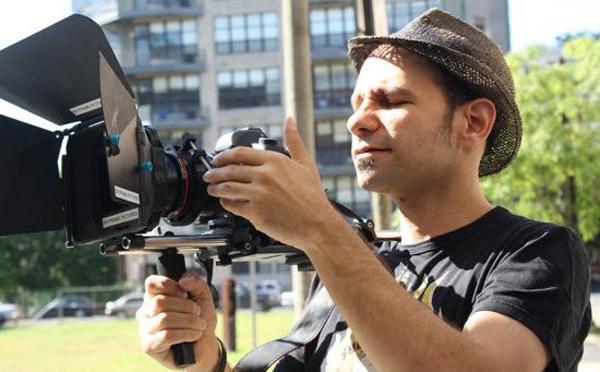 By Vanity Velazquez —
"Life should be lived like Winnie the Pooh," said poet/ filmmaker/writer, John T. Trigonis, "All he does is eat, and enjoy life."
Trigonis got his B.A from NJCU, where he was one of the first students to graduate as a Creative Writing major. He minored in Art, and now, after earning an MFA from Brooklyn College, teaches Civilizations 1 and II at NJCU, and Creative Writing at William Paterson.
"I have so much damn fun just teaching students and the look in their eyes when they learn something new," Trigonis exclaimed. Teaching not only pays his bills, but also gives him an escape from the "real world" of suit and ties, and the nine to five.
The Weehawken native has a strong passion for poetry. "There's no such thing as making a living as a poet," Trigonis stated, so he went with screenwriting. His most recent short film, "Cerise" which he wrote and directed, is about a former six-time National Spelling Bee champ, Josh, who lost 20 years ago to Shivam, the new writing tutor. It's about man versus word, and if Josh will finally overcome the word that took him down. Impressively, Trigonis saved and raised $15,000 to produce this film by eating sparingly, and not going on vacation. He also recently directed another short film called "Mating Dome."
"I feel like I constantly have to produce something," said Trigonis.
His father used to work at a diner, and Trigonis would just sit and draw. "First thing I feel when I walk into a diner is usually hunger, caffeine headache…and fear," admitted Trigonis, "fear because I never know if I will get inspired." Beechwood Café, located in Downtown Jersey City, is one of the few places where he goes to write.
Fame isn't why Trigonis continues to produce amazing work. "I could do this all my life, and not make a penny and still be happy about it," Trigonis said sincerely.
We can all learn something Trigonis, who looks at the world in a very positive light. He summed up his philosophy of life. "Everything happens for a reason. The right reason, even if it's the worst thing in the world. Any ripple I would change would undoubtedly change my present. Maybe it could make me someone better, more successful, but I still wouldn't change anything. I'm cool with it. I can't really regret anything if I'm content now. I've learned to live without regrets."