Award Winning Cuban-American Poet Comes to NJCU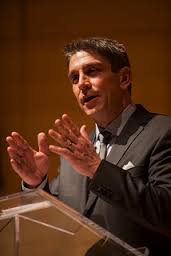 Ismael J. Ramos-Peñaherrera
September 26, 2016
Richard Blanco, a noted Cuban-American poet, will deliver a keynote address at the 2016 convocation on Wednesday, October 5 at 2 p.m.
Convocation marks the traditional beginning of the academic year and offers the opportunity to celebrate with others in the NJCU community. The event will take place in the Margaret Williams Theatre on the second floor of Hepburn Hall.
Aside from being a famous poet, Blanco is also a public speaker, author and civil engineer. He was selected in 2013 by President Barack Obama to serve as the fifth inaugural poet in U.S. history. He was the first Latino to do so. In addition, he was the youngest, first immigrant and first gay person to receive the honor.
Blanco uses a mix of English and Spanish in many of his poems. Some of his most well-known poems are "One Today," "Looking for the Gulf Motel," and "Matters of the Sea/Cosas del mar."
In 1968, 45 days after Blanco's birth in Madrid, Spain, he and his Cuban-exile family immigrated to New York City. The family would eventually settle in Miami where Blanco was raised and educated. Blanco's first book, "City of a Hundred Fires" was published in 1998 and won a prize from the University of Pittsburgh Press.
Convocation will begin with a procession of faculty and professional staff in academic regalia, but is also free for students to attend. The theater will open at 1:30 p.m.
A reception for attendees will be held in Raines Plaza immediately following the ceremony.