A Tour of Rolling Stone
Monica Sarmiento, Web Editor
April 11, 2017
At the CMA College Media Convention in March I was lucky enough to get a tour of the Rolling Stone offices in Manhattan. Myself and twenty other students got the chance to see the Coverwall before meeting with Patrick Doyle – Senior Editor, and Jerry Portwood – Deputy Editor of rollingstone.com.
The Coverwall is a short hallway in their office space that is covered floor to wall by every single cover of Rolling Stone magazine from its fifty years in business. The earliest covers from the late 1960s all the way to the most recent issue (the 1,283rd issue to be exact) lined the walls.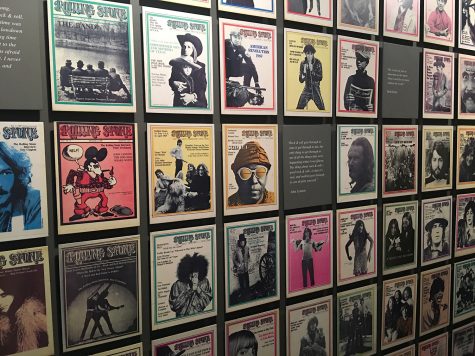 It was incredible to see not only the evolution in design over the last half century of Rolling Stone, but also to see how pop culture and fashion have changed over the years; what we thought was risqué years ago is now tame compared to today's standards. 
Rolling Stone has had its fair share of controversy, especially with their covers. The 1968 John Lennon and Yoko Ono cover in which they stand naked and hold hands got a lot of outrage at the time. Britney Spears' 1999 cover was also controversial because she was in the process of transitioning from a teen pop star to a sex symbol right in front of the world's eyes. The most recent backlash that Rolling Stone has received for a cover was due to their 2013 issue with Dzhokhar Tsarnaev, one of the Boston bombers. The magazine was criticized for "glamorizing terrorism," after its release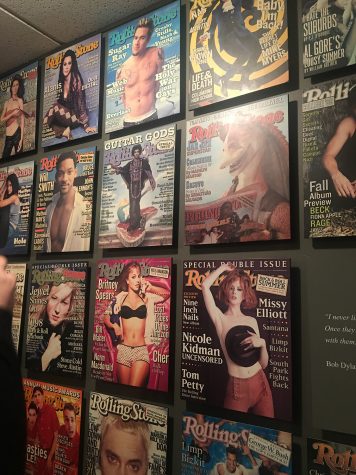 After making my way through the Coverwall, I sat down in one of the conference rooms and met Patrick Doyle, one of Rolling Stone's senior editors. Doyle was surprisingly young, he started as an intern in 2009 and through his consistency and perseverance he worked his way up to his current position in just a few years. 
Doyle named some of the most interesting celebrities that he's met during his time at Rolling Stone. He recalled that Ed Sheeran was the most fun — Sheeran allowed him to sleep over his house during their cover interview for the most recent issue; Kid Rock and Kings of Leon were another story, however. Feeling uncomfortable or awkward is a feeling anyone will get when meeting new people for the first time, Doyle told us.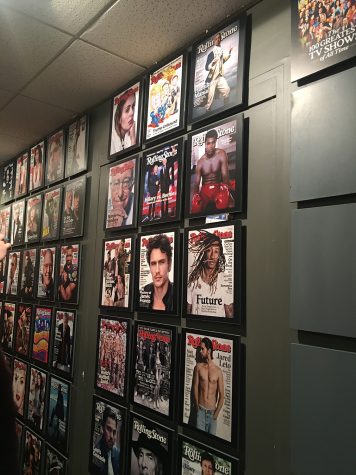 Jerry Portwood is the current Deputy Editor of rollingstone.com, which is the 24/7 counterpart to the print magazine. Working online is more demanding and breaking news requires attention right away. When news of George Michael's passing came out on Christmas day last year, writers that were away on vacations and in the middle of holiday dinners had to drop what they were doing and begin writing an obituary and tribute pieces for the late singer. Portwood had to borrow a friend's laptop to work and missed their dinner that night. 
A morbid fun fact that Portwood shared with us is that Rolling Stone actually has a backlog of prewritten obituaries for celebrities they expect might pass soon. George Michael was unexpected which is why there was a flurry of panic, but for the most part they have an index that they're ready to pull from in case of another tragic loss. 
I found that the staff at Rolling Stone is surprisingly small. They've apparently downsized in the last few years, but the website is flourishing. In another room separated from the conference room by glass windows was their analytics team. The walls were lined with flat screen televisions and the desks were covered in computers. Graphs and figures changed on screen in real time showing what articles were getting the most traffic at that moment.

Politics, for obvious reasons, is one of the most popular sections on rollingstone.com right now. The online articles are primarily written by freelance writers, and editors usually get an influx of submissions for the politics, music, and news sections. Your best bet to get published on their site, according to Portwood, is to write for culture and tech since it's less competitive. 
My time at the Rolling Stone office was short but an insightful behind the scenes look into one of the most influential publications in America. It was motivating to see such a young staff that has managed to work their way up in such a short amount of time. Also, they gave me a free copy of the new issue with Ed Sheehan on the cover, so that was pretty cool.