NJCU Celebrates the Mid-Autumn Festival 
Hang on for a minute...we're trying to find some more stories you might like.
NJCU's Confucius institute celebrated the Mid- Autumn Festival in style.  On October 4 NJCU offered students a chance to learn more about Chinese culture, folksongs as well a chance to savor the taste of Chinese culture and its cuisine. Andy Chiang, the executive producer of Nai-Ni Chen dance company, directed the dragon performance, a form of traditional dance very popular in Chinese culture during festivals. Vaughn Rogers, from NJCU'S Confucius Institute (CI) stated, "this year was special because National Day and the Mid-Autumn Festival happened to land on the same day."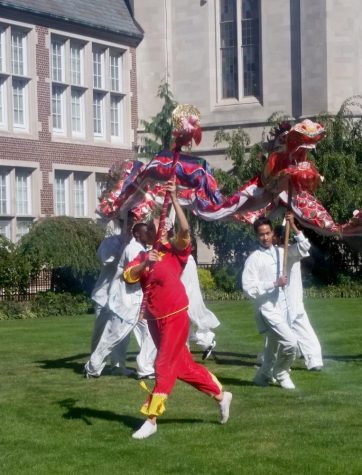 The Mid-Autumn Festival is based on the lunar calendar and China's National Day is based on the Gregorian calendar which is largely a solar calendar. The CI Ambassadors are local and international students who are passionate and invest their time to actively participate in the Confucius institute. Some of the ambassadors, says Rogers, "even invited their friends to participate this year."
The Confucius Institute teachers and staff coordinated the entire choreography. Ms. Lichang Zhang, a CI teacher planned the event with a fellow CI teacher, Mr. Xuyang Jiang.  Director Yin, the CI Chinese director, worked closely with the CI teachers who hold cultural events at local schools. (Mrs. Shiwen Wang, Mr. Kuo Li, and Dr. Lan Jin). The event boasted a huge audience. In addition to NJCU students being present, students from Innovation, Liberty, A Harry Moore, and Dickinson High School were also in attendance.