Picks of the Week Dec: 3rd – 9th
Hang on for a minute...we're trying to find some more stories you might like.
Since we're nearing the end of the semester here are some final activities to participate in before you start finals.
Auditions
Shrek the Musical Auditions (12/06: 6:00PM. Karnoutsos Dance Studio)
Auditions will be held for Shrek the Musical in December. Contact Professor Marc Dalio (mdalio@njcu.edu) for Information and an appointment, and be ready to sing
Fashion Show Auditions (12/06: 8:00-9:00. GSUB Cafeteria)
Interested in modeling for the Fashion Organization's fashion show next spring? Their first audition is this week.  If you can't make this one you can also try out at the same time and place on 12/11 and 12/13.
Culture
Spread the Love (12/03: 12:00PM. GSUB Lobby)
Celebrate love and support pride this afternoon in GSUB – there will be giveaways as well.
Performances
Poetry and Painters Night (12/04: 9:00-11:00PM. GSUB MPR B)

Get ready for a night of singing, dancing, rapping, and more – all while you relax and paint. Free food will be served. Sign up HERE to attend.
Burning Movie Screening (12/04: 7:00-9:00PM. GSUB 317)
Join the LGBTQ+ Alliance in watching and discussing the movie Burning. There will be giveaways, raffles, and food as well.
Campus Life
No Phones Allowed (12/06: 10:00AM-10:00PM.  Art Gallery/GSUB 129)
Can you meet Campus Life's final challenge of the Semester: No smartphones for a whole day?  Try it out and don't worry, there will be activities to keep you busy throughout the day including an exhibit of old technology and dinner.
Upcoming:
Smartphone Film Festival – Postponed (January 28th, 2019.  GSUB)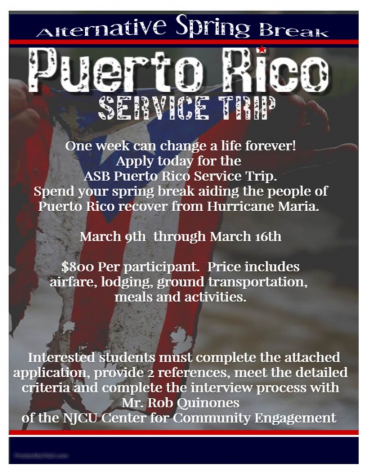 Guess what? You have another chance to enter the film festival. Have fun over winter break creating a short video using your smartphone and submit it when you come back next semester for a chance to win prizes.
Alternative Spring Break (March 9th-16th 2019. Puerto Rico)
Change both your life and someone else's next spring break; help Puerto Rico recover from Hurricane Maria and explore another country. The price is $800 for the trip and includes transportation, food, activities, and more. Apply HERE by December 14th.