Picks of the Week Feb. 11th-17th
Hang on for a minute...we're trying to find some more stories you might like.
Don't miss out on the variety of activities going on around campus this week!
Campus Activities
Paint and Sip (Monday, 02/11: 6:00PM. Co-op Hall 1st Fl. Lounge)
Have fun painting and hanging out with your friends this evening. Supplies and refreshments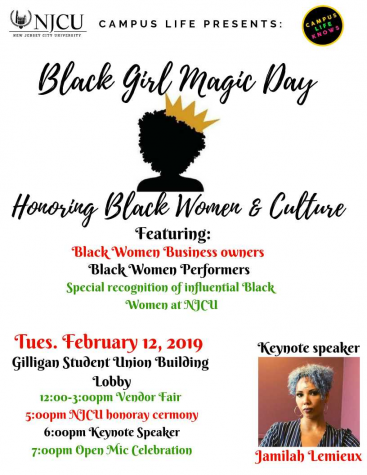 are provided.
Dragtastic Variety Show Casting Call (Registration Due Monday 02/11)
Show off your talents and drag at the variety show this spring. Register HERE.
Forgotten Genius (Tuesday, 02/12: 2:00-4:00PM. GSUB 216)
Come learn about Percy Julian, the first African American to achieve a PhD in chemistry. Food will be served.
Black Girl Magic Day (Tuesday, 02/12: 11:00AM-9:00PM. GSUB MPR)
Join NJCU in celebrating and supporting black women.  Jamilah Lemieux will be speaking. and there will be vendors and DJs as well.
Is Love in the Cards? (Thursday, 02/14: 1:00-4:00PM. GSUB 123)
Is love in your future? Find out this Thursday at a free psychic reading.
Professional Development
Presentation and Public Speaking (Wednesday, 02/13: 2:00-3:30PM. GSUB 129)
Join Armor Leadership in improving your presentation and public speaking skills.
Resident Life
Find The RA In You (Monday a, 02/11: 1:00-2:00PM and Tuesday, 02/12: 10:00-11:00PM. WCV Conference Room)

If you are interested in becoming an RA for the next school year you have to attend one of these meetings. These are the last two so make your way over to West Campus Village and don't be late.
Upcoming
Student Government Elections (App. Due Thursday 02/21)
Interested in running for student government? Applications are now available for the 2019-2020 term, and are due in less than two weeks. Head to GSUB 125 or email rgeneraly@njcu.edu to apply.