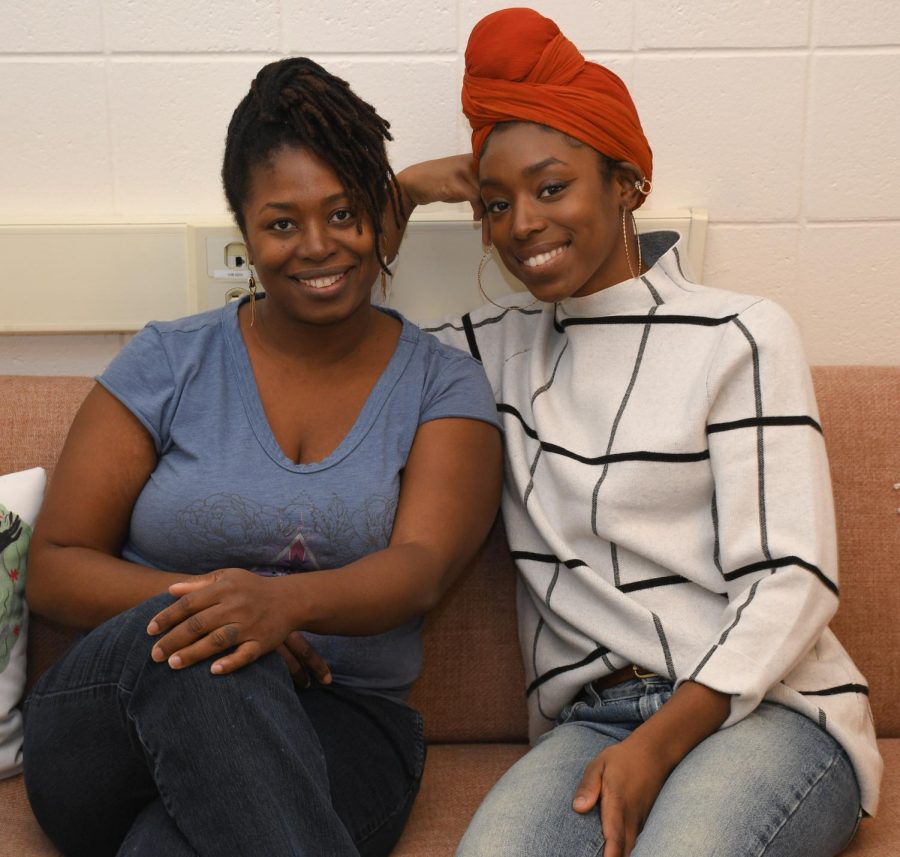 David Wilson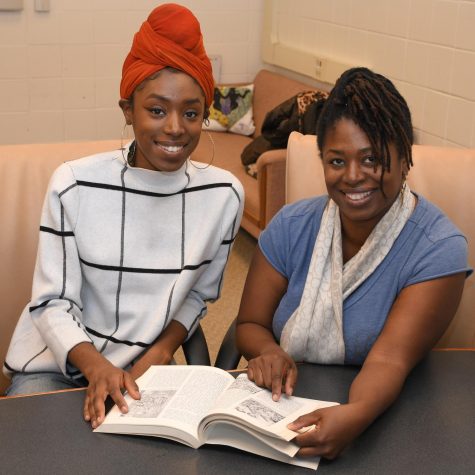 Marie Albert majors in Business Management at NJCU, and Andrea David double majors in Music Business and Art Therapy. Both women are first year students who support each other through the terrific and tough times; good friends who are members of the Class of 2023, as well as Mom and Daughter.
On a recent afternoon in the Speicher-Rubin Women's Center for Equity and Diversity, located on the 3rd floor of the Gilligan Student Union Building , Albert and David shared how it feels to be Freshmen together, and what they hope to accomplish after they earn a bachelor's degree in their respective fields.
As a realtor in New Jersey and New York with a focus on Hudson and Bergen Counties, Albert decided to get a bachelor's degree to plan for the future of her family which includes her son Andrew, 18.
"My children keep me going," Albert said. "They're my determination."
Before attending NJCU, David spent a semester at Essex County College, then a summer in Paris studying the psychoanalysis of art. The experience was sponsored by the Council on International Educational Exchange (CIEE), a non-profit that promotes international education and exchange. David chose to go to NJCU this fall, because the school offers the Music Business and Art Therapy majors that interest her.
"I started visiting the campus this past summer," David said. "I decided NJCU is where I wanted to go."
"I would go with her to all the events," Albert said. "I applied for the heck of it." "We wrote the essay together," David said.
At first, David says she felt apprehensive about attending college with her mom, but that's all changed. "It helps us to be more synchronized," she said. "We do things together outside school, too."
Extra-curricular activities for David include a passion for creating skin care treatments. She has her own skin care line, Skin by Blouezz, which began with an early interest in essential oils. She once treated a skin blister with salve made with Tea Tree Oil, and saw positive results.
David branched out into other types of skin care treatments like shea butter moisturizer and massage oil made with hemp. Her website, https://artbyblouezz.site features info about her skincare line.
"They're organic products," David says. "I've been studying the benefits of essential oils since I was 12. I started making products when I had skin issues."
Along with skincare, David creates art – she's a photographer – and plans to work in the Arts by starting her own non-profit arts organization after she graduates from NJCU.
"I want it to be non-profit that will manage artists and consist of studio spaces and art," David said. "I want to give back to the community."
For spring semester 2020, Albert plans to change her major to Marketing with a minor in Psychology.
"I'm a realtor so Marketing will be the best thing for me," Albert said. "I need Marketing to help me build my business."
Both mom and daughter share an interest in organics. In her spare time, Albert makes terrariums, which are miniature, glass-enclosed greenhouses.
"I do it for fun," she said.
Both women acknowledge they have a close mother-daughter bond that helps them on their educational journey. David says it's empowering to have her mother on campus.
"She taught me to be fearless," David said. "She says, 'Do the things you want to do. Don't let people hold you back,'."
"It feels good to support her," Albert said.
Both women laugh recalling the times people at NJCU were surprised to learn that David and Albert are mother and daughter.
"They think we're friends or sisters," Albert smiles.