Graduates Continues to Showcase Work for BFA Exhibition
December 14, 2020
A multitude of creativity is on display from illustrations to ceramics and to paintings by NJCU graduates. They have worked throughout the COVID-19 lockdown and graduated last spring.
On view is a collection of paintings by Ailyn Lopez called Blinding Condition.
The series of paintings starts with the Blinding Trust –a young woman's vision being covered by her partner behind her.  Aylin's work conveys the metaphorical blindness that exists in one's own experience.  The kind of blindness that we are all subjected to because of love, and its complexities.
"This series started from the Binding Trust painting, which is actually a self-portrait of me and an ex-partner. Which metaphorically was about loving someone unconditionally and blindingly being led by them. It is meant to be pure," Lopez said.
Lopez continues, "I think I originally wanted to portray a discomfort with being able to see someone being blinded or blinding themselves with circumstances that can be changed at any moment. However, it has developed into a bigger metaphor of blissful ignorance."
The next painting Following Orders depicts three women covering their eyes as if conforming without question. When asked of the distinction between covering one's own eyes and covering the eyes of another, Lopez said, "That was intentional. For example, the Following Orders painting is a salute to blindly follow orders with not much perspective. While the partners in the Blinding Trust obviously do it to each other, which is also why you cannot see the eyes of the partner in the back."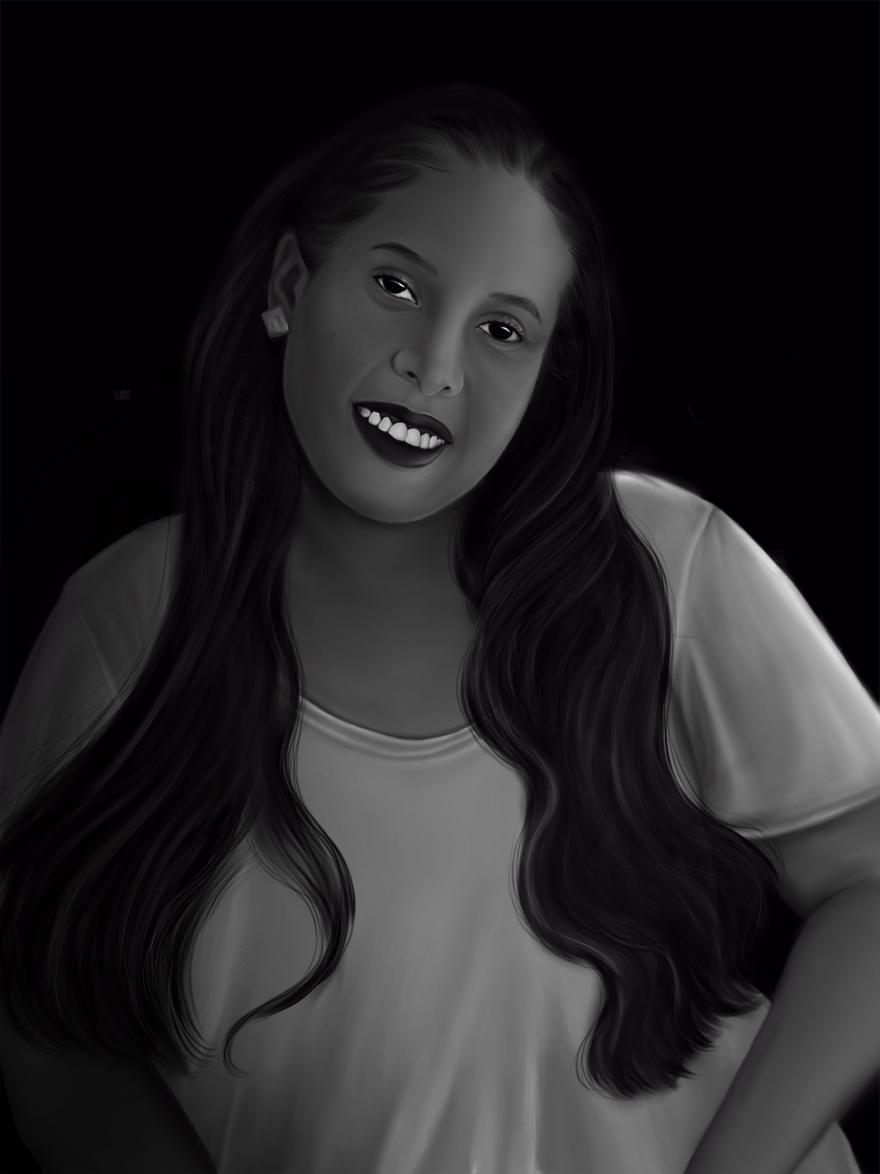 Pérdidas
Another female artist, Karla Almonte (former web editor of The Gothic Times), displayed her art through a digital painting series titled Perdidas. This is a collection of black and white framed portraits of females murdered in the Dominican Republic by their boyfriends and husbands.
Almonte said, "What inspired me to draw these women was the case of Emely Peguero. She was a pregnant sixteen-year-old girl that was murdered by her boyfriend with the assistance of his mother because Emely was against having an abortion. She was left stuffed in a suitcase in the middle of a deserted road. I was baffled by my country's judicial system when it came to protecting women, especially the women that were poor, had no resources to defend themselves and/or connections with the government. The system continued to fail women, and I wanted to bring that conversation into a space that was detached to my country. I wanted to bring those victims into a conversation they were never in. I wanted people to become aware of what is happening to women and how power and money divert our attention from the daily brutality against women in a third world country."
One of the pieces of art was a significance to Almonte as she knew the victim personally– a teacher named Nairoby Nathaly Pérez Reyes was stabbed to death by her husband and did not receive help from authorities despite reporting the abuse in 2016 and 2018. "She was my mother's friend. A hard-working mother and teacher in my hometown who was known by everyone due to her charisma, love for her children, and desire to help her family progress. Her abuser stabbed her several times, called one of their kids to confess that he had indeed killed her and then he killed himself. We felt so betrayed by the authorities; Their indiligence once again cost a woman's life."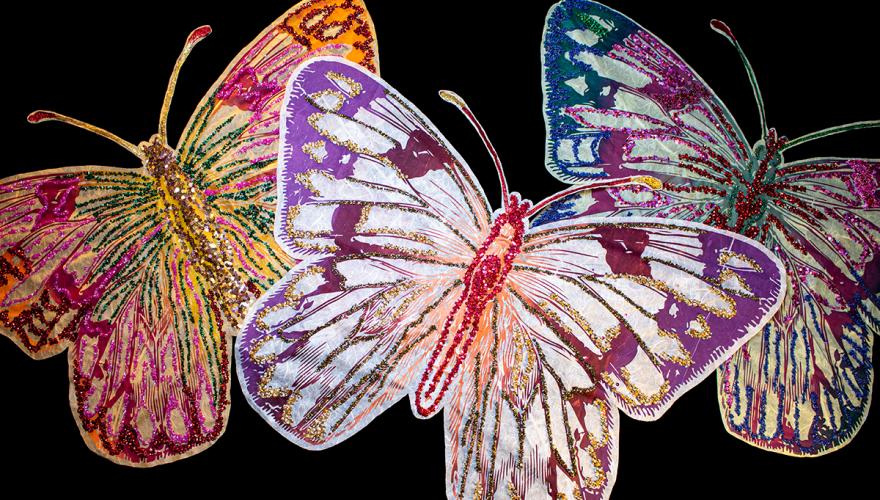 Untethered
Lastly, Aminah Chaudhary, a graphic design major and former production manager for The Gothic Times, created bright, multicolored butterflies by hand, using silkscreen techniques, sequins, and bead embellishments. Her artwork titled Untethered is a metaphor for femininity and delicateness.
According to her, butterflies, while being graceful, have the strength to reinvent themselves through change and migration. "I have created an extension of myself with these butterflies. I have given them names of all the beautiful young women in my family, and each name is enhanced with a characteristic they represent to me. I have chosen these characteristics to be represented in my native language (Urdu) because the sound of the words being spoken and the imagery, they conjure sums up everything I am trying to represent with them. These butterflies also function as kites and kites represent flight and freedom that all the women in the world, young and old, can use to express their fragility and beauty," Chaudhary said.
These works of art have illuminated how NJCU art graduates have captured the essence of their experience throughout the hardships. Three artists while coming from different backgrounds share a commonality of womanhood and struggle in society. During COVID-19, it has forced many to grasp inspiration from within. Female NJCU artists have given a voice to the female perspective.