Trump and Biden: Policies and History
Justin Jablonsky, Contributing Writer
October 31, 2020
With the Presidential Election days away, it is important that we do a deep dive into what our candidates are running for and whether they will tell the truth in the process. Both of our front runners for president are set to be the oldest presidents in history and have spent the majority of their lives in the public eye.
It is important to note that President Donald Trump and Former Vice President Joe Biden are not the only two candidates running but they are the most likely winners.  Despite what you may see on social media, there is no shame in voting for a third-party candidate or sitting this election out. In 2016, nearly 6 percent of all voters chose third-party candidates according to a Pew Research Center analysis.
Policies can be broken down into many categories but I will be listing them down by importance to a college student.
The Student Debt Crisis
Sorry to disappoint, neither candidate is completely in favor of free college.  Biden has had a long history with the student debt crisis.  Biden supported and voted for the "Bankruptcy Bill." Having an impact on college students, the bill made it almost impossible for these individuals to erase the debt even when filing for bankruptcy. However, he now says he will work to fix the nation's overwhelming student loan debt.  One of his proposals is to make public universities free for any students whose household income is under $125,000 annually.
President Trump has yet to speak on the issue and it can be assumed he would make no real moves in his second term.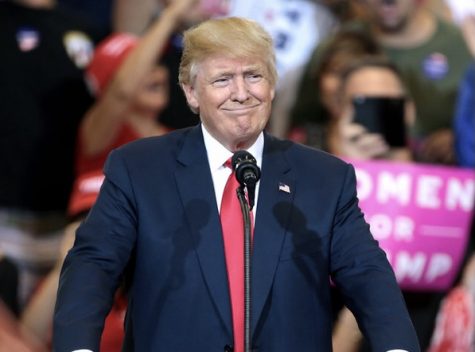 Black Lives Matter: Backing the Blue
Among the current prevalent issues in the U.S.  is the topic of defunding or abolishing the police.  It may come as a surprise to some people to find out that both candidates do not support any form of defunding the police.  President Trump has tweeted on more than one occasion "LAW AND ORDER" with respect to suppressing the riots across major cities in the U.S. including Portland, Seattle, Los Angeles, and New York City.  Trump has also attended a Back the Blue rally in Florida this July.  His opposition,  Biden, and the Democratic National Committee has expressed their support for Black Lives Matter and the protests.  When asked if Joe Biden supports defunding the police, he said he doesn't want to defund the police and actually wants to add $300 million dollars more to police funding.  Biden also mentioned that President Trump actually wants to defund the police in his new budget.  This statement is partially true as the president's proposed budget would cut around $500 million dollars from federal aid to police departments.
A recent poll conducted by JustTheNews showed 83 percent of voters believe the police deserve support.  A poll done by NPR found that 43 percent of Americans support the protests following the shooting of Jacob Blake.
Mass Incarceration
"Every major crime bill since 1976 that's come out of this congress, every minor crime bill, has had the name of the Democratic senator from the state of Delaware, Joe Biden, on that bill." said by Joe Biden on the Senate floor.
One of the biggest controversies surrounding Biden is the infamous Crime Bill which he authored.  When describing the bill, Biden said "It provides 53 death penalty offenses… we do everything but hang people for jaywalking."  Many have pointed to this specific bill as the reason for disproportionate black incarceration.  Five years after the bill was made law, 74 percent of all federal prisoners sentenced to death were people of color according to a survey done by the Department of Justice.  The 1994 bill was the largest crime bill ever signed in U.S. history and after its signing mass incarceration climbed for 14 years.
In 2018, President Trump signed the First Step Act which sought to undo the wrongs of the Crime Bill by helping to reduce prison sentences.  However, the private prison industry has recently given its support to Trump because Biden has promised to abolish private prisons.
Note: Neither candidate has made any real promises to legalize marijuana.
Kids in Cages
Neither candidate can say their hands are clean on this topic. Over the last four years, social media platforms have exploded with photos of children in cages and families separated in ICE detention centers.  President Trump has been vocal about his stance on illegal immigration with his famous claim to "build a wall". An unfair criticism often contributed to Trump is a misquote about him referring to immigrants as animals. When in full context the president was referring to the terrorist gang MS-13 during a dialogue with a sheriff.
"There could be an MS-13 member I know about — if they don't reach a certain threshold, I cannot tell ICE about it."
"We have people coming into the country, or trying to come in — and we're stopping a lot of them — but we're taking people out of the country. You wouldn't believe how bad these people are. These aren't people. These are animals…"-President Donald Trump
It may be shocking to find out that the Obama-Biden administration actually built those now-notorious cages.  In an interview by NPR, Jeh Johnson, former homeland security director, explains the cages were built before January 20, 2017.  Recently, during a segment on the cages, Rachel Maddow criticized President Trump for them but used photos taken during the Obama administration.  In fact, Biden and Obama deported more illegal immigrants than the sum of all other presidents before them.  Although his past may not reflect it, Biden has said he would stop all deportations for the first 100 days of his presidency.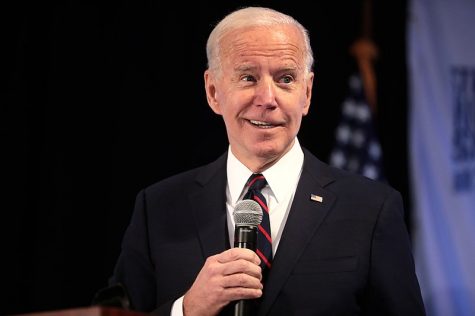 LGBTQ+  Rights
Yes, Biden and Obama did make gay marriage legal nationwide. During, both the 2008 and 2012 campaigns, the administration was not in favor of same-sex marriage.  Joe Biden had actually voted for the Defense of Marriage Act which defined marriage as the union between a man and woman.  In 1973, during an interview, Biden had proclaimed "My gut reaction… that they [homosexuals] are security risks…"  This quote was in relation to a question Biden was asked about homosexual men working in the federal government by The Washington Free Beacon.
Biden had also voted for the National Defense Authorization Act for Fiscal Year 1994 which included the policy of "Don't ask Don't tell" that barred openly gay men from military service. Today, Biden seeks to help the LGBTQ+ community by pushing the "Equality Act" that would prohibit any discrimination on the basis of sexual orientation.
President Trump's stance on gay marriage has been very grey, to say the least.  In 2000, he said marriage was the union between men and women, however, he publicly congratulated Elton John on his marriage to David Furnish.  As of 2019, President Trump's campaign has said Trump supports same-sex marriage.
Under the Trump presidency, there has been a change to the U.S. military policy on transgender enlistment.  Anyone who is currently taking hormones or has already undergone a gender transition will not be allowed to join.  Biden has said he will seek to undo this policy.
War/Military
President Trump is the first president in 40 years to not start a new war, according to Matt Gaetz and Bob Woodward.  Trump has made it a campaign promise to bring troops home.  In an interview with Fox News, Trump said every attempt he has made to bring troops home has been met with scrutiny and claimed the generals love war and never want to leave the Middle East.  Trump has reduced the number of total troops in the Middle East and negotiated two peace deals.  But the United States is still currently in seven wars.
Vice President Biden supported the Iraq war and the Patriot Act. Under the Obama-Biden administration, the United States went from two to seven wars, these countries would include Yemen, Syria, Pakistan, Iraq, Afghanistan, Libya, and Somalia.  The Obama administration dropped so many bombs in the Middle East that it was equivalent to three bombs an hour 24/7 for 365 days straight.
In 2016, Joe Biden called service members "stupid bastards" during a speech, however, many have disputed this was used in a joking matter.
Denouncing Racism 
It was a huge controversy back in 2016, when both former KKK member, David Duke, and Neo-Nazi leader Richard Spencer voiced their support for Trump.  Even now during the 2020 election cycle, the endorsements have haunted the President on his campaign trail.  More recently, during the first presidential debate when asked to denounce white supremacy, many criticized that the president didn't give a clear enough answer or flat out didn't denounce it.  Shortly afterwards, social media and some news outlets said the president has never denounced white supremacy.  However, this claim is simply not true.  On several occasions, the President has denounced David Duke and the KKK.  After the Unite the Right Rally, Trump denounced Richard Spencer, who was one of the organizers.
"Racism is evil. And those who cause violence in its name are criminals and thugs, including the KKK, neo-Nazis, white supremacists, and other hate groups that are repugnant to everything we hold dear as Americans."
On the other hand, Biden's record on this issue is nothing to wipe away.  Vice Presidential nominee, Kamala Harris, said Joe Biden worked with segregationists on the issue of bussing.  Biden has also been under ridicule for giving a eulogy at Robert Byrd's funeral.  Senator Byrd was a former recruiter for the KKK.  And this election cycle, Richard Spencer has endorsed Joe Biden and claims Trump is not competent. The Biden campaign has denounced Spencer's endorsement and denounced all white supremacy.
Vice President Picks
There are many criticisms of VP Mike Pence but his loyalty to the president and his party are unmatched.  Mike Pence is the most conservative vice president in over 40 years, the closest.  However, Pence has had a very tumultuous relationship with the LGBT community.  Pence opposed gay marriage, thinks being gay is a choice, and once supported federal funding to change people's sexual behavior. (NOT SHOCK THERAPY)
The same can't be said for Senator Kamala Harris's loyalty, it is not one of her strong suits.  She accused Joe Biden of backing racist policies and has said she believes the accusers of Joe Biden.  The accusers alone would be an immediate moral conflict.  Harris already turned her back on the #MeToo movement when she withheld documents that would have locked up priests that allegedly abused children.  With relation to police, Harris said back in 2009 she would like to see more police on the streets and earned the nickname "Top Cop" Harris after her career in law enforcement.  During the democratic primary debates, Tulsi Gabbard scrutinized Harris for her record and blocking evidence that would have freed a man on death row.  Recently, a photo of Harris resurfaced depicting her wearing a law enforcement jacket with I.C.E. agents posing next to her.  Harris recently flipped her position on policing this year and has come out in favor of police reform.
Conclusion
In this polarizing political climate, it has only become harder and harder to know which candidate to pick or what policies they actually support.  It's key we can discern these biases from our sources whether it be CNN, FOX, Instagram, or Twitter.  Politicians saying one thing and then doing another is nothing new but many are claiming this is the most important election in our lifetime.  If this election is truly one that will define this country for generations, then being a well-informed voter is vital.