NJCU duo seeks talents of the world – one show at a time
By Roberto Miranda –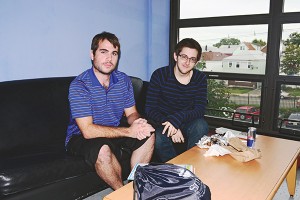 Looking to promote the musical talents of NJCU students, Magnetic Management is a show booking service started by two seniors who became friends after meeting on campus.  Michael Arbitblit, 22, Business Management Major, from Bayonne, and James Impellizeri, 23, Media Arts Major, from Manville, were huge music fans of bands such as Nine Inch Nails, The Doors, Isis, and Mew before starting Magnetic Management in Spring 2013.
Magnetic Management is not limited to promoting one style of music; as of now, they are working with four bands of different genres: pyschedelic, hard rock trio Ravens Ballroom, progressive metal quartet Make Them Remember, experimental post-metal band Crusade, and indie/emo rock group AlphaFlight .  All four bands consist of either current or previous students of NJCU.
Due to their meeting the bands through shows, Arbitblit and Impellizeri hope to unite with other bands consisting of NJCU students through future events of their own. They have booked shows at the now closed Maxwell's in Hoboken, Lot 13 in Bayonne, and the Lamp Post in Downtown Jersey City, and are looking to expand to other areas of Jersey.
Both Arbitblit and Impellizeri plan on giving back NJCU the sense of opportunity it brought them.  "If it wasn't for NJCU, I would've never met Matt Ravens, all of Ravens Ballroom, [and] I wouldn't have met James," says Arbitblit.
After attending and networking successfully at NJCU's 24/7 Sickle Cell Musical Event held in October of 2012, Arbiblit also said the following, "I think it's a possibility that we could even have another event for some kind of benefit at NJCU, [we'd] get different bands to play, raise money, and donate it to someone.  We even wanted to do something like that for the hurricane (Hurricane Sandy) last year, but, things didn't go as well as we thought it would, so, who knows, maybe at the beginning of next year we'll do another fund raiser," said Arbitblit.
Being from the Somerset County borough of Manville, with a population of about only 11,000 people, Impellizeri sees Jersey City as a great place for artists to get exposure.  "Just because we're not huge like some other schools doesn't mean that we don't have a vibrant culture here; we do, and we can bring it to the masses.  The world is really right on our doorstep. There's so much talent [at NJCU], and all of Jersey City and the world, need to know about it."
In regards to the company's future, Impellizeri sees the success of Magnetic Management relying on a loyal following. "I would like to see us go to other parts of New Jersey, such as Central Jersey, where I'm originally from, and New York City. Ultimately that would be a mean[s] to attract bigger bands, or bands that have the potential to be signed, bands that are on the touring level.  As we expand, that will happen because we live in this unique area."
For more information, please visit:
https://www.facebook.com/MagneticManagement
https://www.facebook.com/thespacestationjc