Ella Chavez – Songwriting from the Soul
By Armando Sultan —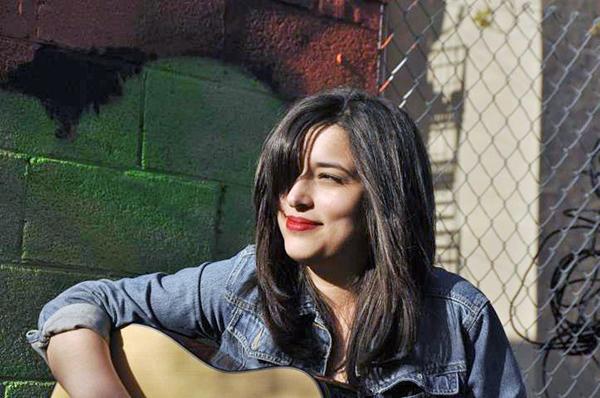 "I don't want to be famous; I want to support myself with my music."
The resonance of an acoustic guitar in harmony with beautiful finger picking, led to not a single voice being heard as Ella Chavez performed her set. It was as if as the audience felt connected to her through her music. Gabriella "Ella" Chavez, a 21 year old senior year Photography major from Belleville, is a well-known performer in the acoustic local scene; she has performed in Jersey City, Union City, Montclair, and Williamsburg. Even though Chavez is going to finish with a Bachelors of Fine Arts in Photography, her main passion is music.
"When I was a little kid, I always wanted to do music, but I was never really pushed towards it. Once I started attending art school, I knew music [was] what I wanted to do," said Chavez.
With influences such as Bright Eyes, Fiona Apple, St. Vincent, and PJ Harvey, Chavez performs her songs using only her acoustic guitar and her voice.
"I love artists who have great lyrics; songwriting is a major thing for me," said Chavez.
"Till When," being one of her earliest songs, was the beginning for Chavez's growing interest in music. It was recorded in July 2011, and has the sound of folk-like story-telling; the lyrical structure resembles a compelling story from a stranger who successfully engages new listeners.
"My father actually wrote the lyrics for that song, but it [wound] up being a song that I fully finished and I was happy with. My music has matured quite a bit since then; I think I found my voice through that song," said Chavez.
Chavez's most recent tracks are "Misled" and "Hell;" however, only "Misled" will be featured on her upcoming EP, which is set for release in early 2014.
"Misled is about being in love with somebody [that] you've had feelings for at very different times in life. "It was cathartic for me to write a song about it; in fact, all my songs are a source of catharsis," said Chavez.
For more information, please visit Ella Chavez's music on her Facebook page: Ella Chavez Music.