Meet Annie Lanzillotto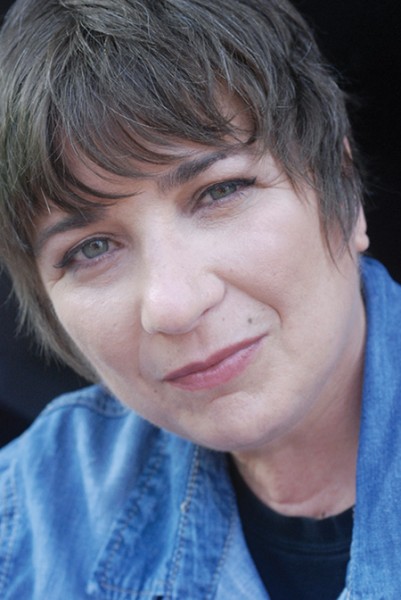 Writer on campus
By Roberto Miranda and Armando Sultan
Since the beginning of the fall 2013 semester, NJCU has welcomed its new Writer on Campus, Annie Lanzillotto, an established writer and performance artist from the Bronx.
Known for her commanding stage presence, Lanzillotto is influenced by the performances and messages of artists like Penny Arcade, Mark Ameen, and Patti Smith. Throughout her career, she has won a plethora of awards and grants, and was also named one of the "200 essential New Yorkers" by The New York Times.
When asked how she became a part of the NJCU community, Lanzillotto acknowledges Professor Giunta, who teaches Modern and American Contemporary Literature.
"She was going to connect with NJCU students, said Giunta. "Many years ago, she came and did one of her reading performances to my EC2, my composition students, not English majors, students who were very reluctant to do the readings; and after I had them write a response, one student said, 'That's it! I'm changing my major!' To me, that summarizes the kind of impact she has."
"She's been mentoring me," said Cassandra Casella, Secondary Education major from Hoboken. "Some of the things that she writes about in her own poetry, or some of the themes that she writes about in her own poetry, have been helping me reflect on my own experiences. She's been helping me; she's that kind of person."
As for why she chose NJCU, Lanzillotto said, "I'm here to write my next book and to conference with students on their creative writing and their choices to be a writer, or to be a performer. So it's like having a practitioner here from the city, to show the life of a writer. It's my pleasure and privilege then, to help them get published, the next generation. That's a beautiful thing; it gives meaning to what I do."
When telling stories, Lanzillotto engages her audience with verbal conviction, along with using a curved stick covered with yarn and keys known as her "ritual stick." The center of the stick contains a hanging iron bell that gets swooshed around during performances.
"I go by the writer James Cagney, 'Stand up, plant your feet, and tell the truth.' Express yourself; tell the truth of your heart. That's what I go by," said Lanzillotto.
When offstage, Lanzillotto's main interest towards NJCU is to have students partake and generate stories through their "action writing."
"I'd like to inspire students to do solo shows, and to write them and act them, and direct themselves, or direct each other," said Lanzillotto.
With her action writing, Lanzillotto sets up huge pieces of paper on the floor and have students use writing tools such as pastel, ink, pencils, and pens and "perform" what they write.
"I want to bring the structure and the feeling of the words, what their physical, emotional, spiritual, [properties] mean deep down," said Lanzillotto.
In addition, Lanzillotto has brought "Hearings" to NJCU, which is basically an open mic for music, poetry and all types of spoken word performances: A block of time and day, for students to share with each other all their creative talents and thoughts. These hearings are held in Grossnickle Hall, room 114, from 5 to 8 pm every Thursday as of fall 2013, and will continue (on Thursdays) into the spring 2014 semester.
"If any student wants to have time with me about their creative writing, or about the life of an artist, come to Action Writing every Thursday, either this semester or next semester, [and] email me or text me. Come sit with me here; I will hear your heart and work with it." said Lanzillotto.
For more information, feel free to contact Annie via any of the following:
Email: [email protected]
Cell Phone: (347) 673-3443
Websites: www.annielanzillotto.com, www.lisforlion.com
Facebook: Annie Rachele Lanzillotto