Habitat for Humanity: You Can Make a Difference
Spring break in Texas
 –By Diana C. Hernandez–
According to Habitat.org, the Habitat for Humanity International is a nonprofit, Christian housing ministry that believes that every man, woman and child should have a decent, safe, and affordable place to live. There are 15 NJCU students going to Midland, Texas during spring break to help build a home for a family in need alongside with Habitat for Humanity's Collegiate Challenge program.
Habitat for Humanity started in 1976 and has served more than 4 million and has built over 800,000 homes. They help build and repair houses all over the world using volunteer labor and donations. The families who purchase these houses go through no-profit, no interest mortgage loans and innovative financing methods.
Student Ivette Cruz, 24, an English major from Jersey City, is eager to help a family in need.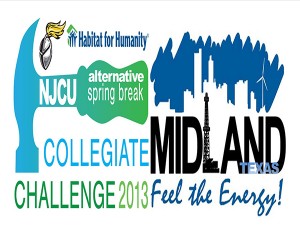 "This trip means giving back to others," said Cruz. "A lot of the times we donate time and money to other countries, but not often do we do the same for our own country. This trip means giving back to the place I'm from and realizing that though I may have rough times there are other people struggling more."
The program allows participants ages 16 or older to visit one of the Habitat's 200 local affiliates throughout the United States. During spring break, the groups spend one week working with the local affiliate, community, and partner families to help eliminate poverty housing in the area.
Mel Williams, along with Rob Quinones, who is the Assistant Director for Activities Coordinator, Center for Community Service and Volunteerism, will also be attending the trip.
This year will be the eighth Alternative Spring Break (ASB) trip. Quinones has led four ASB trips to Georgia, one to California, one to Mexico, and they volunteered for a week for Hurricane Sandy Relief.
Quinones admits this is the most rewarding aspect of his job at NJCU, "…It gives me the opportunity to give our students a unique activity that enhances their collegiate experience, takes them way out of their comfort zones, [and] provides them with essential team building skills and a lifetime of memories all while living the motto, 'Enter to learn, exit to serve.'"
Making a donation to the NJCU students that are going on this trip will help them serve a family in need. Each student has to come out of pocket and pay $625 each, but to help reduce the cost for flight, registration, and food; they are trying to raise at least $2500 by March 1st to reach their goal.
These students are giving up their spring break and are not in for a vacation by any means. They will be woken up by Quinones every day at 6 a.m. and will be at their work sites until 5 p.m. In addition, they will be constructing a home from the ground up and sleeping on a church floor for a week and volunteering to do so.
Quinones is proud of the students volunteering this year, "I have the utmost respect for their dedication and willingness to give up their time and effort. They are a testament to the persistence and perseverance consistently displayed by the NJCU student and I commend each and every one of them. Let's support these great students as they lend a helping hand to a family in need."
The NJCU community can help in many ways. Students can buy tickets to the March 6 "Meltdown" Luau Dance Party. Admission is $3.00 for NJCU students and $5.00 for guests with a valid college ID.
Everyone is also encouraged to grab dinner at the Habitat Pasta Dinner Room on March 6 from 5 p.m. to 8 p.m. ($5.00 for pasta, with choices of two sauces and meatballs). Proceeds from both events will benefit the students participating in the ASB trip.
If you would like to donate you can go log on to gofundme. com/njcuhabitattexas.