2014 Black Maria Film Festival features Young Filmmakers of Yesterday, Today and Tomorrow
Hang on for a minute...we're trying to find some more stories you might like.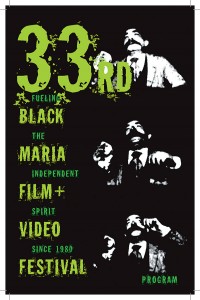 –By Roberto Miranda–
If you're a person who enjoys watching films and wants to know more about the amount of work that goes into them, then you might want to check out the 2014 Black Maria Film Festival.  The festival allows young filmmakers from all over the world to submit their work as a sign of promoting, illuminating and condoning the magic that is the motion picture.
Formally known as the Thomas A. Edison Media Arts Consortium – Black Maria Film and Video Festival, The 33 rd annual festival kicked off on campus on Feb. 7, at Ingalls Recital Hall, and runs through July at various venues in the U.S. and internationally. More information can be found at: http://www.blackmariafilmfestival.org.
For those that do not know, the Black Maria film festival is in honor of highly influential inventor and creator of motion pictures, Thomas A. Edison; in addition, Black Maria gets its name from Edison. Edison's studio, which was the world's first film studio, was named "Back Maria."
This year's event will also honor Black Maria Founder and Director Emeritus, John Columbus, with a wine reception, in addition to the screenings.
With its films spanning across many genres, Black Maria looks to feature these works as centerpieces of the event, as opposed to the films falling short to big budget motion pictures.  In doing so, the festival incorporates audiences from various institutions, such as universities, museums, libraries, community organizations, and art venues.
Current full-time Media Arts Professor Jane Steuerwald is the Executive Director of this year's Black Maria Film Festival.  "As we embark upon the 33rd annual festival tour of the Black Maria Film and Video Festival, I am proud to have the opportunity to showcase the work of so many gifted, creative, and visionary film and video makers," said Steuerwald.
"Filmmakers can submit either experimental work, narratives, or a short film; I believe they don't accept anything over 45 minutes," said media arts major Ruthie Arroyo, a former Black Maria intern.  At first, I didn't know it was an international film festival, but when I interned for Black Maria last year, I was in charge of contacting the filmmakers as to when their film would be getting screened, and whether or not it was selected for the Black Maria tour.  We had gotten films submitted from places like France, Belgium, Australia, Germany, Singapore and Tokyo; it was great!"
Given that this is a prestigious event for young filmmakers, Black Maria is not to be the "big break" for young filmmakers that many people think it is.  Rather, it is more about "art for art's sake."
"We have all heard the clichés and assumptions often made about filmmakers working in the short form," said Steuerwald. "[The] most typical is that the work is meant to be a 'calling card' primarily to gain access to the world of commercial feature length film.  Not true for the filmmakers who continue to push the boundaries of the moving image and who have exhibited their work for decades in the Black Maria.  We appreciate and celebrate the short form in all its permutations for its artistic challenges, aesthetics, and substance."
For more information, please email: jane@blackmariafilmfestival.org.