Japanda: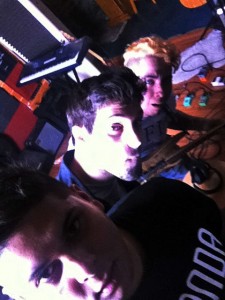 –By Armando Sultan–
The ground slowly shakes in the warehouse apartment as guitar rhythms and bass melodies collide in senses. Their music was unearthly, almost existing on a different level of consciousness. Local band Japanda, is comprised of three members, Steven Schlatmann, Frank Mayhck and Daniel Busnelli.
Based out of downtown Jersey City, Japanda was a side project of Steven Schlatmann, 28 years old from Jersey City, and Daniel Busnelli, 22 years old, from Jersey City, recently graduated with his Bachelors from NJCU. Frank Mayhck, 27 years old, Bayonne started composing music with them purely out of chance.
Instantly, they saw a connection between their very different music play-styles to come up with the sound that is now, Japanda. Schlatmann played drums, while Busnelli played the bass for a pervious band before they met Mayhck, who plays the guitar.
Coming from very different musical backgrounds, they decided to experiment. At the Drive-in, Radiohead, Explosions in the Sky, and The Mars Volta are some of the few bands that the band is influenced by. What they discovered was a connection that instantly sparked interest in Japanda.
"We are three very different people that write and work well together," Frank said. "It was like magic playing together, first time we played[;] we wrote our first song effortlessly, " continued Schlatmann.
Recently putting out their single, "Ms. Lippy's Car is Green" that will soon go on their upcoming EP, Sdam Andler. What makes Japanda really stick out from other local bands is the way they choose to distribute and market their music.
"We've taken this approach toward independent media. Meaning, we are releasing and creating videos, pictures, and a website. We basically came up with a process to put ourselves out there," commented Schlatmann.
With the recent success of mainstream artists like Macklemore and Lorde, the music industry is changing toward this sort of self-sufficient marketing. Japanda is looking to join the future big hitters by adopting this very principle.
The EP will be released February 15 when they begin their Brooklyn tour. This Brooklyn tour will consist of six different venues all over Brooklyn, playing with all the local talent. The EP will be one like no other, three tracks and an "artistic concept". This artistic concept will be a mixture of video, pictures, and music to be completely responsive to the listener.
"Japanda…basically it means that we are trying to show the seriousness of our band is not measured by how serious the name is. Japanda is exactly what the name suggests, something strange and alluring, yet oddly captivating," said Busnelli.