A Gift from Mr. Klaus
Bryan Vega
December 23, 2019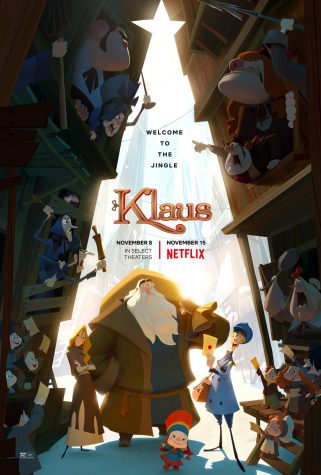 Re-imagining the origin of how the legend of Santa Claus came to be, Netflix's Klaus follows Jesper, a postman who has been stationed in a small island town called Smeerensburg. There he meets Klaus, a reclusive woodsman, and the two come together to spread joy throughout the town, sparking change with each delivery. As the first original animated movie produced and distributed by Netflix, Klaus bears the burden of paving the way for future ventures into the medium, but doing well is no worry for the film.
Klaus makes great use of dark humor and imagery, a heartwarming story, and a seemingly simple lesson. It combines beautiful art and animation with a fun, straightforward story that allows it to leave its audience with an impactful message. Maybe you've heard it before, but the notion of a genuinely selfless act, an act of kindness, sparking another is one that should never be forgotten.
The message is driven home by impeccable voice acting from Jason Schwartzman, J.K. Simmons, and Rashida Jones, to name a few, who bring to life likable and unlikable characters alike with natural dialogue. If that isn't enough, the chemistry amongst the cast shines through their characters as though it were a live action film.
Klaus does what many animated films and TV series are often too scared to do. It does not hold its audience's hand. Even when the films surface level message is spoken on screen, it gives you the chance to look deeper.
In short, if you're looking for a way to kick off the Christmas season, look no further than Netflix's Klaus. It's sure to deliver a heartwarming and fun time for the entire family.