Class Cuts, Protests and Tensions Arise at NJCU
By Monir Khilla —
The Fall 2011 semester has been a turbulent semester for the New Jersey City University (NJCU) community. There was an informational picketing held November 14th on John F. Kennedy Blvd. that, for the first time, brought together all three NJCU unions: AFT Local 1839, CWA Local 1031, and IFPTE Local 195.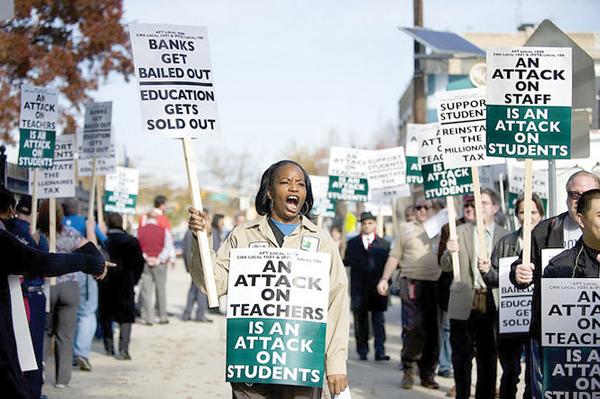 The picketing was in response to class cuts by the administration and funding cuts by the state. Students and Union members also expressed concerns over tuition increases.
Dr. William Calathes, Executive Vice President of Local 1839 and Professor of Criminal Justice said that "This informational Picketing was an unprecedented display of the NJCU community. It brought together over 400 students, as well as members from the three campus-wide unions."
On the importance of the picketing, Dr. Calathes stated that "This informational picketing is critical because in wake of continued State defunding and non-support from the administration, the NJCU community is stepping up to have its voices heard."
Malcolm Eddington, 22, National Security Studies major from Jersey City said "I'm here to support AFT Local 1839 and to put the administration on notice that raising tuition isn't the way to solve any problems."
When asked what message he would send to Trenton, Eddington said "When it comes to education, stop the shenanigans."
Other students expressed similar views.
Sean Wilson, 22, Criminal Justice major from Jersey City said "I'm here to protest for students and faculty over budget cuts. Both have been affected by these cuts."
Wilson believes that "There should be equality for students and faculty," and that he supports the informational picketing because, "We need to bring awareness so students can come together and fight the common cause that affects us students and faculty."
Wilson also said that if he had one message to send to Trenton it would be to "Step in the shoes of a working-class student who can't afford an education. They should have some sympathy and compassion for us and to support higher education."
Due to the budget cuts NJCU is facing this semester, classes and sections will be cut for Spring 2012.
Professor Joseph Moskowitz, Associate Professor of Political Science said "The administration is forced to, they don't want to do this, but they're forced to cut class sections and classes students are already enrolled in."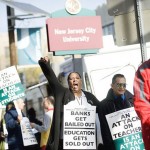 Dr. Moskowitz also said "Students could see class sizes of up to 35 students this upcoming Spring 2012 semester. If it wasn't for certain professors checking their courses for next semester, the administration would have gotten away with it."
Many Students sounded off on the issue. Britney Robinson, 22, Criminal Justice major from Trenton said "It might be an issue for people who are graduating. That may prolong students from graduating if their class is cut and isn't available until next semester or next year."
Kyle Preston, 19, Audio Engineer and Media Arts major from Newark said "I think it's terrible. I like smaller classes so I can get the attention I need.
When asked on what the administration should do instead, both Preston and Robinson agreed that "They [the administration] need to cut their pay. We pay to go here and yet, we can't take the classes we need. If we cut back on professors it's a bigger burden on them."
Nirav Patel, 23, Computer Science and Physics major from Jersey City said "I think it's horrible they're cutting classes. It's stupid that tuition is going up and everything else is going down."
Patel also agreed and said that "The administration should cut their payroll and take a bigger step in lobbying the state."
Some students have already begun to feel the strains of class cuts and are experiencing overloaded classes.
Jessica Flores, 19, Education and History major from Union City said "One of my classes is pretty packed. People take advantage of the professor and submit stuff late, while I submit stuff on time and receive the same credit."
Flores, however, thinks that there should be alternative options to remedy the situation.
"I think the school should reach out more to the Alumni and have them help fundraise."
Samir Zaroui, 20, Marketing major from Union City said "I came to NJCU because it's a small university, too many people in a class isn't good."
Zaroui feels that "The administration has to gather together as a group and to talk everything out."
When asked to comment, Dr. Barbara Feldman, Dean of the College of Arts and Sciences, addressed concerns over the class cuts and said "I want to assure students that decisions regarding course cancellations are made collaboratively between the Dean's office and Department chairs. Many factors enter into the decision [to cancel classes]."
Dean Feldman said that "Our first and primary factor in the decision to cancel classes has always been the effect a cancellation may have on students and how we can accommodate their needs should a class be cancelled. We will continue this practice going forward."