WEST CAMPUS TIMELINE
1895: Mutual Chemical Company of America, the largest chrome manufacturer in the world, operates a chromate chemical plant in Jersey City. It results in waste that has high concentrations of hexavalent chromium known to cause cancer in humans and is toxic to the environment. Mutual piles this waste at a tidal wetlands site along the Hackensack River. The 34-acre site (including the 21-acre West Campus) consists of more than 1.5 million tons of chromium waste that go 15 – 20 feet below the surface. Mutual continues dumping until 1954. 
1954: Allied Corporation buys out Mutual and is then succeeded by Allied Signal, Inc., and later Honeywell International Inc. 
1982: A green stream and  yellow and green plumes are found in the surface water on the site. Yellow water drains into the Hackensack River. 
1988: Ordered to clean up the site by the New Jersey Department of Environmental Protection (NJDEP), Honeywell provides an interim measure and pours concrete and asphalt on 17 acres of the site and a plastic liner "cap" on the remaining 17 acres. 
1993: NJCU begins acquiring property that will later become the West Campus. The University purchases four industrial properties located between West Side Avenue and Route 440.
1995: A local organization, Interfaith Community Organization, sues Allied Signal Inc. (before it was succeeded by Honeywell), for causing health endangerment on the site which is now West Campus. The court then ruled for Honeywell International Inc. to excavate the site which was contaminated with chromium. 
2002:  The University acquires approximately 14 acres in the industrial zone between West Side Avenue and Route 440. NJCU proposes the purchase of the DuFerco Steel plant situated on seven acres that border the 14 acres on the south. By adding the DuFerco property to its holdings, NJCU plans to add value to the property and a have a larger presence on Route 440. The purchase is completed the following year. 
2003:  NJCU, in conjunction with Jersey City and the JC Board of Education, develops a master plan for the west side of Jersey City. NJCU assembles a team of architects and engineers to develop a detailed redevelopment plan. The resulting West Campus Redevelopment Plan is a mixed-use design for seven buildings and public space. (njtod.org)
2005: Jersey City adopts the West Campus redevelopment plan which incorporates NJCU's vision for the property: a student dorm, market-rate apartments, ground floor retail space, parking spaces, a supermarket, fitness center, a rooftop restaurant and tennis courts. Developers for the West Campus construction, Claremont Construction Group and KKF University Enterprises LLC, are given 50-year leases from NJCU through a P3 Public-Private Partnership. A new dorm is the first university building to be proposed as a P3 project which brings together the private corporation, RISE, with NJCU, and the NJCU Foundation. RISE will develop, design, finance, construct and operate the dorm. (risere.com)
2010: U.S. District Court Judge Dennis Cavanagh issues a Consent Decree based on a complaint by the Jersey City Municipal Utilities Authority, the Jersey City Incinerator Authority and the Hackensack Riverkeeper against Honeywell International Inc. 
They want Honeywell, the previous owner of the West Campus property, to clean up the chromium and the groundwater running from the property into the Hackensack River. Judge Cavanagh places responsibility for the cleanup on Honeywell and approves the environmental remediation remedy "so that it may be redeveloped to create a major mixed-use project in an important section of Jersey City."  (Full Consent Decree available at www.static1.squarespace.com)
2012: In coordination with NJCU, Honeywell completes a $30 million remediation and excavation of the West Campus site. (njdep.com) The cleanup includes a removal of 40,000 cubic yards of contaminated soil, construction of an underground barrier wall and pumping system to control groundwater, and installation of a multi-layer capping system. The cleanup also includes importing 40,000 cubic yards of clean soil, and the continued monitoring of soil and groundwater. (jerseycitychromiumcleanup.com)
2012: Construction related to NJCU's redevelopment of the West Campus results in at least 11 individual breaches of the cap, all of which require repairs. Hackensack Riverkeeper sues Honeywell and NJCU for breaching the cap. The Judge rules against the Riverkeeper. (hackensackriverkeeper.org)
2015: NJCU holds a groundbreaking ceremony for a four-story dorm on the West Campus. This is the first realized project in the $400-million construction plan for facilities and buildings on West Campus. (nj.com) NJCU announces plans to develop a portion of the capped area with the construction of a ShopRite. In addition, the new construction includes new NJCU tennis courts, which are prohibited by the Consent Decree put forth by Judge Cavanagh in 2010.  The tennis courts are deleted from construction. Hackensack Riverkeeper petitions the federal court in Newark to enforce its 2010 Consent Decree and block plans by NJCU to build the ShopRite on land contaminated with chromium waste. (hackensackriverkeeper.org)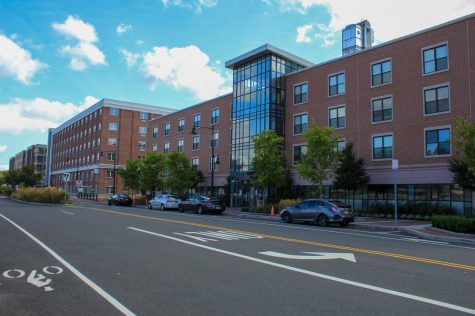 2016: West Campus Village dorm opens. Construction on Rivet apartment building begins.
2018: In spring, construction on City Line West (apartment building) begins. In the summer, the Rivet (the first apartment building) opens. Rivet features a Five Guys restaurant  (now open) and will feature a Carvel ice cream parlor and Cuteticles Nail & Spa. ShopRite (Block 6), developed by Crossroads Companies LLC is expected to take 14 months to build with construction set to begin in Spring 2019.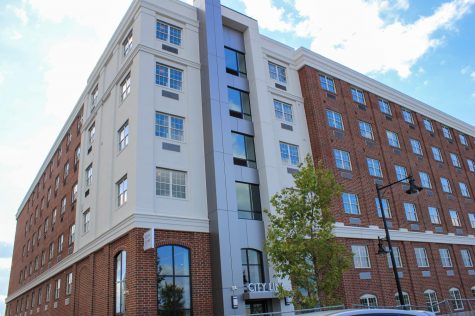 2019: In April, KKF begins construction of a mixed use residential and retail property, Rivet II, and in May, it begins construction of a mixed use residential and retail property City Line East. In October, City Line West opens. Still in the planning stage, the proposed Center for Music, Dance & Theatre and Performing Arts Center (Building 4) are to be developed by Claremont Construction Group.  (2019 Board Book – Real Estate)
—–Sally Deering and Kenise Brown
Useful Terms 
BARRIER WALL: Any wall system that maintains weather-tightness and prevents water, air and vapors from getting in.
CAP or CAPPING: Capping involves placing a cover (cap) over contaminated material such as landfill waste or contaminated soil. Caps do not destroy or remove contaminants. Instead, they isolate them and keep them in place to avoid the spread of contamination.  
CARCINOGEN: A substance capable of causing cancer in living tissue.
CONSENT DECREE: An agreement or settlement that resolves a dispute between two parties without admission of guilt (in a criminal case) or liability (in a civil case).
EXCAVATION: The process of digging, especially when something specific is being removed from the ground. 
GROUNDWATER: Water held underground in the soil or in pores and crevices in rock.
HEXAVALENT CHROMIUM: Chromium is used in stainless steel and other alloys. Chromium plating on cars, bicycles, furniture and architecture produces a smooth silver finish that is highly resistant to corrosion.  
MARKET RATE APARTMENTS: The going rate for apartments or condos in a specific area. 
P3 (PUBLIC-PRIVATE PARTNERSHIPS): A P3 is a contract that allows government entities like colleges and universities to enter into agreements with private companies for building projects in the state. P3 was authorized by NJ Governor Jon Corzine in 2009, expanded by Gov. Chris Christie in 2012, and expanded again and signed into law by Gov. Phil Murphy in 2018.
PUMPING SYSTEM: A pump is a device that moves fluids (liquids or gases), or sometimes slurries, by mechanical action. Pumps can be classified into three major groups according to the method they use to move the fluid: direct lift, displacement, and gravity pumps. 
REMEDIATION: The removal of pollutants or contaminants from soil, groundwater, sediment, and surface water.  
TIDAL WETLANDS:  The areas where the land meets the sea that are periodically flooded by seawater during high tides or are affected by the changes in water levels caused by the tidal cycle.
— Sally Deering and Kenise Brown , Sources: epa.gov, ,bcauditor.com, nj.gov, wikipedia.org,