We Are Hair and Proud
The third annual Hair We Are Again event created a place where people could celebrate the kinks, coils, and curls of their hair.
NJCU's Speicher-Rubin Women's Center for Equity and Diversity held the event,  which was also sponsored by Black Alumni, Administrators, Faculty, Students and Staff (BAAFSSO), Council of Hispanic Affairs (CHA), and Gothic Curls.
New Jersey is the third state in the country to enact a law that prevents discrimination against natural hair. Assemblywoman Angela McKnight, one of the people responsible for the act being signed into New Jersey law, was interviewed at the event.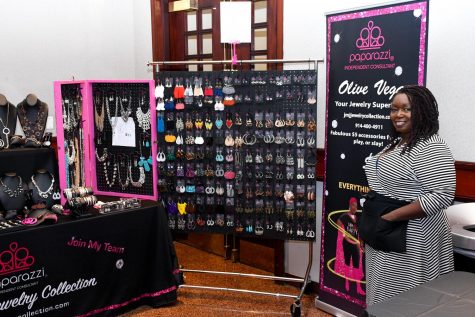 This event is made to "E.R.A.S.E. (Education, Resources, Affirmation, Support, and Empowerment) Shame and Stigma about natural hair." This event has gotten bigger since it began.The event discussed hair care topics and how to fully embrace your hair texture. Free products were given to help those with kinky curls manage their hair easily. It welcomed people of all colors, genders, and sexualities making inclusivity one of their priorities.
A hair care company named Wonder Curl had a live demonstration of their products and showed the results that it has when used on curly hair. Other companies that had made an appearance were Thank God I'm Natural (TGIN), Luster's Pink Hair Care, and Miss Jessie's.
There were many vendors who asked to be part of the event but were turned away due to the amount of vendors being at capacity. The director of the Women's Center, Venida Rodman Jenkins stated how she was "excited that so many students were eager to explore their hair." She hopes to make the event bigger in the future and have more performances.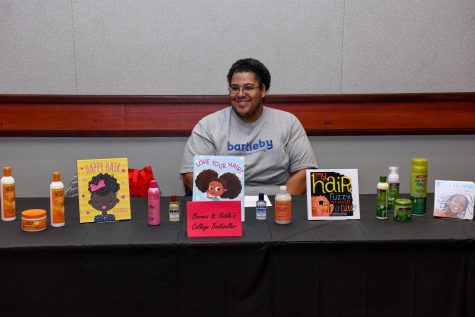 Students shared that these events help them connect with others who have similar issues with their hair. This event not only provides the products needed to care for your hair but it also provides connections with those who support hair positivity. Students said these events got them to "see more people" and it was also had a "social aspect" for them as well. Some said that it felt good knowing that they could "go see what other people are doing with their hair" and that it's "good that we have people that understand and build products that make it easier" for them. Another student also said "I have learned so much from events like these" on "how we manage and embrace" our hair. Hair We Are Again not only gives students great hair tips and advice but builds connections to new people and businesses in the long run.
About the Writer
Ivana Estime, Contributing Writer
Ivana Estime (she/her/hers) is a junior Music, Dance, and Theatre major.