Virtual Events for 4/16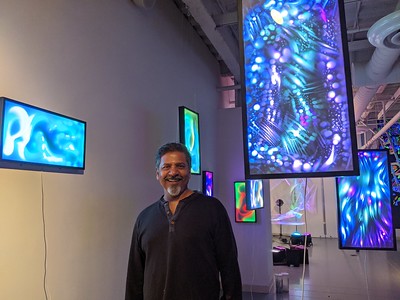 Boundless Light: Sunil Garg Virtual Artist Talk
by New Jersey City University Galleries
Date And Time
Thu, April 16, 2020
12:00 PM – 1:00 PM EDT
This Artist Talk will be held online on Zoom in a webinar format. Those who RSVP here will receive a meeting ID and password to join this event in real time. You are welcome to post your question in Q and A and we will answer all of them! The recording of the event will be posted on NJCU Galleries Youtube page.
Using light, form, color, and movement, Sunil Garg creates site-specific installations to turn NJCU's Visual Arts Gallery into a multi-sensory environment which visitors can freely explore. Through Garg's artistry, ordinary materials such as paper, chicken wire, and PVC are morphed into ethereal matter, constantly changing impressions, and reflecting colored lights. Although technologies enable this environment, they are almost invisible and visitors can get lost within a limitless space.
Born and raised in a farming village in India, Garg grew up with only natural light. After moving to New Jersey, Garg had a long career in business and law before starting to make art out of manufactured light five years ago. His experimental light art drew much attention in a short time, and Garg received an artist-in-residence opportunity at Gallery Aferro in Newark and was commissioned to make site-specific public art installations in Key West, FL, Madison WI, and Long Beach Island, NJ among others. His work has appeared in the Wall Street Journal, Hyperallergic, Artefuse, and other media. He lives in Summit, NJ, and works in Summit, East Orange, Newark, and Jersey City, NJ.
https://www.eventbrite.com/e/boundless-light-sunil-garg-virtual-artist-talk-tickets-101828285142?utm-medium=discovery&utm-campaign=social&utm-content=attendeeshare&aff=escb&utm-source=cp&utm-term=listing
---
Virtual Caricature Artist
HAPPENING TOMORROW!!
SAB is hosting Virtual Caricature Artist on Thursday, April 16th from 12:00pm to 3:00pm. It is FREE!! Please DM to RSVP for this event.
https://zoom.us/webinar/register/WN_7rTdW_ifTEeJkB9UQRky4A
---
Digital Black Male Initiatives
Presented by Trill or Not Trill
Education is Everywhere! Our @trillornottrill Pop Up University series hits IG Live for our students, educators and community for a chance to teach and learn from one another.
Featuring Master Classes on relevant topics and Master Convos with our Alternative Faculty and Experts.
Join us every Wednesday and Thursday night at 7pm EST for a class like no other!
April 16th at 7 p.m.