An Unprecedented Fall Brings Many Changes
How Professors Plan to Balance Classes Through Hybrid Learning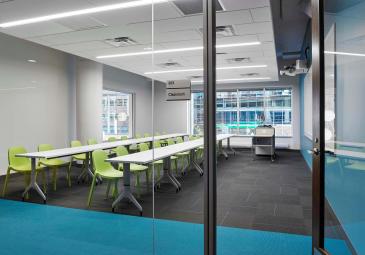 When the university unlocks its gates in the Fall, many professors will strive to have students in a secured environment with online and HyFlex learning, a model where students can attend class both in-person and virtually throughout the semester.
Many professors and even departments have already made decisions on how they will teach their students.
Marcin Ramocki, professor and Chairperson of the Media Arts department, said in an email that in-person instruction and virtual classes will be available. 
"Approximately 60 percent of the sections will be in hybrid mode this fall," Ramocki said. "That means for us, four to seven in-person meetings per semester. Of course, these are mostly production classes. We believe we can do this safely."
Ramocki said his department identified three large classrooms with windows, which they will use for most classes. 
Preview of Media Arts Hybrid classroom setup. Video Courtesy of The Media Arts Department via Facebook
"There will be a constant circulation of the air from the outside and wipes for students to use," he said. "We will have fans in the doorways and windows, so there will be no stagnant air. The classrooms are already set up for social distancing, with chairs taped to the floor 6 feet apart."
Hybrid classes, he said, will often be staggered. "We will have half of the class in the classroom only, which means seven to 10 students," he said. "Of course, all students will wear masks. The faculty will wear masks or shields for teaching."
In the department of Women's and Gender Studies, about 60 percent of courses in the major will be online, according to Dr. Antoninette Ellis-Williams.
"We are very disappointed not to be able to meet in physical classrooms, but we will do our best to teach the class in much the same way as we would have 'in real life,'" she said. "This includes short lectures, lively discussions, and we will still provide students with the guidance and support needed to succeed in the class."
Ellis-Williams said she is hoping to run the other 38 percent of classes using HyFlex as well as hybrid and in-person models if the university can ensure the safety of faculty and students. 
"We know that some students prefer and thrive with in-person learning," she said. "Our department has a high commitment to student-centered learning. We will do our best to communicate with our students and advocate for our faculty to ensure they receive the necessary PPE (Personal Protective Equipment)  and other supplies to do their job. 
"
This is a new world, and we are doing our best to find our way.
— Dr. Antoninette Ellis-Williams
"We are very cognizant of the many barriers faced by our students. Our students represent the communities most affected by COVID-19. Many are essential workers, parents, or have loved ones with compromised pre-existing health issues. This is a new world, and we are doing our best to find our way."
The English as a Second Language program will have all courses held online in the fall. Program chair and professor Steven Haber said the reason was for the safety of everyone on campus. 
"We had to consider the fact that some of our faculty are older than 65, have health conditions that may place them at risk, or who live with relatives who are at risk," Haber said. "We appreciate the University's efforts to limit the number of students on campus as well as protocols for the wearing of masks, social distancing, and sanitizing. However, we did not feel that these measures could adequately ensure the health and safety of our students, faculty, and staff."
Haber further explained how hard the program has worked to reformat classes so that students can still have a quality educational experience. 
"We expect that many students who might have had difficulty getting to campus or who have work or child care responsibilities will now be able to access our classes safely and conveniently from their own homes," he said. 
The University will also support online learning by providing loaner laptops and even mobile internet hotspots for those who need them, he said. 
"While no one is happy about not going back to campus in the Fall, we are trying to do the best we can to serve the ESL students at NJCU," Haber said. "We look forward to seeing our students in person as soon as it is safe to do so."
Political Science students will have hybrid classes based on guidelines from the dean and provost, according to Professor Francis Moran. 
"We initially voted unanimously to hold all of our classes in a virtual classroom," Moran said. "Our rationale was that we recognized that some courses in other departments and programs…seemed to require a more face-to-face component than the lecture-type courses we deliver in political science. So by keeping ours online, we figured that we would keep our students off campus making it safer for them and safer for the students in the other programs mentioned above." 
About a month ago, though, Moran said the Provost told department chairs to try and have as many face-to-face classes as possible with appropriate precautions in place but recognized that even those classes would likely have a significant online component anyway.
"As of today, our department is offering 13 courses, eight of which will be online exclusively and five of which will be face-to-face with online components," he said. "Of the eight online, four were already slated to be online prior to the COVID disruption."
Dr. Bumjung Kim, an assistant professor for the Chemistry department, spoke briefly on plans similar to many of the other departments. He said, "We will try to utilize all possible online resources to best accommodate our students."
"
We will try to utilize all possible online resources to best accommodate our students.
— Dr. Bumjung Kim
Dr. Kim continued, "One thing we are trying is to make two groups of students and they take turns to come to the class face-to-face. Another group will join online and come to the class in the following week and so on. I think this is the best option, for now, to run face-to-face classes and keep social distancing. To make this possible, we plan to broadcast our lecture live to the students joining at home."
Biology professor, Dr. Laura Pannaman, explained her situation in an email interview. She said, "My Human Sexual Biology class has always been asynchronous online, and that will not change… Lectures and lab content will be delivered synchronously online. Several in-person labs will be offered to teach lab techniques. Classes will be divided into two groups in consecutive weeks."
Dr. Pannaman also outlined more specific plans from the Biology department: "In-person classes will be offered in groups no larger than twelve students and they will be seated to maintain appropriate physical distancing. Masks and gloves will be required. All lab materials will be sterilized. Housekeeping will clean lab spaces. Students who have COVID symptoms will be asked not to attend class."
Another Biology professor, Dr. Vanashri Nargund-Joshi, spoke about similar precautions in an email interview. Regarding how she felt about the health risks of teaching in person, she said, "One can get infected pretty much anywhere. I will feel uncomfortable teaching if proper safety procedures are not followed by anyone on the campus. I have 2 very young children, so I do feel a bit anxious."
Martin Kruck, professor and chair of the Arts department, said its classes will also follow the hybrid model. "Due to the variety of studio/lab-based courses we offer… each course may have a unique ratio of on-campus to online instruction," Kruck said. "The majority of our Art History and lecture courses will be online. " Kruck said his department is prepared if it becomes necessary to hold all of its courses online.
David Blackmore, professor and co-director of the Center for Latin American, Caribbean, and Latinx Studies said his plan of 11 sections in the program was just approved by the dean.  
"Three sections remain online asynchronous, six sections originally scheduled in-person to be run as synchronous online (fully online with live meetings on Blackboard Collaborate or Zoom), and two sections originally scheduled in-person to be run as HyFlex hybrid online/in-person."
An email sent to students at the School of Business from Founding Dean Dr. Bernard McSherry outlined how classes will be conducted in fall. Classes that were designated as online from the beginning of registration will remain asynchronous. 100 and 200 level classes will begin online and then transition into HyFlex hybrid learning. All 300 and 400 level courses will be online. 
Dr. McSherry said, "Our aim is to offer an in-person experience to as many students enrolled in 100 and 200 level courses as possible, while providing the flexibility that will permit students to access those courses from home should they so desire."
Dr. Daniel Julius, a professor for the Management department and former Provost and Senior Vice President, spoke on the adjustments in an email interview. He said, "I will be teaching my courses as will other faculty, through appropriate online and hyflex technology. I will… ensure that students in my courses have the best learning and educational experience as possible. I am very impressed with the departmental and school leadership at the School of Business, they have been proactive and responsive to faculty, staff and students needs." 
"
We need to keep everyone safe for a little bit longer.
— Dr. Melanie McDonald
Another Management professor, Dr. Melanie McDonald, gave a brief statement on the safety of reopening. She said, "I definitely do not feel we should be returning to class yet. We need to keep everyone safe for a little bit longer."
Some professors are still in the process of figuring how to continue classes in the Fall. 
Jycheng Liu, professor and chair of Computer Science, said the department is still in "the planning stage."  
"Due to the health and safety issues, we are taking extra precautions to do anything," Liu said. "Due to the nature of Computer Science, our classes have proven to be effective and beneficial to all if we can hold them remotely."
Sandra Caravella, professor and chair of the Math department, said her department is also still planning. 
The Gothic Times has reached out to more departments and is still waiting for some responses.