Slow Summer Macadam: Summer's Not Over Yet!
With winter right around the corner,  Deep Space Gallery, a contemporary art gallery in Jersey City, is featuring "Slow Summer Macadam"– a summer-themed art show for the month of November.
With work by John G. Slaby, the show will display a variety of art pieces including individual paintings, clothing, and an installation.
The artwork is very inspiring and all throughout the gallery, the pieces follow a surreal theme of what it's like to have a summer in an urban city. The painted pieces each display common sights of an urban city during the summer, each with an individual beauty but a dark parallel.
The common sights of teens out on skateboards, basketballs around the parks, and greens on the trees. The pieces' names show that these sights were inspired by what summers appeared to be like in the late 90s, but the works themselves also indicate that this summer is like every other summer since it's a transcendent theme.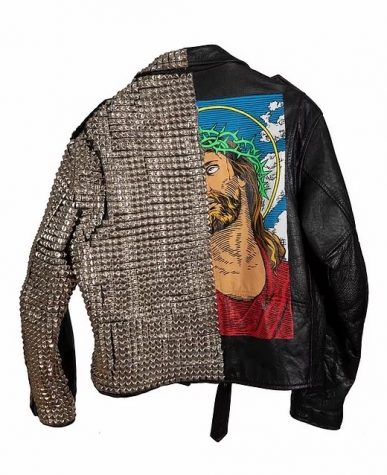 A piece that stands out is called "Mall Rats at Mass" which is one of the few clothing work in the gallery. "Mall Rats at Mass" is a leather jacket painted with acrylic and decorated with metal studs. The arrangement of the mediums makes it seem as if two halves of completely different jackets were sewn together. This dynamic fits with the rest of the artwork and the overall theme, but draws attention to itself first.
Overall the gallery is a wonderful sight to see since it's something audiences can identify within Jersey City. I absolutely recommend people to go visit the gallery if they can respectively, keeping COVID-19 guidelines in mind.