We Demand Diversity on Campus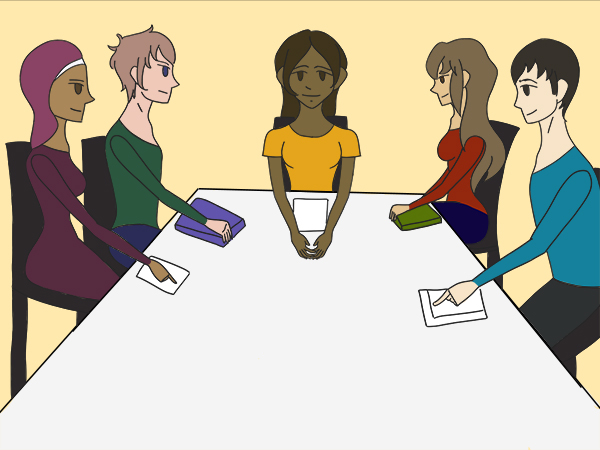 Some of us have never had a professor of color at NJCU. The university claims to be a diverse institution, but data shows the unequal ratio of white professors to professors of color.
In October 2020, we reported that there are 139 full-time faculty members who are white compared to 44 faculty who are Asian, 29 are Black, and 23 Latinx. About 62 percent of the part-time faculty are white, while 11 percent are Black, 9 percent are Asian, and another 9 percent are Latinx.
As students who represent various communities, we are disappointed that there aren't enough professors of color in the classrooms. This brings into question: how does the university advertise their available positions, and who does the hiring?
On campus, we notice that the majority of people who work in maintenance and food positions are from minority communities. In what areas has the university searched for these positions compared to faculty and administrative positions?
"
It's appalling that we see the people we want more in faculty and administrative positions are the only race that cleans and feeds the entire NJCU population.
— The Editorial Board
This is what we call systemic classism and racism. The diversity that is seen in students should be displayed in our faculty, staff, and administration.
Having a professor of color creates a comfortable and relatable experience for students from the same race. Without one, we can't have straight-forward conversations with professors regarding racism without them shying away from acknowledging the issue.
Some of us would not have known a professor of color if it wasn't for departments such as the African-American studies,  the Center for Latin-American, Caribbean, and Latinx studies, and the Business department that has a high percentage of Asian faculty to name a few. With studying outside of these departments, a professor is rare in this scenario. This is a harsh ongoing reality that needs to not just be reduced but solved.
Increasing the number of minorities in faculty and higher-up positions should be a prime concern as well as listening to the grand voices of the community that calls for a better, transparent, and fair institution.
Ways to implement this, we suggest the university:
Complete a comprehensive report of the faculty at NJCU to determine which academic departments have the least diverse full-time faculty and target those specific departments when publishing job opportunities on a wide variety of websites.
Increase NJCU's competitiveness for diverse job candidates in fields that have a smaller percentage of minority applicants (such as STEM-related fields) by increasing salaries and benefits.
Maintain a committee that ensures the university is striving towards a greater diverse institution.
Publicize the committee that decides who gets hired at the university. We demand a diverse committee.
Create an accessible system where the NJCU community can see where the university is lacking regarding diversity and highlight tasks that need to be completed or have been completed.
Everyone is required to take diversity training.
Complete BAAFSSO's 10 demands: