Gothic Knight Ally Safe Zone Training
Join the Safe Zone Training on March 18th and 19th!
In collaboration with the Speicher-Rubin Women's Center for Equity and Diversity 
Ever wondered how you can support the LGBTQIA+ community? Perhaps, you are looking to become an ally but do not know where to start. Well… that is where NJCU's very own Gothic Knight Ally Safe Zone Training comes in!
As an NJCU student, you might find yourself looking at the rainbow pride stickers or posters in various buildings, whether it is G-SUB, Professional Studies, or even the Karnoutsos Hall building. In order to fully support the LGBTQIA+ community, NJCU spreads awareness through these initiatives and welcomes ALL students regardless of their race, sexuality, gender, and other identities.
What Does the Training Consist Of? 
Now that you are ready to prepare yourself to attend the training, it is important to understand what you will learn.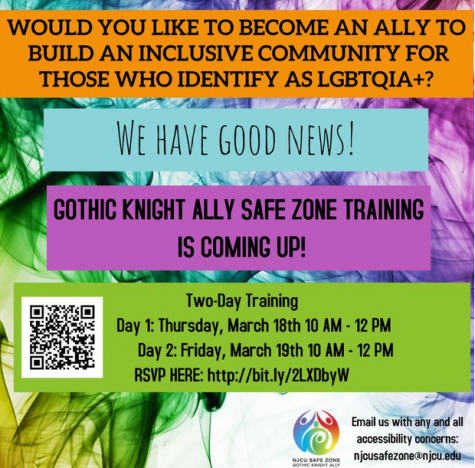 The Gothic Knight Ally Safe Zone Program at NJCU has been around for quite some time, advocating for the LGBTQIA+ community and ensuring there is a safe and brave space for everyone. The training is facilitated by the Speicher-Rubin Women's Center for Equity and Diversity Director, Venida Rodman Jenkins.
Rodman Jenkins said, "this program is designed to affirm the LGBTQIA+ community and give them a sense of belonging here at NJCU. Sadly, this community is still being discriminated against in many forms, so this program serves to strengthen our inclusion efforts."
The purpose of this four-hour training is to create a group of supportive members that want to help in building an inclusive environment for this community. Members will engage in discussions and sessions that will assist in using or learning respectful vocabulary, gender diversity and equity.
Once the training is complete, members are given the opportunity to sign a pledge to the program's mission and may receive an approved NJCU Safe Zone Symbol- a Gothic Knight Ally sticker. This sticker represents that you have attended a Safe Zone Training and you are willing to be an ally to the community.
Importance of Pronouns
You might have heard of pronouns throughout your middle school days, however, it is often neglected by a lot of people. Pronouns can be an important or huge step to figuring out your own identity or another person's. A part of this training will consist of learning pronouns and how or when to appropriately use them.
By using this part of the training in daily life, it can assist with having a respectful and supportive approach to the community or any individual. The Trevor Project found that, 1 in 4 LGBTQ youth use pronouns that are outside of the constructed genders. An example of a constructed gender can be he/she.
On a phone call interview, Denise Branchizio, a professor from the Nursing Department discussed how important it is to address someone correctly in the healthcare field, "I have been in Nursing for 30 years and when I first started, you were straight or gay. There really wasn't any in between that we discussed…In healthcare, we deal with biological patients and would identify them as male or female and relate to the gender. So if one person identifies as trans, there still are risk factors based on their biological gender that may not come across in a way that they present themselves. It's important to not overlook those risks and make sure our patients have the proper care."
Faculty/ Student Experiences 
NJCU faculty and students weighed in on the training and explained how beneficial it is.
Branchizio added, "What I gained from it is how much I did not know… This training not only opened my eyes but my students as well and made them more comfortable with the subject matter." Branchizio continued and said that it should be mandatory for all incoming freshmen to go through with the training.
The graduate assistant for the Pride Center, Mercedez Ruiz said, "My first experience with the Safe Zone training was through my multicultural counseling class, I remember thinking the training was so fun and engaging. My only regret is that I did not get to experience the training in person…Something important to note is that the learning and the ally work does not end once you complete the Safe Zone training. The Women's Center and the PRIDE Center host Pride Time! These are held bi-monthly and are meant to further our discussions and our learning."
In an email interview, Percy Totten, a student that is a part of the LGBTQ+ Alliance group said, "Safe zone training is an incredibly important part of providing a more welcoming and understanding campus culture for LGBTQ+ students at NJCU. It is especially important for faculty and staff to attend the trainings, so they can make the practices and standards of the university more LGBTQ+-friendly on a structural level. Since information about LGBTQ+ identities and the LGBTQ+ community is always changing and evolving, I believe members of the NJCU community should attend safe zone training more than once."
John Donnellan, the Associate Professor Chair in Management said, "The NJCU School of Business Management Department, the largest department at NJCU, has fully embraced the Gothic Knight Ally Safe Zone training program. This program, which ensures a welcoming and safe environment for our students, is key to the success of the Management Mission of mentoring and guiding our students on both their academic and business journey. Once trained – faculty may proudly fly the rainbow pride stickers in their offices which shows that we are here for them."
Donnellan continued, "In my opinion this is critical for our students, who are being mentored, that this office is a safe environment – a safe haven. Thank you to Venida and staff for a wonderful program and having the largest department at NJCU fully trained. The Gothic Knight Ally Safe Zone is making a major statement that we all should follow."
Resources 
The following are resources located within NJCU and other organizations outside of NJCU, where the LGBTQIA+ community can receive the support they might need.
On-Campus:
Speicher-Rubin Women's Center for Equity and Diversity 
The Women's Center is open to helping all students, regardless of gender. The center strives to "advocate, educate, and provide support and referral services in order to address cultural diversity and to achieve equity for women as well as under-represented students with respect to ability, race, color, national origin, sex, disability, sexual orientation, gender identity or religion." Students can contact the Women's Center at [email protected] or call 201-588-5353.
https://www.njcu.edu/student-life/campus-services-resources/speicher-rubin-womens-center-equity-and-diversity/our-vision-our-mission
LGBTQIA+ Support Group 
The Support Group is here for "queer and trans-identifying students to discuss personal and social issues, gain support, and build FIERCE relationships with self and each other!"
For more information on the LGBTQIA+ Support Group, please email Mercedez Ruiz at
Counseling Center 
The Counseling Center at NJCU provides "Let's Talk" sessions. These sessions include, "one-on-one confidential consultations to assist students with specific personal concerns (e.g. academic struggles, relationship conflicts, advice regarding a disagreement with a roommate, stress management skills)… These one-time, 25-minute consultations are not meant to be a substitute for psychotherapy, but rather a meeting with a counselor that is goal-oriented."
To request a session of "Let's Talk," students can email the Counseling Center at [email protected] with their name, Gothic ID number, and phone number.
https://www.njcu.edu/student-life/campus-services-resources/counseling-center/counseling-center-services/counseling-services-during-covid-19-pandemic
Off-Campus:
Hudson Pride Center 
"Hudson Pride Center is a home and a voice to the diverse LGBTQ+ community of Hudson County. Our mission is to enhance the lives of LGBTQ+ people by creating a safe physical and virtual home, social services, and programs that meet the ongoing needs, and to build trust with each and every person that seeks our help. This year our job was more difficult than it ever has been but with your support we were able to be there for the community!" The Center can be contacted via email and phone number. Please refer to the link below in order to
Jewish Family and Children's services.
"JFCS provides a safe, welcoming, and inclusive environment for members of the LGBTQ community throughout their lives. We have created a place where sexual orientation, gender identity, and expression can intersect to be embraced, affirmed, and celebrated." JFCS provides counseling as well as support for the LGBTQ community.
They can be reached at (856) 424-1333 or students can fill a "Request Service E-Form," located on their website.
https://jfcssnj.org/lgbtq-support/
Newark LGBTQ Community Center 
"The Newark LGBTQ Community Center is a volunteer-run, community-based organization committed to providing safe space, programs, and services that support the well-being of the LGBTQ community and our allies in the Newark, New Jersey area." The Newark LGBTQ Community Center provides a list of helpful resources on their website.
https://newarklgbtqcenter.org/resources/
The Trevor Project
"Provide crisis counseling to LGBTQ young people thinking of suicide. Offer resources, supportive counseling, and a sense of community to LGBTQ young people to reduce the risk that they become suicidal. Educate young people and adults who interact with young people on LGBTQ-competent suicide prevention, risk detection, and response. Advocate for laws and policies that will reduce suicide among LGBTQ young people."
Contact #: 1-866-488-7386
https://www.thetrevorproject.org/get-help-now/
https://www.thetrevorproject.org/2020/07/29/research-brief-pronouns-usage-among-lgbtq-youth/
Trans Lifeline
"Trans Lifeline was founded in 2014 as a peer-support crisis hotline. The Hotline was, and still is, the only service in the country in which all operators are transgender. Because of the particularly vulnerable relationship transgender people have with police, it is also the only service in the country with a policy against non-consensual active rescue."
Contact #: 877-565-8860
https://www.translifeline.org/
COLAGE 
"A national movement of children, youth, and adults with one or more lesbian, gay, bisexual, transgender and/or queer  (LGBTQ) parents. They build communities and work toward social justice through youth empowerment, leadership development, education, and advocacy." For more information and resources provided by COLAGE, please visit the website listed below.
https://www.colage.org/resources/
LGBT National Help Center
"The Lesbian, Gay, Bisexual, and Transgender (LGBT) National Hotline provides telephone, online private one-to-one chat, and email peer-support, as well as factual information and local resources for cities and towns across the United States."
Contact #: 888-843-4564
https://www.glbthotline.org/national-hotline.html
Donating to the LGBTQIA+ Community
The following are organizations serving and supporting homeless youth and gender equality.
"Trevor Advocacy: Youth Homelessness"
https://www.thetrevorproject.org/get-involved/trevor-advocacy/homelessness/
"The Salvation Army"
https://www.salvationarmyusa.org/usn/the-lgbtq-community-and-the-salvation-army/
"National Center for Transgender Equality"
https://secure.transequality.org/site/Donation2;jsessionid=00000000.app20018a?df_id=1480&mfc_pref=T&1480.donation=form1&NONCE_TOKEN=49AD19B8EFD17DFE8A6FCD03496B3FFD
"Equality Federation"
https://www.equalityfederation.org/donate/
"The National Queer and Trans Therapists of Color Network"
Signing Petitions  
Not able to donate? That is okay! The following are petitions from Change.org. Please refer to the links provided in order to sign these petitions.
"Fight Against Anti Trans Youth Legislation"
https://www.change.org/p/alabama-state-senate-please-join-us-in-the-fight-against-anti-trans-youth-legislation?source_location=topic_page
"Protect Black Trans Women"
https://www.change.org/p/human-rights-campaign-protect-black-trans-women?source_location=topic_page
"Abolish current anti-LGBT laws and protect LGBT people in Poland, call the EU to intervene"
https://www.change.org/p/mateusz-morawiecki-pass-laws-that-would-protect-lgbt-people-in-poland-and-abolish-current-anti-lgbt-laws?source_location=topic_page
If you or anyone you know is in need of immediate support, please refer to the links below for LGBTQ+ hotline services. 
https://lgbtqia.ucdavis.edu/support/hotlines