Updates From the Recent Board of Trustees Meeting
2021 Commencement Ceremony, Salaries, Vaccinations, and More
The Board of Trustees hosted a meeting in late April in regard to updates about NJCU. Board members approved items while President Sue Henderson shared multiple announcements on sports, the 2021 Commencement Ceremony, the distribution of vaccines, and a shout-out to the Center for the Arts.
All of the action items on the Board of Trustees' agenda were approved. This included salary adjustments for newly hired faculty, managerial, and professional staff as well as the establishment of a new human resources program.
The Board also approved a new undergraduate Bachelor's Degree in Social work. A degree designation change was approved for the Music Education major where it is now to be a Bachelor of Music (BM) rather than a Bachelor of Art (BA).
Updates From President Henderson
At the start of the Board of Trustees meeting, President Sue Henderson gave a presentation with many updates within the NJCU community. The first was in recognizing NJCU Athletics for having their Esports, Men's Basketball, Women's Basketball, and Men's Volleyball teams reaching conference championships this school year. NJCU was also recognized by the National Collegiate Athletic Association for a community service award for Division III schools.
Henderson next shouted out the Center for the Arts for many of the events throughout the semester in addition to their upcoming "The World Goes 'Round" and "Ain't Misbehavin'" double bill which will be held outdoors on the G-SUB lawn.
Henderson revealed that at the 2021 Commencement Ceremony, a student will have the opportunity to give a speech upon being selected. The Student Government Association (SGA) recently posted on their Instagram page how students can apply to become selected. SGA will also be holding a leadership awards in-person on the Hepburn Lawn on May 10.
Early this week on Wednesday, Henderson officially announced in an email, the special double 2020 and 2021 commencement ceremony to take place on Tuesday, June 15.
In the same email, Henderson shared that there will be a vaccination requirement for all students who are planning on attending in-person instruction in the fall. With that in mind, students will have to show proof of immunization. However, for those that would like to be exempt from the vaccination requirement due to medical or religious reasons, online classes will be an option for them. To apply for an exemption, please reach out to the Health and Wellness Center, located in Vodra Hall.
NJCU has partnered with North Hudson Community Action Corporation to distribute COVID-19 vaccinations to the NJCU community. The university's own nursing students will be administering them, and students and faculty are being encouraged to sign up. They can register for vaccination by clicking here.
A. Harry Moore Reopening
Barbara Hildner, the president of AFT Local 1839 and an English professor, revealed during the Board meeting that the A. Harry Moore school will be reopening on May 3rd and the faculty are very excited to return.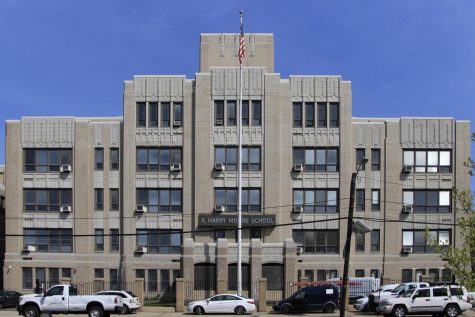 A. Harry Moore is a special education school across the street from NJCU in which the university operates. In late 2019, NJCU announced that they would no longer run the school which caused a stir in the Jersey City community. The university agreed to a five-year contract in July 2020 that they would continue running the school.
The school's mission statement reveals that they are dedicated to educating, empowering, and providing therapy to students with multiple disabilities. They began the 2020-21 school year fully remote under the guidance of a new principal, Jason Jusino.
About the Writers
Haresh Oudhnarine, Editor in Chief
Haresh Oudhnarine (he/him/his) is a sophomore Management and Media Arts major. He has been a part of The Gothic Times since his first semester at NJCU....
Maryam Pervaiz, News Editor
Maryam Pervaiz (she/her/hers) is a sophomore pursuing a B.S. in Biology. She is actively involved in multiple clubs on campus as well as holding many leadership...