Boyz N The Hood Nearly Thirty Years Later
John Singleton released his worldwide sensation Boyz n the Hood back in 1991, but the message he sends is still relevant today.
Twenty-nine years ago, Singleton set out to make a film that would tell the story of African American teens growing up in South Central Los Angeles. The story follows main characters Tre (Cuba Gooding, Jr.), Tre's dad, Jason (Laurence Fishburne), Doughboy (Ice Cube), and Ricky (Morris Chestnut) on how the boys grow up despite experiencing gang violence, drug use, and poverty.
However, with all this going on- screen, the message is really what's buried in the dialogue, rather than the action.
The film opens with a young Tre in school, where he gets into a fight with a classmate. His mother, very unhappy, sends him to live with his father across town. While Tre's father is a wise, peaceful man, he can't help but to show Tre the on-going violence after a robber breaks into their house in the middle of the night.
Tre meets his newest friends, Doughboy and Ricky, who he grows up with throughout the film. As the boys grow up, it is evident to see Tre is struggling growing up in LA. After a brush up with a local gang at a drive- in, shots are fired into the night sky, and Tre tells Ricky, "I gotta get out of LA."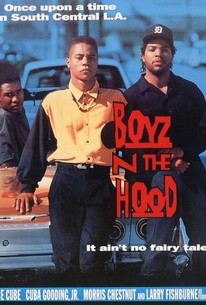 With college around the corner, Tre couldn't be more excited as he is finally getting his wish of leaving the West Coast with his girlfriend, Brandi. But right before he's set to move away, the same rival gang takes his life.
Doughboy then delivers the line that packs the most punch: "Either they don't know… don't show… or don't care about what's going on in the hood."
This line still rings true today. Everyone gets so swept up in what's going on in other parts of the country, and other parts of the world, and not focusing on what's going on in their own backyard.
People being killed because of their beliefs, their relationships, the color of their skin, and anything else that separates us, is such a heavy subject, but one that needs to be looked into more. By spreading wisdom, peace, and compassion like Tre's father, Jason, we can all make society a safer place to be.
The film has grossed over $57.7 million in the US and won the NAACP Motion Picture of the Year in 1992.