The French Connection: New Addition to NJCU's Tennis Team
From the age of five, Theo Bourghelle, a Junior, a transfer student from France, was appreciative of the sport and being able to transfer to NJCU after the COVID-19 pandemic affected the tennis program and the longevity of the men's tennis team at WSU. When asked through an email interview, "I really liked the way that the coach approached me; we talked a lot and he always showed a big interest in me. I also really liked the fact that the tennis program at NJCU was new."
Having transferred from Wright State University, Bourghelle, a Global Business major, was interested in business as an international student and looks forward to building a career in the New York City area. Bourghelle was appreciative of NJCU's diversity and the close-knit bonds with his teammates on the tennis team, "I really like the diversity at NJCU. I met people from everywhere and it is super exciting. I also love my team and we are ready to work hard to prepare for the coming season."
Nicolas Teynie, a transfer student from Rouen, Normandy, France, a Business Management major, has a background in soccer and tennis. Though he stopped playing soccer at eleven years old, he found himself interested in tennis and decided to pursue his dreams as he left his hometown.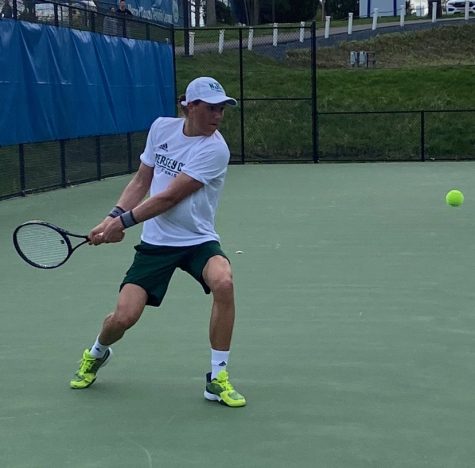 Also inspired by the drive of Nadal and the love from his family, Teynie looks forward to experiencing a slew of tennis matches and the complexities of his degree program, saying, "I want to learn more about management, marketing, business, entrepreneurship and how important people of a company act to make it work."
Decidedly, Teynie chose NJCU due to its many remarkable qualities offered to students, considering, "the tennis level, its location, attentive professors and an incredible experience for a student." In order to pass the time during the COVID-19 pandemic, he has found interest in watching anime (especially Naruto) and spending time with friends.
However, Bourghelle has noted the difference in American and European tennis matches, saying, "Playing a tennis match in the United States is so much funnier than playing a match in Europe. In Europe when you hit a winner, you are not going to scream or anything and most of the time, it is only you and your opponent on the court. In the United States, you have all of your teammates supporting you and cheering for you. You also have your coach on the court to motivate you, give you advice and motivation. It is also more stressful to play in the States because you are playing for your school, your teammates, and your coach but I love it."
He admits, after spending two years in Ohio, the location of NJCU and being near New York was beneficial in the cementing of his decision, but also being in a city as diverse and welcoming as Jersey City. "The location of the school also helped me to make my final decision." Teynie admits to an initial surprise of culture shock, especially by the length of skyscrapers when he first arrived.
About a future career path, he hopes to blend finance with his athletic background, "I would love to work in the finance field for a sports company because my whole life has been connected to tennis, but I also love finance and business." Teynie says, when in doubt, or in need of motivation, "The quote that motivates me to give my best in tennis and at the gym is a French quote: "Ma tactique: te bouffer au physique".