Ancestral Ties In Art
Jaz Graf, is an artist whose work was featured in NJCU's Virtual Studio Visit called: The Art and (Im)Possibilities of Belonging, "Art is a space where we can find that sense of belonging."
The visit gives a tour around Graf's art studio of things that have been created and are in the process of being created through technology. She even includes videos of her adventures through Thailand, discovering her family's history,
"I hope that it sets in motion, a contemporary discourse around intergenerational memory and cultural preservation," Graf said.
Graf is an adjunct professor of Visual Art and Design at Caldwell University. She has exhibited both locally and internationally as well as appeared on NJTV. The artist has earned her Master of Arts degree in Studio Art Printmaking from the University of Notre Dame and has her Master of Fine Arts in Print Media from the University of Iowa.
Graf is currently an Artist-in-Residence at Gallery Aferro in Newark, NJ. A piece that she made in the same studio is called, "Between What Was" media – "Cyanotype and Serigraph". She conveys the following themes into her creative practice: family history, identity as mixed race, spirituality, and ritual. "Art is like breath. It is essential for life. I try to breathe deeply and consciously as I move through the world," Graf said. Her grandma, auntie, and uncle are a few people who have inspired her projects.
Having been in the art industry for the past 20 years, her first art exhibit was at Edward Hopper's old house in seventh grade. It is now a charming gallery located in Nyack, NY. Graf has learned valuable lessons from her projects, whether they were short or long-term.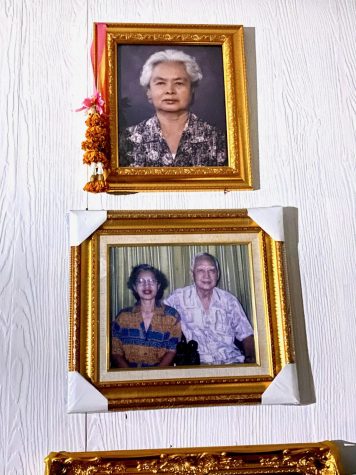 Her current project required the sacred cloth of worn Buddhist monk robes. As a result of her creating paper, she "has been able to connect with communities, here and abroad, engaging in unexpected and remarkable conversations". Her art titled, "Of the Same Root" was actually used by handmade paper from monk robe fabric.
For anyone who was unable to attend the event, NJCU's Center for the Arts will have a video recording available soon on their website. Featured in this article are two of her works; the exhibition view of "At My Feet for Ages" and an art piece from the series, Between What Was, Cyanotype and Serigraph on paper. Graf's work can be seen on her website at www.jazgraf.com and she can also be found on Instagram under the handle, jazgraf.