NJCU Increases Tuition Again
The Board of Trustees approved a 2.5 percent tuition hike in June. Students spoke out against it at the April "Tuition and Fees" hearing. 
This marks the second time during the COVID-19 pandemic that tuition has been raised. It is also the 16th consecutive increase on record since fiscal year 2007, based on data from the New Jersey Office of the Secretary of Higher Education. 
Information from Andres Acebo, interim chief of staff to President Sue Henderson and secretary of the Board of Trustees, said that NJCU is prepared to accommodate students' scholarships and financial aid. 
Acebo said in an email interview that the university is giving out more money in support than it is receiving from students: "Collectively, the direct student payment support from CARES and institutional scholarship support provided by NJCU exceeds the revenue generated from tuition/fees in the last 2 fiscal years and the next 2 fiscal years."
State aid will be seeing an increase this school year. Acebo said, "The State of New Jersey also recently increased TAG allocations by approximately 25%. SGA President Thyquel Halley currently serves on the NJ Higher Education Student Assistance Authority (HESAA), which is great representation for NJCU. HESAA is the board that regulates TAG."
Benjamin Rodriguez, a junior Criminal Justice major, said in an interview, "This being the second increase [during the pandemic] is a reason many students I knew in my freshman and sophomore years aren't coming back, and it truly shows how greedy this university is."
"
This being the second increase [during the pandemic] is a reason many students I knew in my freshman and sophomore years aren't coming back, and it truly shows how greedy this university is.
— Benjamin Rodriguez
Rodriguez also said, "I don't believe that [majority of students being covered by scholarships and financial aid] matters because there are still students who have to pay more in loans now to avoid paying out of pocket, and still students who have no aid, who are really having a rough time trying to figure something out."
When President Henderson was asked how she would respond to this criticism, she said in an email interview, "Across the state, NJCU continues to take a leadership role in providing and maintaining equitable access to affordable, high-quality educational opportunities to the most diverse undergraduate student population in New Jersey. NJCU remains committed to being a leader in this area and maintaining affordability and access. Of course, every higher education institution, including NJCU, must confront the economic reality that the cost to operate increases annually. It is important to note that for most of our students, a modest tuition increase is offset by the greater availability of federal and state financial aid and NJCU scholarships, which negate any increase in out-of-pocket costs. Additionally, the University is awarding more scholarship money to students than ever before."
Acebo also pointed out that NJCU is advocating for New Jersey's "Garden State Guarantee" program where students with family incomes of less than $65,000 will be able to attend public universities for free for two years. It is "modeled after" the university's "Debt-Free Promise Program" which launched in Fall 2016.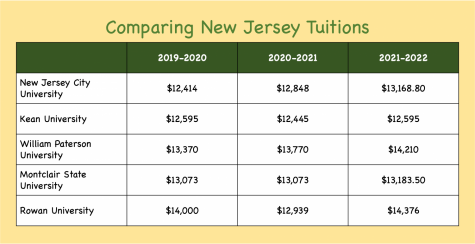 Student Representation and the Future 
In addition to being vice-chair for HESAA, Thyquel Halley is a student trustee for NJCU's Board of Trustees (although he is a non-voting member) and is the incoming president of the Student Government Association (SGA). Halley said that if the university is going to raise tuition then it should also increase services: "As the Student Trustee, I understand the rationale and depth behind tuition increases. I also understand that while they are not ideal that they are also procedural and mandated. With that, I had the opportunity to speak during the Tuition and Fees hearing on April 26th in addition to the June 28th meeting before the vote took place. In each of these meetings, I shared my thoughts on a need for an increment in student services as the cost of education increases."
The former voting student trustee member, Nermeen Girgis, was not in attendance as she graduated in early June. Acebo said that Student Affairs and SGA will be choosing a new voting student trustee who will be implemented before the September 13 Board meeting. The application for the new student trustee member has been sent out to students' emails and is due on September 3. 
Halley also said, "I believe NJCU should continue the work that has already been started, identify areas for improvement, and keep connecting with students to develop and innovate this institution. I am grateful to be in a position to partner with NJCU Administration and the Board to help address and meet the needs of students campus-wide. I take my role as SGA President very seriously and I will do everything in my power and reach to advocate for the voice of all students."
Senior Sociology major, Yulissa Mota, said, "I think it's a very negative thing considering the times we're in with COVID-19. I feel as though there shouldn't have been an increase, if anything there should've been a decrease in tuition or a pause in tuition payments." 
When asked if there would be a year when tuition would not be increased, Henderson said, "The decision to increase tuition or keep it flat is a year-to-year decision based on a multiple of factors, primarily operating costs. Still, historically, NJCU's tuition rate is at or near the lowest of any four-year institution in the State of New Jersey every year. NJCU students already graduate with the lowest rate of indebtedness of any other public college in New Jersey and is among the national leaders in social mobility.
"NJCU has always been committed to providing a high-quality education at a reasonable cost. In fact, we've been praised for it. Governor Phil Murphy recently highlighted NJCU as a pioneer in affordability when he announced the Garden State Guarantee because it builds on our very own successful multi-year Debt-Free Promise program and the Governor's Chief Policy Advisor, Zakiya Smith Ellis, publicly thanked our institution for our efforts in this area."
Maria DeJesus, a junior English Creative Writing major, said, "In regards to the tuition increase, I don't think it's okay because there are a lot of families who are less fortunate and can't afford high tuition. NJCU is supposed to represent a university that isn't so expensive and is for the community. If you increase tuition, you might have students go to regular community colleges in order to afford an education."