Cross Country Season Preview
Following an outdoor track season that saw numerous athletes hit personal best times and a summer full of training, the Gothic Knights look to return in Fall 2021 better than they have been before.
The Men's and Women's Cross-Country teams are looking to return to their regular routines following a COVID-19 filled 2020-21 season. Under normal circumstances, the teams would have competed in seven meets for Fall 2020, including three championships. However, the 2020 season was postponed until February 2021 and the teams only competed at three meets (two regular season meets and the NJAC championship).
Despite a shorter schedule and competing in colder weather, both the Men's and Women's teams recorded their highest ever finishes at the New Jersey Athletic Conference (NJAC) Championship. The men finished third overall and the women finished fourth.
Now, with the teams' schedules returning to their usual length and time of year, the Knights look to improve on their progress from earlier in 2021. Many members of the teams have expressed their eagerness to compete.
When asked about the upcoming season, junior athlete Adnan Kpodo emphasized the importance of self-care outside of running when he said, "I'm looking forward to my best season since I've been taking the necessary actions to better myself not just through running, but through other aspects of the sport as well."
Fellow junior Jaime Tlatelpa said, "I'm looking forward to my second full cross-country season since it was cut short this year. Next fall will be our redemption season to get back into the shape we need to keep breaking our times and getting better as a team, not just individually."
Head coach Patrick O' Niell also expressed his enthusiastic outlook toward the upcoming season. He said, "Expectations are high as we enter cross country season. On the men's side, we are returning 10 of our top 11 (Julius Libutsi, Jose Recinos, Jaime Tlatelpa, Topu Saha, Elvis Rosas, Erich Fennelly, Jake Sisk, Denilson Lopez, Adnan Kpodo, and Fahim Chowdhury). The experience this crew has training and racing together will play a vital role in our success this season. They've accomplished a lot as a young team, and they aren't done yet."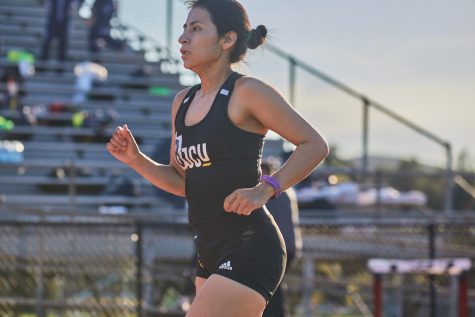 For the women, they are looking to enter the season with a larger available roster to improve on last year's performance. Coach O' Niell said "On the women's side April Gutierrez and Jackeline Lopez will be leading the way with support from both returners and newcomers. We have a couple student athletes that opted out last year due to COVID and a few freshmen that will play key roles. Additionally, April is coming off of a breakout year where she broke a number of school records and will be looking to continue her success in the fall."
April Gutierrez said, "In terms of the fall, I look forward to how this season will approach, especially knowing the pandemic has had a huge impact. I look forward to everyone's performance knowing that for many of us, it's our last year."
Some readjusting will be needed as things return to normal, but the Knights can look forward to a much more familiar season than last year.