Classrooms Leave Students Heated
Issues in the Visual Arts Building and Fries Hall
Hot classrooms in several buildings made some students feel sick during the first two weeks of classes. Professors and students also raised concerns about the lack of air circulation and heat as it relates to the potential spread of COVID.
Ellen Quinn, professor of Art, said that when she went to her class on September 7 in the Visual Arts Building, the heat inside of the room was very concerning. She said, "[There was] extreme heat in the classroom. Outside, it was 80 degrees, but inside it was stifling hot. That is worrisome for the transmission of a virus. No windows open; no air circulating."
Andre Pearson, associate vice president of building services, said that the Visual Arts building had no issues when he checked on Friday, September 10. In an interview on Monday, September 13, he said, "However, when I look at it earlier the chiller was down and spaces were warm. The chiller has just been reset and cooling is back online."
Pearson also said, "On Friday, Fries Hall had two HVAC units that were down. The HVAC contractor is here today [September 13] working on them."
Linda Alago, a senior Media Arts student, described what it was like in her classes in Fries Hall recently. She said, "You can't breathe in there. It's very uncomfortable. You can't focus. You're tired. There's no air circulating. There are not enough fans."
Some professors in Fries Hall mentioned that a work order was put in last Wednesday (September 8) about the hot classrooms in the building.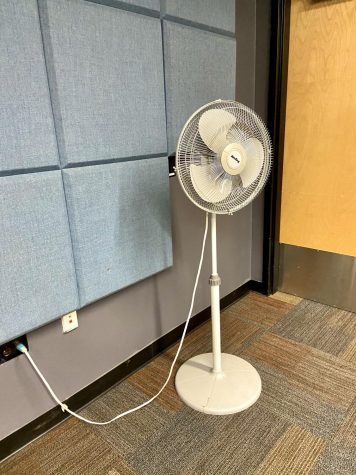 During the third week of classes, a thermostat in a Fries Hall hallway read 86 degrees.
Darren Greene, a senior Media Arts student and the podcast producer for The Gothic Times, said that students were fanning themselves during his class in Fries Hall. He has also lived in Vodra Hall for three years and said the air conditioning has always been "spotty."
Many students also expressed that the heat was very distracting and even made them feel sick.
Cindy Portillo, a junior Media Arts student, said the heat was making her feel nauseous. She said, "I had to step out to use the bathroom and get some air."
Portillo expressed that despite being hesitant to get vaccinated, she got her first dose before school started. She said she is disappointed to be sweating in her classes and not feeling well from the heat: "I showed up here for my major classes. I want to be totally focused, but with the heat, I can't think straight."
Alago also felt negatively affected by the classroom conditions. She said, "I got very heated. It was just a very uncomfortable feeling. I never felt like that. If it continues, I don't know if I want to come to class, not because of the virus, but because they're not taking care of the students the right way."
In addition to there being no air conditioning, some Fries Hall classrooms also have no windows. Portillo said, "If there were windows, maybe some nice air from outside would be leaking in, but it's a stagnant room."
Alago added, "There's no air movement and then the six feet separation, that's not really happening."
Additional reporting by Julie Marie Frances DeVoe
About the Writer
Haresh Oudhnarine, Editor in Chief
Haresh Oudhnarine (he/him/his) is a junior Management and Media Arts major. He has been a part of The Gothic Times since his first semester at NJCU. He...