The Mind of Artist Ted Kim
One of our city's best gems to explore is the arts center Mana Contemporary. An easy walk from Journal Square, it features artists from around the country.
Implied Scale: Confronting the Enormity of Climate Change was a recent group show featuring works by five different artists. When I went to the exhibit this summer one of the first things that caught my attention was a 70-foot-long illustration by the Alaskan artist Ted Kim.
Kim was born in Hawaii but raised in Anchorage, Alaska. His favorite interests were comic books, anime, and skateboarding, but he's never had any formal art training, which makes Kim more impressive knowing he is a naturally talented artist.
The massive illustration which Kim titled "Relations" was drawn directly onto Mana Contemporary's wall. The Gallery Director, Kele Mccomsey, told me that Kim spent non-stop hours drawing it, with nothing more than black Sharpie markers and his surgical attention to detail.
What stood out to me about this illustration was that I could tell the artist has empathy, loves nature, anime, and is a comic enthusiast. Kim shows us a vision of what kind of dystopia the world might become, especially if we don't change the way we treat the planet.
Kim constructed the entire illustration by freehand, working for hours at a time. There was no room for mistakes in this work and so no do-overs were needed.
As I was looking at "Relations," I recognized a landfill, a strange but serene interpretation of the elements, characterizations, and especially when I thought I saw gravestones. As I looked closer, I realized they were skateboards. Continuing along the canvas was somewhat of an adventure of the senses, followed by a girl who looks like she came from an anime, astounded by the scenery, all drawn to the center of the sun in a clever fashion.
There was a dystopian sensation to the artwork, a lesson to remember what our world could become, yet beauty still prevails in the end. A powerful vision of our times and what it can produce, whether sensational or disastrous, this vision was brought to life from the mind and talents of a unique illustrator who completed one of his best works with perfection.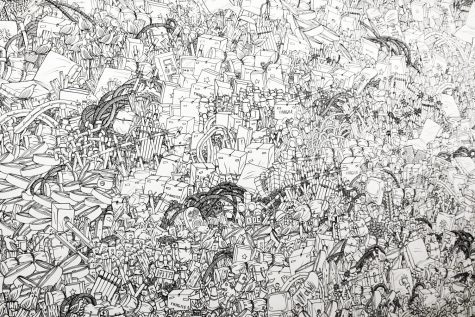 I recently had the chance to interview Kim while he worked on a new commission in Alaska via Zoom.
Q: What was your strongest inspiration that drove you to become the artist you are today?
A: "If I had to narrow it down, I would say growing up as an '80s kid, I loved comics, skateboarding and anime, especially Japanese manga which was at its rising and highest back then. What drives me to this day is expressing my signature of being me, not trying to be others, not for money or recognition but for my passion that has saved me from dark places."
Q: Do you have any hopes that people will learn important lessons from your work?
A: "There isn't really a mission or agenda to what I do, but if anything, I'm proud that people who see my work are inspired to follow their own passions. There was a small story I was told from a colleague who said their daughter loves to draw and continues today after seeing one of my art pieces seven years ago. I've been told two different stories about my art, one of which comes with everyday life getting hate and negative criticism, that I'm not original. The other side of criticism I get is inspiring and positive, how much I have been told how my art makes people feel inspired and enlightened even…Follow what you love for yourself, not for the lone sakes of social media or money."
Q: The art I have seen from you is phenomenal, especially the time and dedication you put into them; for me as a writer, how do you find the inspiration or idea(s) to begin your creative process?
A: "This one is a little hard to describe, whenever I begin to pick up a marker or airbrush my imagination just runs wild, almost reflex. I've learned from drawing how a mistake can simply be re-made into a new intricate design, which is how my artwork flows without end. Randomness becomes artistic, some mistakes can be made into purposeful patterns. With my interests in comics, manga art, and skateboarding coupled with my interest in the environment, it all seems like my imagination is telling the same story through what I draw in many alternate versions."
Q: May I ask what you are working on now or do you rather keep your next masterpiece under wraps?
A: "The anonymity I keep on my work depends on who I do it for or if its personal for me. I'm not about living in hype or flashiness, it's better to let the art speak for itself after completion. I have been very busy with a few commission projects, which is great. I enjoy how art can bring together a community or if I'm asked by a client to create a mural that is a reminder to them of their home and the people they want to help. To me I'm more reclusive in a way, if you ask, I will tell."
Q: Did you have any impressions of Jersey City?
A: "I'm usually drawn by my work to cities like New York but coming to Jersey City is in no way less fun and it's one of my favorite places to stop by. It's a pleasure traveling to Jersey City for three things, new sites for fun experiences, great Indian restaurant spots, and coming to Jersey to collaborate with the Mana Gallery, who I absolutely love to work with."