Student-Athlete Defies Odds and Graduates
Jerlis Vasquez-Villalta immigrated from Morazan, El Salvador to America along with his family at the age 8. They came to America hoping to improve their lives and accomplish their financial goals. Despite many setbacks, he played volleyball throughout his four years at NJCU and graduated with a bachelor's degree in Business Administration.
Making the move to a new country was difficult, one of the most difficult parts was learning the English language. Being a native Spanish speaker, it was hard for him to pronounce some English words.
The Deferred Action for Childhood Arrivals (DACA) immigration policy, enacted in June 2012, helped him adjust in many ways. It gave him the opportunity to start working and to help his family with financial needs.
DACA was also a prime factor in his goal of obtaining a driver's license which allowed him to travel with friends like any other young adult, as well as provided other services to live a normal life.
During his first year at Memorial High School, located in West New York, New Jersey, Vasquez-Villalta started playing volleyball. He had to learn the sport quickly so he could have the chance to make it on the team because he never played the sport before.
Fortunately, he had motivating coaches that provided assistance over the years. His passion and dedication for volleyball grew as it helped him lose weight and keep him in shape.
Fast forward to his senior year of high school, his coach Jorge Rodriguez gave him advice about joining the men's volleyball team at NJCU. Rodriguez's recommendation factored into his decision of picking which college he decided to attend.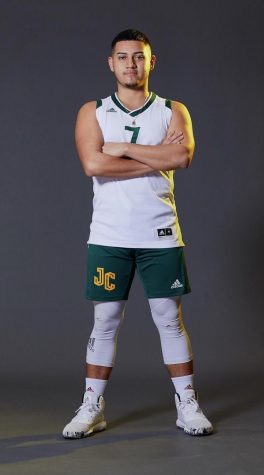 He ultimately chose NJCU, where he was offered an academic scholarship. When college began, Vasquez-Villalta was able to pay out of pocket for the remaining balance his scholarship did not cover by working.
As a student athlete, it was his responsibility to dedicate himself to both balancing athletics with academics. He utilized the Student Outreach and Retention (SOAR) office where he was offered help with transitioning from high school to college.
Vasquez-Villalta said, "If it wasn't for them providing me with the guidance, I would not be graduating from NJCU. Veronica Garcia and SOAR's staff helped me find my passion and gave me the necessary tools to succeed at NJCU. Going from a 1.5 GPA my freshman year, to a 3.3 my senior year, it was one of my biggest accomplishments in life, and I could not have done it without them."
Vasquez-Villalta enjoyed being a part of a diverse environment. The NJCU Athletics program was honored by the National Collegiate Athletic Association recently for its work on diversity-related projects in programming and initiatives occurring on Division III campuses and in conference offices. He said, "Being part of a diverse team has helped prepared me for the real world because we live in a world where people come from different backgrounds cultures religions, and preferences, learning to adjust to the diverse group of men that I spent four years with prepared me to face what's coming to me in the real world."
In the future, Vasquez-Villalta hopes to work in the financial industry. He wants people to know that whether he took a plane or crossed the border, he is a proud immigrant of the United States and he cannot wait to break more barriers as a minority in the country.