CAPSTONE: J.C. is Internationally Screened
By Aida Toro —
Jersey City known for having one of the highest crime rates, is one of the most artistic cities in the
tri state area. Individuals, nowadays, believe that New York City is the only place that consists of an artistic atmosphere. However, it is not. Aside from having talented artists, Jersey City has talented filmmakers. This year, Jersey City had its first Golden Door International Film Festival, which ran from October 13 through October 16.
The Golden Door International Film Festival was founded by Bill Sorvino. For these three days, the festival was held at many different locations in Jersey City where screenings of the 43 films were presented. The Loews Theatre, a historical venue in Jersey City, was the main headquarters for this dazzling event. Aside from having screenings for films in the festival, after parties were hosted as well in upscale restaurants and lounges. The question is what made Sorvino choose Jersey City as the ideal location for such an important event?
"I was born and raised in Jersey City. Also, my grandfather came to the United States through Ellis Island, which makes Jersey City a Golden Door for opportunity," says Sorvino.
By the looks of it all, Jersey City is a place full of opportunities. Sorvino had dreamed about this festival for years. A couple of months before the festival actually happened, Sorvino started receiving attention from the local press and film makers as well in order to sponsor 43 films for the weekend of the festival. Therefore, dreams do come true.
The festival consisted of movie screenings at different locations. However, the opening night was a ball at the Loews Theatre down on Journal Square.

"The opening night was great. A couple of 100 people came through the red carpet along with being filmed on video", said Sorvino.
The opening night consisted of the fabulous red carpet where people were dressed as socialites enjoying the night at the historical Lowes Theatre in Journal Square. Aside from directors, actors, and spectators, intermingling at such a luxurious scenario, a film was played for the opening night of the Golden Door International Film Festival. The film of the night was Director Sam Borowski's, "Night Club". Not only was this the opening night's main film, but the closing night's as well. "Nightclub" is about three college students who work in a retirement home. The comical part about the film is that these students decide to open a nightclub in the retirement home, since they work the night shift.
Borowski, originally from Staten Island, is very fond of Jersey City. He says that Jersey City is his "adoptive home".
"For me, the Loews Theatre is a big draw and downtown Jersey City is just like Soho in New York; it's just beautiful, said Borowski.
Aside from Borowski having Jersey City in his heart, he was a reporter/columnist for the Staten Island Advance for 10 years. Aside from being a talented writer, Borowski produced 6 films and screened them at the Cannes Film Festival along with including two shorts and a feature film. Before "Nightclub",Borowski produced and directed "The Mandala Maker", which qualified for the Oscars in 2009.
"What Bill is doing with this festival is above and beyond. It is great for Jersey City and for film makers and artists. Hopefully they'll take advantage of it", says Borowski.
Borowski, along with his marvelous accomplishments, earned an award for having directed the best feature film, which was "Night Club". Along with receiving an award for the best feature film, he received the award for being the best director of a feature.
Click here for Celebrity Appearance story
On the second day of the festival, a special guest arrived to Jersey City. This special guest was Federico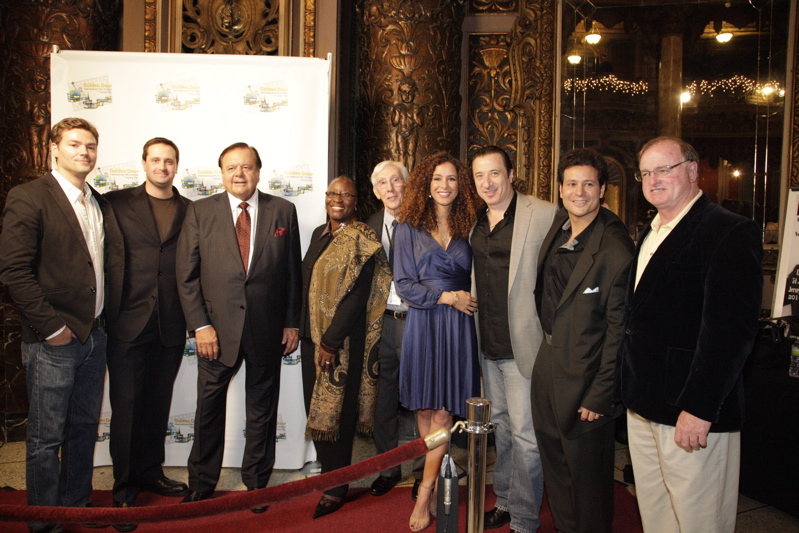 Castelluccio, an actor from the well-known show, "The Sopranos." Castelluccio directed the short film, "Lily of the Feast". After the screening of this spectacular film, Castellucio had a question and answer session, where he provided a lot of interesting, yet resourceful answers for the questions he was asked. While observing Castellucio's answering questions, he portrayed himself as the type of director that likes to get everything done prior to the set.
While the Q&A session, Castellucio said, "I like looking at images in my mind and putting them on paper. I'm a painter."
Aside from the appearance made by Castellucio, there have been other local film makers that were dying to have their films starred in the Golden Door International Film Festival.Rohit Gupta, CEO of a U.S. based film company called RNG Films was one of them. His film,"Another Day Another Life" which was produced in 2009 was screened at the festival. This film is suspenseful, which made it very eye catching for the audience just for this film being only five minutes. It is about a struggling individual that has natural instincts for revenge when he is rescued by the only person that mattered in the grand scheme of life.
In a Q&A after his film, Gupta said, "It has been my dream for my film to be played in Jersey City Film Festival."
His film "Another Day Another Life" resulted in winning the "Best Concept for a Short" award.
Aside from directors and movie screenings, volunteers from the Film Festival enjoyed themselves as well.
"I'm a film-lover. I love independent, quirky, non-mainstream movies. Some of the best films I have seen are low budget. Therefore, I love the idea of bringing it to Jersey City", said Maureen Goetz, who was an event coordinator at the festival.
A lot of the volunteers for this film festival were either residents of Jersey City or know Billy Sorvino and his family very well. Volunteers at the festival were people of all ages, which made the events enjoyable yet enthralling. As volunteers, tasks such as selling tickets at the door and providing refreshments were to be done. To add on to this, volunteers would get to watch the screening of the films as well. Volunteers for this festival are enamored to Jersey City, in which pride was taken for their work volunteering.
Goetz said, "I wanted to get involved because I want to see Jersey City compete with New York in a festival level with what we have to offer in an artistic point of view, and creative point of view".
Robin Bailey, who was the volunteer coordinator for the Golden Door International Film Festival was very enthusiastic about it as well.
"I felt like this festival brought me to life. I'm an artist by trade and I enjoy meeting artistic people", said Bailey.
Since Jersey City is known to be one of the most dangerous cities in Hudson county, people like Billy Sorvino, want to make a difference. Even though the city is known for its skilled artists, a lot of people do not believe it.
"This festival made a big impact on Jersey City because everybody that is politically involved in this town said that Billy had brought some life to it. Not only has he helped out up and coming artists and film makers, but the city as well," says Bailey.
Everyone nowadays is focused on New York City due to the fact that it consists of many different types of museums and festivals. However, small towns like Jersey City should get credit for the artsy and interesting place it is.
"I have lived in Jersey City for only two and a half years and I really want to spread to word about the Golden Door International Film Festival", says Goetz.
Overall, the grand finale of this freshly thought up event by Billy Sorvino was indeed a grand slam. Hosted at the Lowes Theatre, all guests were looking spiffy on the red carpet and posing for pictures like Hollywood stars. Along with the whole Hollywood scenario the Lowes was providing for everybody, the night was wined and dined as well due to the fact that Jersey City local restaurant, La Casa Dante catered the event with delicious food along with bottles of red and white wine. Borowski's feature film, "Night Club", was screened once again, which resulted in being one of the biggest successes in this function. After the screening of this film, the mayor of Jersey City, Jerramiah Healy, made an appearance and gave a speech on how Sorvino's festival was a big accomplishment. Indeed, the Golden Door International Film Festival was a tremendous accomplishment for Sorvino and Jersey City. For sure, the festival will be back for next year in October for 2012. This year's festival made it to the charts, but it is one hundred percent positive that Billy Sorvino will provide Jersey City with a bigger surprise next year.