Bringing Students Together from Around the Globe
NJCU to Celebrate International Education Week
Takshma Gandhi grew up in India but going to college at NJCU has given her a new outlook on life.
Gandhi said, "Being an international student, coming here from totally a different background and people, it feels good to experience the new culture and meeting new people. At the same time, not forgetting my culture and celebrating with the people here. I also like being able to travel to many new eye-catching places."
Gandhi and others will be part of a celebration kicking off this weekend for International Education Week (IEW).
Spearheaded by NJCU's Office of Global Initiatives, the week-long celebration will kick off on Saturday, November 13 with a walking tour of Lower Manhattan which will be led by president Sue Henderson, and history professor, Tim White.
On Monday, November 15, there will be a formal opening address at the Gothic Lounge. Other events planned for IEW are a student scavenger hunt, a social media competition, a virtual geography Kahoot game, a virtual tour of African Heritage in Rio, and more.
Dhwani Shah, a senior Business Management student studying abroad from India is really excited about IEW. She said, "The event I am looking forward to most is the 'Food Festival: Taste of the Middle East' because there will be henna artists, belly dancers, and foods from all cultures. We will be meeting people from different countries and cultures." Shah is also looking forward to the Day of Service at the Hoboken Homeless Shelter.
Shah described the impact being an international student has on her life. She said, "It has definitely been a positive impact because coming here, especially in NJCU we have many diverse cultures, so I get to meet people from different countries and get to explore their backgrounds, meeting people, and making friends, it's amazing. NJCU helps people a lot, arrange trips every month, they are doing a lot for international students."
Vaughn Rogers, the programs coordinator, said, "International Education Week (IEW) is an opportunity to celebrate the benefits of international education and exchange worldwide. This joint initiative of the U.S. Department of State and the U.S. Department of Education is part of our efforts to promote programs that prepare Americans for a global environment and attract future leaders from abroad to study, learn, and exchange experiences."
Rogers also said, "The Office of Global Initiatives is eager to share international cultures which the – albeit diverse – student body can learn about. Our goals are to broaden NJCU students' horizons and encourage them to study abroad and learn from their international student peers."
Gandhi, a senior Business Management student, said "There will be many good events happening during the whole week but the one I look forward to the most is the scavenger hunt with the global theme. And obviously being an extrovert, getting to see new faces is one of the best part of International Education Week for me."
Gandhi said, "Travelling all the way to a different country leaving behind my family and friends, I have started learning how to live on my own and how to tackle situations by myself. One thing being an international student taught me is to be polite. Every time I walk by or go somewhere, I can see people enjoying themselves, always smiling, and being respectful which makes me feel lively in a foreign country."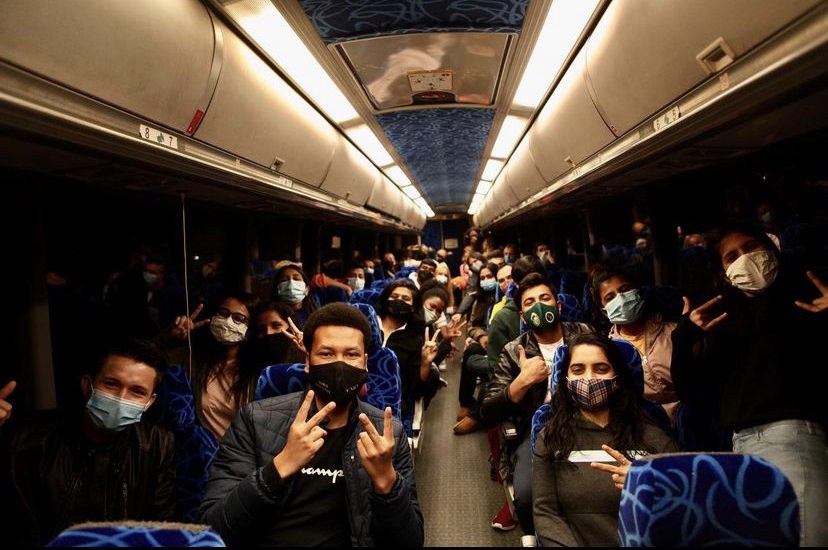 Studying Abroad
NJCU offers many different ways for students to travel internationally while continuing their degrees.
Shah recommended for students to take advantage of study abroad opportunities: "With my experience, I have learned a lot staying away from my family, independence, managing stuff by myself. I definitely will say that people should go out of the country, it is a great learning experience."
The basic requirements for studying abroad are a minimum GPA of 2.5, and at least one completed year.
One route that students can take is the "direct exchange" where they pay NJCU tuition for the country they will travel to, and all other costs such as housing and living costs would get paid to the partner school. Another route that students can take is the "program providers" where there is a tuition and housing package that gets paid to the school that the student will be studying abroad at.
Some credits earned while studying abroad can be applied to the Global Studies minor which is a total of 18 credits.
NJCU has partnerships with many countries including England, France, Spain, Turkey, China, India, South Korea, Mexico, and many more.
For more information on studying abroad, visit the Global Initiatives webpage or visit the office in the Professional Studies Building room 414.
Events for IEW Week
A full list of the International Education week events can be seen in the flyer below. The Office of Global Initiatives can be found on Instagram @njcuogi.