Students Speak Up at November Senate Meeting
Students expressed multiple concerns at the recent University Senate meeting ranging from campus dining, communication issues, meeting organization and productivity, campus safety, rain damage to dorms, faulty fire alarms, and more.
Khadija Diop, a student senator-at-large, said, "NJCU could do so much better for their students, and we need to fix the big gap in communication if we want more student engagement and feedback because how can we expect students to stay in the school that doesn't give them the information or respond to their needs? We can't."
Thyquel Halley, the president of the Student Government Association (SGA), spoke about a recent survey sent to students about Gourmet Dining food concerns. He said that there were over 400 responses and that SGA met with Ed Mallaney, the director of Gourmet Dining, to discuss what students reported, which included undercooked chicken and other issues.
Issues with Communication
Laney Fox, a student senator-at-large, said that the faculty Senate meetings need to be more organized. Fox said, "As a collective group, we are frustrated with the way individuals conduct themselves on these meetings. It is important to understand that our goal is to make this university a better environment and experience for students, faculty, and staff. As the Senate of NJCU, we cannot be a productive governing body if we are making personal attacks and screaming at each other."
Diop highlighted communication issues within the Senate and the university as a whole. Diop said, "For the past two Senate meetings, there has been a great amount of disorganization that could be resolved if we planned a little bit more ahead. There is no reason why a senate meeting should be interrupted for people to decide on meeting formats and voting formats and whether we have a chat. These are things that should have been discussed prior."
"
For the past two Senate meetings, there has been a great amount of disorganization that could be resolved if we planned a little bit more ahead.
— Khadija Diop
Diop also called out the Senate for only allowing student senators four days to look over the documents that they had to vote on for the October meeting. She said, "We are voting on important matters that affect the entire university, so we should have enough time to think, discuss, ruminate, and exchange on the topic before making any decisions."
Storm Dangers and Residence Hall Concerns
Communication from the university regarding the cancelation of in-person classes presented safety concerns, according to Diop. She said that she found a commuter student sheltering from the rain near the library who had no knowledge that in-person classes were canceled for the day. On top of that, Diop said that email communication about the delayed opening for GSUB was sent out much later in the day.
The Vodra and Co-Op residence halls need to be "desperately repaired," according to Diop. She said, "There is no reason why we should be paying over $7000, before aid, to live here if I have to worry about falling panels and rain damage to the roofs above our heads."
In recent weeks, students have reported problems with heat in Vodra Hall, the Visual Arts Building, and Karnoutsos Hall. There have also been issues with leaking ceilings in Fries Hall.
Diop also said that fire alarms have been easily set off in the residence halls from shower steam and even blow dryers. "There are reports from the past eight weeks that can confirm this."
Ron Hurley, associate vice president for the Department of Public Safety, provided information on the building damages in an email interview. He said, "As you know the surrounding area was severely impacted by tropical storm Ida. Yes, we did have issues with flooding and ceiling damage from the heavy rains. Most of these issues, if not all, have been addressed. We are still investigating complaints as we are made aware, and will take corrective action as needed."
"
Yes, we did have issues with flooding and ceiling damage from the heavy rains. Most of these issues, if not all, have been addressed.
— Ron Hurley, associate vice president for Department of Public Safety
Regarding the fire alarms, Hurley said, "As for the fire alarm issues, we did have problems with the smoke detectors at WCV. All smoke detectors in WCV have since been changed, which will minimize the amount of fire alarm activations. As for fire alarm activations in COOP and Vodra Hall, each has been investigated and were determined to be accidental activations by occupants, not mechanical."
Alnoor Cheema, the senior class president, spoke about her experience with Tropical Storm Ida from the first week of classes. She said that her class was set to end at 9:45 PM the Wednesday night of the storm and her professor refused to end class early without any notification from the university. She said that this presented a major safety concern for students who had to travel home in the rain.
Cheema wants the university to be better prepared for storms in the future.
Crystal Genthe, the freshman class president and student senator, also spoke about safety concerns from Tropical Storm Ida. She said that students in Vodra and Co-Op halls experienced flooding during the storm.
Despite the storm in October not being as bad, Genthe said, "Messages that were being sent out were miscommunicated. GSUB hours were all over the place, classes were made virtual, yet some professors canceled classes completely."
"Why is NJCU so unprepared when it comes to dealing with these emergency situations and how can we improve on being prepared with these unpredictable predicaments?" Genthe asked.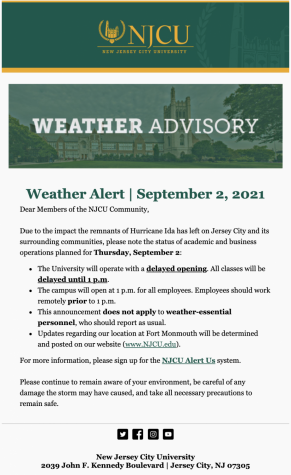 Information on Emergency NJCU Alerts
Tropical Storm Ida resulted in a 1 PM delayed opening for NJCU on September 2. The October 26 Nor'easter resulted in a completely remote day of classes.
Ira Thor, the senior director of University Communications and Media Relations, explained that delayed openings, changes to remote operation, and other temporary changes made due to weather events are determined by the University Crisis Leadership Team. He said, "All students, faculty, staff are notified through multiple notification methods, including a university-wide email, and phone calls and texts messages from the Gothic Alert system. Additionally, all primary social media platforms are updated, as is the home page of NJCU.edu, including an alert banner at the top of the page. We are very thorough, thoughtful, and consistent in our notification process."
Thor also explained why some people might not receive emergency alerts from the university. He said, "If students, faculty, and staff are not getting messages, that means they have opted out of receiving email communications. If they are not receiving Gothic Alert notifications, they have opted out or have not updated their contact preferences. An email is sent out at the beginning of each semester to students, faculty, and staff to update their contact preferences."
The NJCU community can sign up for emergency alerts from the university on their GothicNet accounts. Detailed instructions can be found on the Public Safety webpage here.
GSUB Dining Hours and COVID Concerns
Ruth Diegue, the sophomore class president, said that the GSUB cafeteria hours are not very accommodating for student-athletes who have late practices and students who have late classes.
The hours for the GSUB cafeteria are 8 AM to 8 PM on weekdays and 11 AM to 5 PM on weekends.
Diegue said, "What we ask for is that the weekdays are extended to 10 PM and the weekends to 7 PM."
Diegue also expressed concern about high school students having access to the GSUB cafeteria regarding COVID safety. She said, "These students come in large groups in which there is no room for NJCU students to enter the cafeteria, get their food on time in the small window in which they must get to their next class, or handle other business. This is a COVID concern and this can increase the spread of the virus. We ask for the safety of the students, staff, and facility workers that we limit outside access to our resources."
Relating to these concerns, Jodi Bailey, the vice president for Student Affairs, explained in an email interview that high school students are considered guests at the university and how that relates to the COVID policies. Bailey said, "All members of the NJCU community must be vaccinated to be on campus. This is the first round of defense and the best fight against COVID. Anyone in a public space must wear a face mask and practice safe social distancing protocols. NJCU has not had a single case of COVID from high school students utilizing our space. They are no different than any other guest or visitor on campus."
Bailey also said, "We clear all of our safety protocols with our University doctors, contact tracers, and dining requirements and have been praised by the Jersey City Department of Health for all of our testing, vaccinations, and COVID protocols. We have not had a single COVID outbreak on campus as determined by the Board of Health since the inception of COVID."