The Jersey City Poetry Scene: An Interview with Rescue Poetix
Joy Akeju, Contributing Writer
December 21, 2021
Rescue Poetix (Susan Justinano) is the current Poet Laureate of Jersey City. She is a poet, spoken word artist, and musician who has performed her heartfelt and introspective work at live events throughout the United States, Canada, Europe, and Mexico.
Brief History of Poet Laureates in Jersey City
A Poet Laureate is a position granted to a poet who is elected by citizens of their city and appointed by the mayor. Along with the title and literary merit comes various duties such as reciting poems at various events, creating programs to promote literacy within schools, and using the position's platform to honor the city's history and culture.
The tradition of appointing a Poet Laureate is a longstanding part of Jersey City's earlier history, but after some time it was no longer seen as a priority. Aaron B. Jackson had the position in 2004, and for the following 15 years, no one was chosen to fulfill the role. The Poet Laureate position was revived due to the passionate campaigning of the Jersey City Arts Council, on which Rescue Poetix has served for about five years.
In 2018 Rashad Wright, who is a twenty-four-year-old poet and NJCU alumni, became the first Poet Laureate in 15 years and served a two-year term before opting to move out of Jersey City.
Rescue Poetix was elected Poet Laureate of Jersey City in December 2020 and is currently serving the 2021-2022 term.
Rescue Poetix on the Rise
Rescue Poetix has been a resident of Jersey City since 2006, and she received her stage name in her earlier years of being active in the underground art scene in Jersey City.
"I was always the person who wanted to help, wanted to get things done… and that hasn't changed. At one point, someone turned around and said, 'Well, here comes Susan to the rescue!' and it kind of stuck. I wanted to utilize that, and I wanted people to understand. For me, it was all about poetry, and it was about the arts… so I adopted Rescue Poetix so that it would be a clear connection between poetry and art and the name Rescue," the Poet Laureate explained.
She came to Jersey City to attend an event she described as "legendary," which occurred at the Waterbug Hotel, which was a community center of sorts for the city's art performance arts community where poets, musicians, and other artists congregated.
"It was that gritty arts scene that was raw and beautiful and amazing," she reflected, afterward describing how she fell so deeply in love with Jersey City that she ran away from her hometown in Patterson, NJ as a young woman and moved into the area.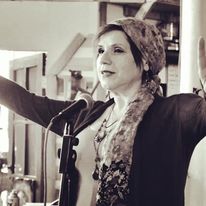 Artistic works of Rescue Poetix
Rescue Poetix's works have been published in literary anthologies and magazines and showcased in art galleries and official calendars. Some of her most popular works include "By the Light of the Ghetto Moon," which was chosen to be a part of In Full Color: The First Five Years Anthology 2015-2019, and Exposed, which was part of the 2021 Jersey City Public Art Showing event.
She is also a musical artist and has multiple tracks released on Spotify including her singles "Eye of the Beholder," which was released in 2016, and "Bohemia," which was released in 2020. She collaborated on tracks with a many different artists, creating primarily eclectic electronic music
Her work can also be found on her YouTube channel, where she shares spoken word poetry and various other projects.
Organizations and Artist Entrepreneurship
Rescue Poetix has and continues to serve within multiple nonprofit organizations that work to improve equity while creating opportunities and bringing the New Jersey artist communities closer together. She has served on Word Seed Inc (Paterson NJ), committees for Bergen County Players, Hudson County Chamber of Commerce/Hudson Gives, Hudson County Committee College Poetry Committee, and Paterson Performing Arts Development.
Within Jersey City alone, she has been on the Board of Directors for In Full Color: Empowering Women of Color through Arts and Education (Jersey City NJ), as well as the West Side Arts and Music (Jersey City, NJ) organization, in addition to her seat on the Jersey City Arts Council.
She elaborated on how In Full Color, one of the nonprofit organizations she is involved in, advocated for marginalized artist groups while uniting the community as a whole. She said, "For In Full Color, the vision is to support women-identified artists through education and empowering women artists through education and the arts. That has changed because we are now all-gender inclusive."
She is an advocate for artist entrepreneurship and believes that it is important for artists to understand their importance and the power their diverse perspectives hold, not only within their social communities, but within the economy as well. She asserted that as the arts are a $985 billion dollar industry, it is important that artists are able to utilize the resources available to them.
"As artists, we are entrepreneurs, and it's important to recognize the contribution of the arts, everywhere, in your daily life. And each of these organizations that I'm involved with brings a little of that recognition to that ideal, which is why I'm involved with them."
"
As artists, we are entrepreneurs, and it's important to recognize the contribution of the arts, everywhere, in your daily life."
— Rescue Poetix
Intersections of Identity and Diversity in the Arts
Rescue Poetix has made history as the first female and the first Puerto Rican Poet Laureate of Jersey City. She openly shared how those two aspects of her identity have helped her cultivate a unique passion for her work.
"Being bilingual, being Puerto Rican and being based in New Jersey has always been an unusual dynamic. Being a girl in a Hispanic home has always been an unusual dynamic. As a woman, it's a unique perspective in an industry- in a culture that's mostly male-dominated, in a society that is also mostly Anglo-Saxon, or white-dominated. Being Puerto Rican adds that sazón…. the arts should always be diverse, the arts should always be evolving and changing."
She holds all of her titles, professional and personal, proudly and views her experiences as badges of honor that shine through in her writing. She lists them all with enthusiasm: "I think that being an artist, a woman, Puerto Rican, a mom of three children, having traveled around the world, I think that experience makes a big difference."
Fortunately, there is no shortage of diverse perspectives in Jersey City, which has become a beloved home for artists from all over the world to come together and engage in self-expression. Rescue Poetix proudly declared when asked about her thoughts on the city's demographic: "That's the great thing about Jersey City- you could go a single day, a week, and there's something happening every day. Jersey City is the most diverse city in the country as well. You can find artists here that speak Spanish, that speak English, that speak Tagalog, that speak French, that speak Hindu… and it's so beautiful to have it here right in our own backyard."