Tips to Prepare for a Successful Semester
The start of the Spring 2022 semester is January 18th and a lot of students are probably feeling anxious due to the first two weeks being virtual. Readjusting after a short break can be challenging. Returning students know what is expected, but it can be nerve-wracking for new students. By organizing and preparing ourselves for the semester ahead, we can arrange to be good students that will work diligently.
Check your GothicNet ASAP
You will be able to know important information about your class such as: where it is located, what the days and times are that you will meet, if you have a remaining balance for your tuition and if it will be online or on campus. There are five different methods of classes: In-Person, Online Synchronous, Online Asynchronous, Hybrid, and Hyflex
In-Person: Students will meet face-to-face at a set time and day during the semester.
Online Synchronous: Online classes that have set time and date for virtual meetings.
Online Asynchronous: These types of classes are completely online with no virtual meetings.
Hybrid: Face-to-face, online, and meets at scheduled times.
Hyflex: Students can attend either in-person or virtually to the same class session.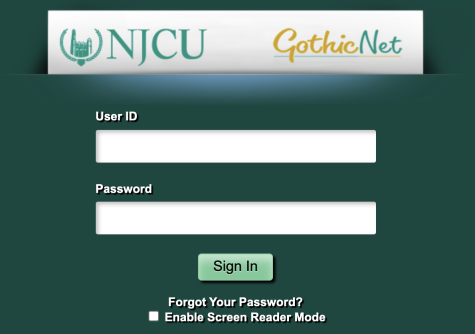 Know Important Dates
January 25th is the end of the Add/Drop period, where students will get 100% of their tuition and fees back if they have added or dropped any classes to this point. After that, students have up to February 15th, to withdraw from any courses for a 50% refund.
April 15th is the last day that students can withdraw, but do not get their money back so it is important to register early. If a student withdraws on April 15th, the student will receive a "W" on their transcript.
By using Gothic Net or filling out an Add/Drop form, students can register for new classes or drop a class they no longer might need.

Don't Wait for the Semester to Start Before Checking Blackboard
Will show if your professors posted anything in reference to the class you are taking. Checking it a few days early can let you know what supplies you may need so that you can get started on getting them as soon as possible. Some professors may have already posted the class syllabus in addition to other relevant content.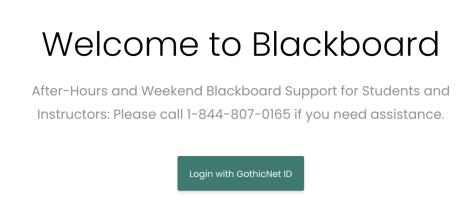 NJCU School Bookstore Website/Local Stores
You can pull up all your required materials for your class and purchase them now rather than later. By buying binders and dividers, or if you prefer, composition notebooks; you will be halfway prepared to achieve the grades you deserve. Binders with dividers or composition notebooks can help students take better notes for their classes.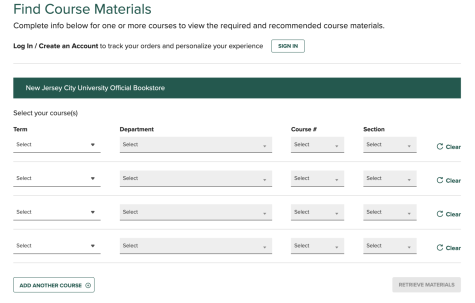 Find Ways to Stay Organized 
Utilizing a planner or a calendar app will help you stay on task as you navigate through multiple deadlines. Some people prefer writing out their deadlines, while others prefer the use of technology. Whatever method you prefer, students can choose a planner from Hobby Lobby or Michaels or use calendar apps such as: Outlook, Apple, and Google. A few benefits to having one would be keeping track of deadlines, work hours, and time to yourself.
Always Check Your NJCU Email Account and Get the App
You will get updates about your classes, canceled courses, COVID-19 testing and vaccines. If you use the "Focused" inbox, you can receive notifications for the emails that require your attention right away and are not get sidetracked by checking the less important emails. During the semester, this can help you connect with the professors who prefer to use it instead of Blackboard.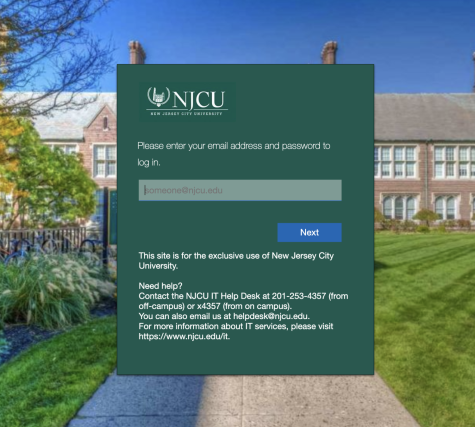 Staying Safe-Check the COVID Rules and Get Tested
To attend any events and classes on campus, ALL students must be fully vaccinated unless they have an approved religious or medical exemption. ALL students must wear a face mask regardless of vaccination status. For students who still need to file a religious or medical exemption, need to do so by 5 p.m. on January 14th, 2022.
NJCU is offering free testing to the NJCU community but is no longer offering the vaccine. To find where to get the vaccine, please go to the following website to register for the vaccine: https://covid19.nj.gov/pages/finder.
Jodi Bailey, Vice President for Student Affairs, said that NJCU will "follow 10-day isolation steps for all of those who are directly exposed and unvaccinated or anyone who tests positive." They will "need to mask for 14-days, are suggested to test 3-5 days after exposure or immediately if symptomatic."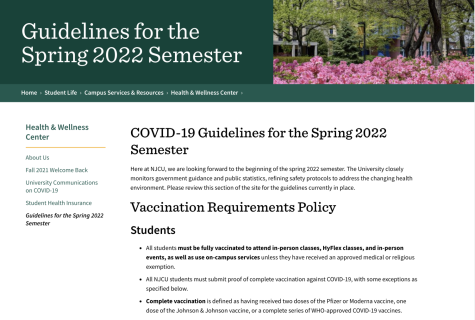 Last Minute Recommendations-Double Check Everything
Make sure that you are registered for classes that will count toward credit for your degree. Also check that all forms are filled out from the Health and Wellness Center, Registrar, Financial Aid, CO-OP's, etc.
Work in an area that will not allow distractions during your classes, (if someone in your household/dorm absolutely needs you, please mute your microphone so that it does not cause a distraction, and just relax. We are all struggling through this pandemic, but together, we can get through it.
Utilize NJCU's Many Resources
The HUB is a great place that provides tutoring to NJCU students. https://www.njcu.edu/academics/resources-services/centralized-tutoring-academic-support-services 
The online database for the Congressman Frank J. Guarini library can be found here: https://www.njcu.edu/library/library-resources.
If you need disability accommodations please reach out to the Office of Specialized Services at 201-200-2091 or email [email protected].
https://www.njcu.edu/directories/offices-centers/office-specialized-services-and-supplemental-instruction
The counseling center is also available for students who need any assistance can be reached at 201-200-3165 or email [email protected].
https://www.njcu.edu/student-life/campus-services-resources/counseling-center