Sweeney Todd Swings his Razor Wide at NJCU's West Side Theater
The recent production of Sweeny Todd at NJCU was so good I went to see it twice. In 1979, the original production won eight Tony Awards and was considered best musical of the season. Written by Steven Sondheim, it was his tenth production. Sadly, he passed away in late November.
Sweeney Todd: The Demon Barber of Fleet Street tells the tale of a barber seeking revenge after being wrongfully imprisoned and coming back to hear that his wife is dead and the judge responsible has taken his daughter. Sweeney Todd (Jordan Owens) and a young sailor named Anthony (Damon Porter) arrive in town and Todd visits Mrs. Lovett's meat pie shop.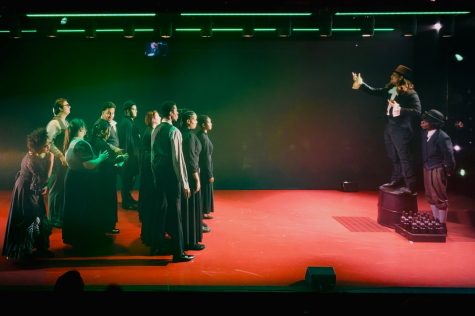 Upon arriving, Todd makes conversation with Mrs. Lovett (Caylen Enriquez Montemayor) and she tells the tale of a barber named Benjamin Barker who used to live in the upstairs apartment above the pie shop before he was imprisoned for life. She continues on about how his wife had taken her own life after having been assaulted by Judge Turpin (Byron Flores Jr.). Sweeney Todd becomes furious which gives away that he is Benjamin Barker himself. Mrs. Lovett agrees to keep his secret and tells Todd that his daughter Johanna (Jessica Garcia) was taken in by Judge Turpin as his ward.
Todd swears to get revenge in the song "My Friends" in which Owens gives an intense performance that had the crowd trembling in their seats, and Mrs. Lovett gives him his old set of silver razors that she had kept in case he had returned. In this scene, the ambiance with red lighting and the razor gleaming in the spotlight gave the audience a sinister feeling.
The attention is then put on Anthony when he finds Johanna singing by her window and falls in love at first sight not knowing this is Todd's daughter. Anthony is threatened and chased away by Beadle Bamford (Joshua Rosenthal), the Judge's servant.
The attention is brought back to Todd in the next scene when he calls out Adolfo Pirelli (Jason Concepcion Mora) and his assistant Tobias Ragg (Justin Reed) for selling a fake elixir that cures hair loss then challenges him to a shaving competition which Todd wins. After Todd makes a name for himself when he wins the shaving competition, Pirelli comes to his barbershop and threatens to expose his true identity. Sweeney Todd with a swing of a razor claims his first victim and now has Pirelli's dead body to dispose of.
While trying to decide what to do, Judge Turpin comes to get a shave from Todd. As the Judge is about to get "the closest shave he has ever had," Anthony bursts in and talks of his plans to rescue Johanna and elope with her. This angers the judge and he leaves and vows to never return. Todd in a rage having lost the opportunity to kill the judge, and he yells at Anthony to leave.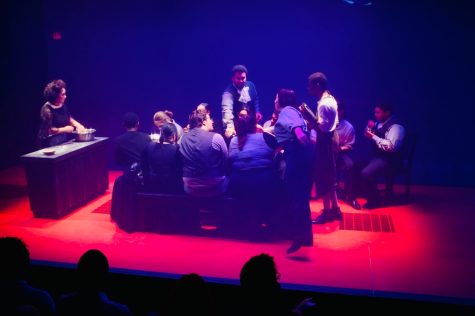 Mrs. Lovett discovers what has happened and while calming Todd down pitches an idea on how to get rid of any dead bodies he may create. She suggests that she could use the meat from the dead bodies to improve her meat pies since meat is expensive. Todd takes pleasure in this idea and agrees with his ultimate goal being judge pie.
Jordan Owens' performance had the crowd at the edge of their seats. The engagement with the audience was captivating when the cast would perform right in front of us and when Sweeney would point out and offer "the closest shave" to people in the crowd.
The cast also impressed with vocals as I couldn't tell whether the audio was live or through a recording of a perfect run. I saw the musical twice and found myself enamored by the vocals each time. Overall, it was an amazing experience to witness NJCU's Musical Theatre Department perform Sweeney Todd.