Wonder Women 12: Health and Art in a Global Pandemic
A collection of vibrant pieces constructed by ten women artists painted the space of the Visual Arts gallery. These pieces completely contrasted the grim actualities of ongoing socio-political issues (especially during the pandemic) that center the theme of the exhibition. Wonder Women 12: A Health Survey invited the public into conversation about the long-term detrimental effects this crisis has caused in terms of mental, emotional and physical health. This crisis shed light on failing healthcare and forced many to reflect thanks to prolonged quarantines and lockdowns. These artists created works while keeping their bodies in mind.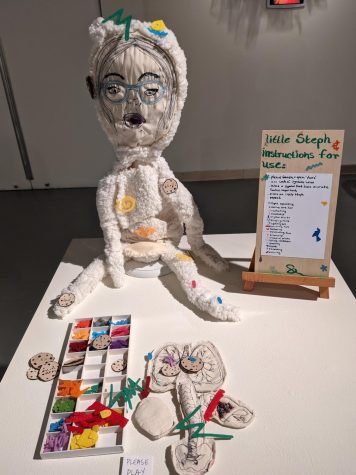 Face and nose coverings have become a staple in our everyday wear since the advent of COVID, and Pollie Borden incorporated a version of this in her work. Borden's eye-catching piece titled Emotion Sorting Cape, a set of fabrics tied onto a hoop that resembled a color wheel, dangled above a video documentation of the artist. In the video, Borden doned a white top. She placed a hoop of long tulle rainbow fabrics around her neck, and, finally, a plastic tube in her nose. Borden then faced the camera and sat in silence. Only the crinkling of the plastic bag which sat atop her head connected to the tubing could be heard. A look of distress. Rapid bursts of breathing inflated and deflated the bag. She exhaled long and hard, turning and straightening the hoop of colors around her neck. She was short of breath. Overwhelmed. Claustrophobic.
"I've worked most of my life to not deal with internal emotions," Borden said in a virtual artist talk. "And we cut forward to 2020 and all the things I usually use to keep me busy, so I don't engage with myself like my work, my art, my friends and my volunteer projects get stripped away. So now I'm in this place where it's just me and my thoughts." Borden went on to explain Plutchik's wheel of emotion, a diagram of colors each associated with emotions such as rage, disgust, sadness, and joy. Borden's cape followed the structure and function of Plutchik's wheel. "With the cape, there is a bottom layer of white and the compression signifies the anxiety. And with the two layers of colors [of the cape] it symbolizes that it won't be a linear process to alleviate the anxiety behind it. The breathing apparatus, as I mentioned earlier, and in meditation, the breath is key. We always go back to it." Borden revealed that her video documentation was actually recorded on a stressful day. In the video, she rotated the cape to the shades of red and pulls out the fabric. She took a deep breath and closed her eyes.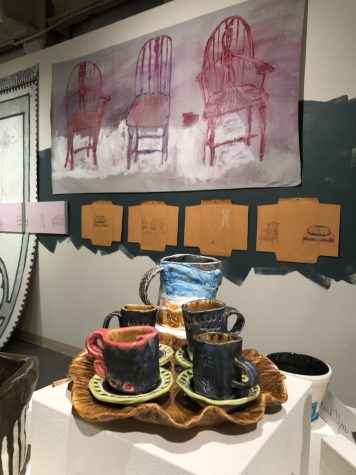 Another piece using video is Mary Jeys's Feeling the Weirds: Mapping Portals to My Unknowing (2021). A video supplemented two maps composed of watercolor and thread. During a rehearsal of her video performance, a beetle caught her attention while she spoke to the camera regarding depression, therapy and work in the midst of a pandemic. Jeys gave the beetle its own camera and tried to track it while it moved around the room. "Is this some sort of Kafka, Metamorphosis stream at this point?.… I do feel like I can use tools that I've learned in therapy to
re-frame what's going on and not get stuck although I feel very stuck with this bug. But I definitely feel like, 'am I becoming this bug or is this bug a metaphor?'"
In Franz Kafka's famous novella, "The Metamorphosis," the protagonist, Gregor Samsa wakes up to find himself turned into a beetle one day. Gregor is a salesman and is heavily relied on by his family to make money. In his predicament, Gregor struggles to adapt to his transformed insect body while his family tries to get him to work despite the circumstances.
Fibroids (2021) by Agnieszka Wszolkowska poped out thanks to her use of muted blues and intense reds. A faceless naked woman surrounded by red orbs sits, prim and proper, in a set of four canvases. In the first canvas, she holds them in a clump like a giant scab in her hands; in the second, the red orbs dangle on strings around her; in the third, the red orbs gather in her belly; and in the last, the red orbs are contained in square frames around the woman. Wszolkowska paired those paintings with tangible 3D forms on a table. Made of earthenware clay in different shades of pink and reds, the figures resembled hearts in varying sizes. Wszolkowska was unfortunately not available for the artist talk but her artist statement was displayed in the gallery near her work.