Creating History One Match At A Time
The women's wrestling team made history in early February for being the first collegiate team in New Jersey to host a women's wrestling match
NJCU went up against East Stroudsburg University (ESU), a familiar opponent. The teams previously met on November 14 in East Stroudsburg, Pennsylvania with NJCU winning by a score of 24-22.
The historic match was held at the John J. Moore Athletics and Fitness Center. Regardless of the outcome, the women's wrestling team competed valiantly in front of a large home crowd on February 6. It was an outstanding performance by two teams that have received votes in the NCAA Women's National Wrestling Association Top 15 poll. The final score was 28-14 in favor of ESU, but NJCU performed admirably, and the day was historic not only for the women's wrestling team, but for the entire NJCU community.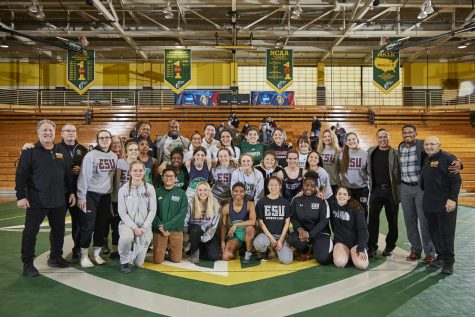 Naomi Henry, a sophomore from Brooklyn, New York, has joined the NJCU women's wrestling team. She said, "The tournament was such an amazing moment. Women's wrestling is the fastest growing sport in the country, and we are actively participating in its growth and development, so it's very heartwarming and something I take pride in."
Wrestling is primarily associated with men; however, women now have more opportunities to participate and excel in the sport. NJCU has done an excellent job of adding new athletic programs; women's wrestling is a relatively new at the university. Even though it was launched in May 2019, the team did not compete in its first season until 2021-22 due to COVID protocols.
NJCU is one of the first colleges in New Jersey to offer a women's wrestling program, creating a space for female wrestlers all over the state and to be able to compete at a colligate level. New Jersey City University has a history of being innovative in terms of athletic programs, including being the first to field an NCAA Division III women's bowling team.
Henry also said, "I have never been a part of anything so special, I am truly blessed to have an amazing coaching staff and exceptional teammates, we have spent so much time trying to build together and have been there for each other every step of the way."
"I am genuinely happy to be a part of such an amazing team, and I am truly excited to see what is in store for the future of this program and for women colligate wrestling across the state of New Jersey and the entire metro area," Henry said when asked how she feels about being a part of the team.