Local Pan-African Group Uplifts Community
An Interview With NJCU Alumni Nevin Perkins
Nevin Perkins is an NJCU alumni and is one of the founders of Build More Unity. The organization has educated and helped many individuals, specifically in Jersey City and Newark. They have involved the community in their activism and have made a positive impact on people's lives. Build More Unity has organized programs without the help of corporations or government entities. They are independent and continue to serve and stand with the community. Check them out @BuildMoreUnity on Instagram and Twitter!
Q: How did Build More Unity start?
A: Build More Unity formerly known as Black Men United was created in April of 2019 by a few NJCU students, myself included. We were originally looking to form a club/organization on NJCU's campus that consisted of Black men. Some of our goals and objectives were community organizing and organizing for black students on campus. We were discouraged from creating an organization of black men and were told that we would not be able to do so. It was quote on quote I guess constricting in terms of social identity in terms of who could participate and who could not. [NJCU has a policy that requires all clubs under the Student Government Association to be inclusive of all students regardless of race, religion, gender, sexuality, etc.] This was very discouraging for us initially. But we really liked the idea, and we were really strong suited towards it, so we decided to be an actual community organization instead of a club on campus. A few of our early members had tried to be a part of the black student union or tried to resurrect the black student union. Most of the programs that we saw from advocacy organizations weren't necessarily pushing the needle for us as much as we would have liked. Ultimately, us being discouraged led us into becoming a community organization.
Q: What has Build More Unity done for the community since it started?
A: In the past two years through our "survival distribution program", we have given out thousands of items of clothes to the less fortunate. This includes care packages of essential resources in terms of now more recently Covid resources and hygiene products. We have partnered with an organization that does a weekly meal program aside from our survival distribution programs. We have organized community clean-ups. At the beginning of our organization, we have gotten behind some issues that have faced the city council. We have worked to organize and advocate through that lens. A few things have taken place in Jersey City in terms of police violence. We have been in the front lines of those issues to advocate for fairer situations and advocating for justice for those harms. We have also held educational lectures in the general community where we have talked about Pan Africanism and black politics. We also had another program that we had going on for six to eight months with a business called Whealth Kitchen in Journal Square. This was around the time the pandemic just dropped. We were doing a rent relief program so we would raise about 500 dollars for a family in need and every month we would give that amount to the family. Then Whealth Kitchen would supply the family with meals for the month and we would raise the proceeds by having a community event. Poets, artists, or musicians could come to perform on our live stream program at Whealth Kitchen. People who were watching the event or paid attention to the promotion of the event could donate to the proceeds of rent relief. This went on for 8 months at the beginning of the pandemic.
Q: Did the families start to get back on their feet once the help was given to them?
A: Definitely, we kept in contact with a few different families. Some are still struggling but some we were able to help at real crucial moments. Some obviously avoided houselessness with this program.
Q: Is homelessness a systemic issue?
A: It is definitely a systemic thing. In New York, there are more available homes than there are homeless people. The issue of homelessness or houselessness isn't an individual failure it is a state failure. Even now on a smaller scale such as Jersey City, there is so much vacant property and so much land that can be built on. This land can be built on for adequate, affordable, or free housing for people to get back on their feet. It is just not being built. It is kind of one of those things where Capitalism continues houselessness so that the working class has somewhere to look and say okay I do not want to be there, so I have to go to my job every day.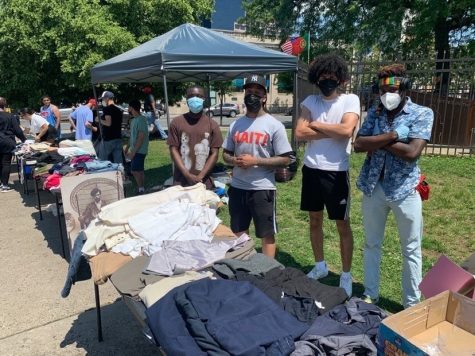 Q: How is Build More Unity funded? How does the program sustain itself?
A: The funds we get to maintain our programs or distribute our resources come straight from the community themselves. So, we have the commonly known Cash app, Venmo, and things like that. Then if we are having a program on our flyer that information is on our flyer or our bio. People who have seen us and been around have elected themselves to donate regularly to keep our programs goings. Recently, we have been in conversation and talking about designing merchandise for ourselves. Not necessarily to build a brand but just to be able to sustain ourselves. So that okay if we have merch our merch can fund some of our programs and things like that. We are kind of against government-sanctioned funding. If the majority of our funding comes from the state apparatus, then we are limited on what we can say or do. That is why we try to be completely funded by the community.
Q: What kind of businesses are allowed to donate to Build More Unity?
A: We do not seek funding from big businesses that abuse laborers and capital. We do not seek to receive grants, resources, or donations from big corporations. We do from local businesses with whom we have partnerships. When Storm Ida happened, we were going around, and we were emptying damages from businesses' basements. As well as homeowners' basements to help them out with that labor. We would get a bunch of folks from the organization together and we did it for a few different businesses here in Jersey City. Now those businesses are a part of the people that regularly donate to us.
Q: Do you think that Build More Unity has educated or inspired other advocates?
A: I would like to think so. We work closely with other organizations here in Jersey City that have done really great work. Other individuals in the community have told us that we have inspired them to tap in and do some more groundwork that is more in tune with the community's needs. So, yeah, I would say we have.
Q: What figures of African descent have inspired you and other founders of Build More Unity to keep going?
A: Well, I would consider myself a Malcomist. Malcolm X changed my life. I read his autobiography when I was 14 and I didn't really take it in for what it was at that age. Then I read it a few years ago and it completely changed my life. For the organization at large Malcolm is definitely one of those figures as well as Assata Shakur. Her stance on liberation and her work is something we really respect. Kwame Nkrumah, one of the founders of Pan Africanism, W. E. B Dubois another one of the founders of Pan Africanism. Build More Unity is a Pan African organization by the way. Marcus and Amy Garvey were the founders of the UNI which was the largest Nego Association ever created. I think they were at 27 million members at its height. There is not a lot of people that I would say we look up to now. The climate of higher-up activism gets very democratic, and capitalism influences it, so it is hard to tell who is genuine or not. But those are definitely some of the historic people that we hold dear.
Q: What plans does Build More Unity have for 2022?
A: We hope to secure an actual space. We hope to build more relationships with organizations that are doing similar work like us and have similar politics as us. We hope to establish a door-to-door program where we do political education and check-ins with the community. Actually, getting on the ground and visiting neighbors to let people know that hey this organization is here. We want to let them know that we are offering certain programs and furthering our outreach. We also want to grow our membership in 2022.