A Different Kind Of Scrapbooking
Junk-journaling is a hot new trend, but for me, it has brought some calmness from my busy days. In my eyes, it is merely the combination of scrapbooking and journaling.
People can make their spreads around a certain theme while others use scraps of paper, stickers, and various washi tapes. Depending on the design, it can take a couple of hours to a few days. When they are finished, some upload them onto their social media sites such as TikTok and Instagram, and they end up going viral.
There are many websites to get supplies from such as Amazon and Etsy. I recommend the scrapbook aisles in Hobby Lobby and Michael's. This way you can see exactly what you are getting compared to buying something online and risk it being something else.
If you wish to start junk journaling, you will need the following:
Hardcover journal: A blank journal from a bullet journal company such as Leuchtturn or Artist's Loft (Michael's) where they have dots, grids, lines, and blank pages. It can also be a sketchbook but make sure that you place anything 3D (such as stickers or rhinestones) carefully, so the book seam does not break.
Various scrapbook sheets: Ask a family member or anyone local if they are selling or getting rid of scraps of scrapbook paper. Part of this is tearing paper to create ripped edges.
Craft scissors: A pair that differs from your traditional kitchen scissors or fabric scissors. I learned in fashion school that you should never use scissors meant to cut fabric for paper.
Various stickers: These are great to match your spread's theme. I noticed that some creators use stickers to completely cover something they placed down because they did not like how it looked.
Glue: You will need a glue stick or glue adhesive to make sure that your paper scraps are securely attached to your journal.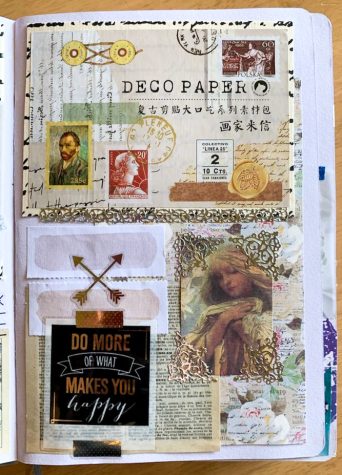 Washi Tape: Great for making decorative frames around the pages.
Hole punch: Giving the journal spreads a Victorian style look by hole punching multiple scraps of paper and string them together to create a little book.
Pens and Markers: Can be simple as black or can be in different color. Suggested brands are Micron and Tombow. I use the fine tip pens and markers in the artist section.
I journaled in the past to vent because I did not want to be judged or ridiculed for what I wrote. I wanted a personal space that would not be intruded on, since one of my siblings found my diary when I was 10, showed my mother what I wrote, and I felt that my privacy was invaded. It may be why I have not finished a single journal in my life.
I got into junk journaling in late-December, and I feel that it calms my anxiety down. I get so wrapped up in expressing my creativity that I shut the world out. It is a healthy alternative to what I used to do when I was overly stressed and did not know how to handle it.
Lastly, I have scrapbooked but not enough to where I can make these brilliant spreads. I had a scrapbook around the age of 10, it was made of wood and had horse embellishment on it. It consisted of pages dedicated to activities from group therapy involving horseback riding (with a horse named Star) and swimming at a lake. That was my only completed scrapbook.
The main point of junk journaling is to just have fun with it and play around with different aesthetics. You do not have to be an artist; you just need to be open to where your creativity will lead and allow yourself the opportunity to de-stress.