Student Entrepreneurs Pitch Ideas, Win Big
NJCU recently hosted an inaugural entrepreneurship competition where students were able to compete for a grand prize of $5000.
The big winners were Dominic Pepe and Alan Cruz with the team "NFL Gold Zone." Their idea was "a company that designs and sells collectible NFL moments as NFTs using blockchain technology in partnership with the NFL and more." Also included in the prize was a graphic design consultation for their pitch. The team was mentored by Lauren Johnson, a Sports Management professor at NJCU.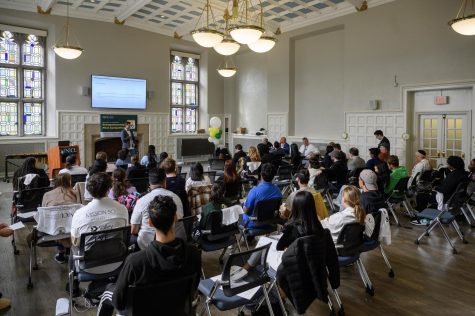 Pepe and Cruz said, "We collaborated on the project and worked on it throughout the semester, thinking nothing more than this is just for a grade to graduate. It quickly became more than that after we were selected for the pitch competition at NJCU. We worked hard on it and continued to do so for the NJCU competition. It was a really cool experience, an unexpected one that we think will continue to be a part of NJCU for years to come. It became more of a surprise after we won the competition at NJCU. Going from presenting in class on zoom to presenting in Hoboken at Mission 50 is quite the moment. One we will never forget. We would like to thank the NJCU Institute of Dispute resolution, as well as Dr. Johnson, Dr. Weiss, and Dr. Artbitblit for their hard work in making all of this happen."
Second place with a prize of $1000 was Viktor Madar-Dank, whose pitch, Cleanfields, is "a food security company looking to offset the ongoing food shortage problems throughout the world using new biotechnology to increase productivity in fruit and vegetable growth."
Third place in the April 25 competition went to Sandro Rodriguez, Hachmi Lounes, Sofia Nolasco, and Sara Zorzan whose idea was "SNKR Society, an application for Sneakerheads looking to authenticate their online purchases from resellers of high-end, collectible Sneakers. They will also have access to new limited edition Sneakers from major companies in a safe and convenient application to make sure that customers who actually want the shows are able to get them." They received a prize of $500.
Runner-ups included Neha Gupta, Rosennies Feliz, Diranlly Carpio, Lucia Krizanova, Maximo Vargas, and Kirthiraj Srikanth Vidava Sadashivaiah.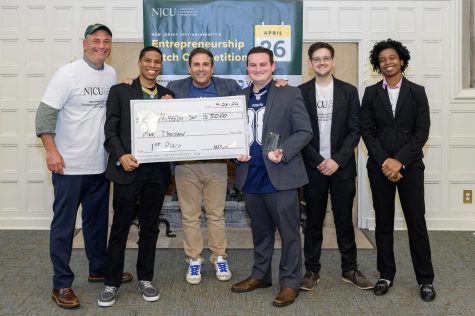 Similar competitions also took place at other Hudson County institutions: Saint Peter's University, Hudson County Community College, and Steven's Institute of Technology. All led to a final round between the four colleges with another $5000 prize for the first place pitch. Pepe and Cruz placed second in the final round which was on May 18.
The competition was sponsored by the company Mission 50 and NJCU's Institute for Dispute Resolution (IDR). Mission 50 donated $25,000 to the four Hudson County institutions that participated. Other companies, Valley Bank and The LVE Group, also sponsored the event.
David Weiss, the founder and director of the IDR, said, "The entrepreneurship pitch competition is not just a contest to see who has the better idea, but it is a place for students to grow together and support each other's idea creation so that new relationships can be formed during their academic careers. We not only encourage NJCU's business students to participate, but everyone from every department. Business ideas can be found in every field, and having the mentorship and guidance during a pivotal time in a student's development is extremely important."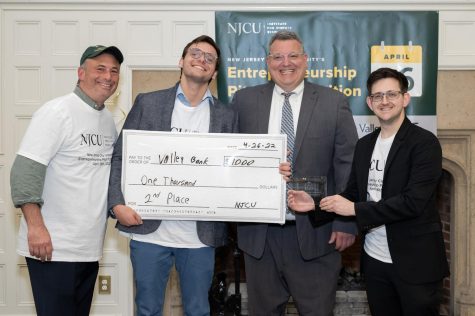 Weiss also said, "I truly look forward to seeing what new pitch ideas the students of the NJCU community can develop next year and beyond."
Michael Arbitblit, the assistant director of the IDR, said, "The Inaugural NJCU Entrepreneurship Pitch Competition was an excellent opportunity for our students at New Jersey City University to bring their idea creation into reality by showcasing their individual skillsets and passions. We were so happy to provide them with the highest quality mentoring and support for the development of their new innovative business concepts as well as nurturing new relationships with others in the NJCU community.
"The entrepreneurial spirit was extremely strong within all departments of NJCU as teams that applied had come from university-wide. With the amazing support of Mission 50, Valley Bank, and The LVE Group, we were able to have an unforgettable night that I know students will always look back on. It was an honor to see how far these students have grown since we first announced the competition and I'm so excited to be a part of the next stages of each of these entrepreneurial initiatives."
Judges of the competition included John Laski, a Management professor; John Donnellan, associate professor of Management and chair of the Management Department; Mike Luzio, managing director of The LVE Group; and Christopher Mansfield, the vice president and relationships manager of Valley Bank.
NJCU offers both a Bachelor of Science and a minor in Entrepreneurship at the School of Business.